Weekend Forecast
By David Mumpower
March 15, 2013
BoxOfficeProphets.com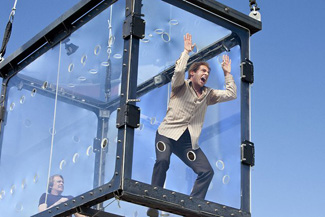 ---
A rematch of the stars of one of the most popular comedies of all time headlines this weekend's movie releases. Alas, Bruce vs. Evan would be a less mighty box office battle than was the case 10 years ago. And with the only new release this weekend starring Halle Berry in a WWE-produced film, the ultimate winner is a foregone conclusion. Oz will remain Great and Powerful for at least another seven days.

In 2003, Jim Carrey picked on a virtual unknown at the time, Steve Carell, whose only crime was being a co-worker in the same newsroom as Carrey's character. The movie was a global sensation named Bruce Almighty. North American audiences laughed to the tune of $242.8 million while its final global box office was $484.6 million. Bruce Almighty became the fifth most popular movie of the year with a total that more than doubled (!) the sixth place finisher. In terms of global take, it was also the 34th most popular movie of all time up until that point.

In the interim, Carell has become one of the most beloved entertainers of our generation. He has starred in every conceivable type of triumphant project. There have been critical darlings such as Little Miss Sunshine and Dan in Real Life, box office hits such as Get Smart and Date Night and hidden gems such as my favorite movie of 2012, Seeking a Friend for the End of the World. Steve Carell is much beloved.

Alas, the years have been less kind to Ace Ventura, who has not opened a live action movie to $30+ million since 2004. His biggest hit during this time frame was as a voice actor in Horton Hears a Who, a movie that reunited him with Carell, at least in the recording booth. It has earned almost $300 million worldwide, more than triple its financial outlay to produce. In two prior movies together, Carell and Carrey's films have grossed $780 million against expenses of roughly $180 million. Carell must be Carrey's good luck charm.

Other than this Dr. Seuss adaptation, Carrey has struggled mightily in his continued attempt to be respected as an actor. There have been financial disappointments such as The Number 23 and Lemony Snicket's a Series of Unfortunate Events as well as a couple of failed attempts to receive Academy Awards attention. Eternal Sunshine of the Spotless Mind is the most recognizable of these – and make no mistake that the man was robbed – but there was I Love You, Philip Morris as well.

The most profitable movies Carrey have been the fluffy shenanigans-infused productions that he seems to resent. Fun with Dick and Jane and Yes Man both wound up around $100 million, the line of demarcation for a blockbuster comedy. Recently, he has been reduced to playing sidekick to a bunch of penguins, which is a cry for help from the world's foremost Pet Detective. Mr. Popper's Penguins somehow managed to earn $68.2 million, which is astonishing given the atrocious quality of the film.

A third union of Carrey and Carell feels like the latter gentleman doing a favor to the comedian who gave him his big break (not counting The Daily Show). The movie itself is The Incredible Burt Wonderstone. I cannot shake the vibe that someone watched the 2011 remake of Fright Night and decided to expand David Tennant's character, slimy Vegas magician Peter Vincent, into an entire movie.

The result is another frenemy feud film, which is what I presume to be the next wave of bromance cinema. Carrey and Carell portray competing magicians who begin a game of illusionist brinkmanship. Steve Buscemi is the third wheel here, a former partner of Carell's character who has to be seduced (don't make it dirty) back into the fold (what did I just say?). Where this leaves Olivia Wilde's character, I couldn't say.

Cosmologically, this movie premise contains a bit of symmetry with another Carell movie, Despicable Me. I speak of the competition between would-be super-villains Gru and Vector, particularly in the sequence where the former gentleman attempts to invade the latter man's fortress of doom-itude. Ordinarily, I would say that animation allows for more comedic opportunities but I have seen the hair styles of Carell and Carrey in The Incredible Burt Wonderstone. They somehow seem more CGI than Avatar, Prometheus and Life of Pi combined.

Still, when we discuss comedy, the play is the thing. A batch of trailers sorely lacking in laughs relegates this movie into the range of The Campaign, the most recent frenemy bromance, and that movie's $26.6 million debut is probably a best case scenario result here. Exhibited in 3,160 theaters, I expect Burt Wonderstone to conjure only $16 million this weekend, which would be a less than magical debut. All I suspect we will decide by Monday is that The Incredible Mr. Limpet is the superior Incredible film.

Also opening this weekend is a WWE Films production. Specifically, this feature demonstrates that Halle Berry has reached the point in her career where she ain't too proud to beg. The Call is a spiritual successor to an unheralded Chris Evans movie from 2004 called Cellular. In fact, the premise is almost identical.

Berry's character receives a 911 call from a girl who is a kidnapping victim. In order to save the girl's life, Berry must stop the Red Skull from winning World War II then ward off a Chitauri invasion in downtown Manhattan. Ooh, sorry. Those would be featured moments from a much more exciting movie. Instead, we will watch an Academy Award winning actress who once bragged about "kicking down doors" pretend like David Otunga (aka Jennifer Hudson's baby daddy) is a real actor. These WWE productions are disposable nonsense that are never legitimate box office factors. I will simply thank my lucky stars that Human Yawn John Cena is not in the cast and project an opening weekend of $10.2 million. Stating the obvious, Halle Berry needs the X-Men more than the X-Men need Halle Berry.

As I mentioned earlier, Oz the Great and Powerful will repeat as box office champion this weekend. Its weekday numbers suggest a lower performance, but I am bullish on its chances during its second frame. I expect a $38 million weekend, which will push its 10-day take to $140 million or so. I have seen a lot of hostile comments about the movie's box office thus far. I am convinced that these harsh evaluations are reactionary and frankly misguided. Oz is doing fine.