Weekend Wrap-Up
Oz Takes Curtain Call
By Kim Hollis and David Mumpower
March 10, 2013
BoxOfficeProphets.com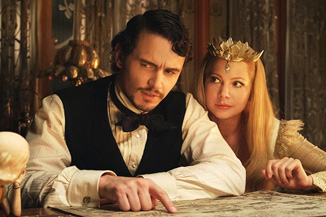 ---
For several long weeks, the box office had been under an evil spell. For six weekends in a row, the box office had underperformed terribly in comparison to the same frames in 2012. Finally, along comes a wizard – even if he is a humbug and a sham – to put things on a brighter, happier course.

Faced with some of the least appealing early year releases in the 2000s, consumers finally found a movie worth watching in Oz the Great and Powerful. The Disney release helmed by icon Sam Raimi finally achieved the level of success that had become humdrum in 2012. Oz debuted to $80.3 million in 3,912 locations, achieving an impressive per-venue average of $20,521. In the process, Oz became not only the first $80 million opener of the year but also the first film to open to $35 million (!) or more. We have been in a box office rut.

Let's get the statistics out of the way before we discuss the movie. Oz's $80.3 million opening weekend is the third largest in the history of March, besting 300's $70.9 million but falling well short of Alice in Wonderland's $116.1 million. It is also barely halfway to last year's epic blockbuster, The Hunger Games, which started with $152.5 million. Nobody expected it to beat either of those films, though. In more relevant terms, Oz was so dominant this weekend that it surpassed the grand total of the rest of the top 12 by $30 million.

Oz has already become the second most popular film of 2013, ignoring titles released in 2012 for the purpose of awards consideration. Even if we bring those titles, Zero Dark Thirty and Silver Linings Playbook, into the mix, Oz will surpass them before the start of next weekend. It should also overtake the current champion of 2013, Identity Thief, by next Sunday. In addition, Oz garnered another $69.9 million overseas thanks to an ultra-wide launch in every major market save for China and France. Ergo, Oz is sitting at $150 million in global revenue after three days in release.

All of the box office news above is the positive aspect of Oz's debut. The negative side is the financial outlay required by Disney in order to produce the project. A reported $325 million has been invested in the movie thus far as Disney attempts to launch yet another franchise. They are so confident about the prospects of Oz that the sequel has already been confirmed. The issue at hand is the popularity of this Wizard of Oz prequel.

Critics are all over the place on the topic as 60% of Rotten Tomatoes voters liked the movie. Astonishingly, only 30% of top critics felt this way, though. In other words, less accredited participants are twice as likely to recommend Oz compared to the more accomplished critics. That is one of the largest divides I can ever recall. Opening day attendees were no more enlightening with their opinions. Oz the Great and Powerful received a B+ Cinemascore, which is mediocre in general but what qualifies as Casablanca thus far in 2013.

What happens next is what will tell the story with Oz. As everyone knows by now, a movie has to earn a great deal more than its negative cost in order to become a financial success. Disney has been worrying about Oz since the moment John Carter failed last year, because the projects are similarly daring. Everyone at the Mouse House is breathing a sigh of relief right now because disaster has been averted.

The expectation is that the movie will earn $200 million domestically. Only one movie in box office history, X-Men Origins: Wolverine, debuted to $75+ million while failing to reach that total. And Oz should run indefinitely overseas as an easily identified brand name featuring state of the art visuals. The other aspect that matters to Disney is whether Oz toys are marketable enough to provide ancillary income. This particular venue is what drives their bottom line. Oz also naturally lends itself to amusement park rides and the like, which helps. Overall, Oz the Great and Powerful has done quite well on opening weekend and should prove to be a profitable venture for Disney. The degree of profitability will go a long way in determining future support for the franchise.

There is a precipitous drop from first to second place, as Jack the Giant Slayer declined a whopping 63% from its debut weekend. It was facing direct competition for the same demographic (even down to fans of the same genre) and lackluster word-of-mouth, which was just too much to overcome. Its second weekend total was $10 million, which brings the grand total for the $43.8 million, meaning that this is going to be considered a bomb. The budget for the Warner Bros. fairy tale adaptation was in the $200 million range, and international numbers aren't really adding much to put salve on the wound. So far, overseas box office is sitting right around $14 million.

Third place goes to one of the few bright spots so far in 2013. Identity Thief, the Universal comedy featuring Jason Bateman and Melissa McCarthy, earned another $6.3 million, down 35% from the previous frame. Even though this film was critically savaged, it's been the populist choice since its release five weeks ago. Identity Thief's grand total now sits at $116.5 million, a result that has to be thrilling for the studio. It's the kind of movie that will do extremely well on home video as well.

Rounding out the top five this week is a pair of action flicks with ties to pro wrestling. Colin Farrell's latest release, Dead Man Down, is dead on arrival. It earned only $5.4 million from 2,188 locations, a paltry per-venue average of $2,445. This weak debut occurs despite tons of free advertising on WWE programming due to the presence of wrestler Wade Barrett as a henchman. Only 38% fresh at Rotten Tomatoes, 24% among top critics, Dead Man Down is an instantly forgettable project. Its B- Cinemascore also means that it's just sort of "there" for audiences as well.

Speaking of those, Dwayne Johnson aka current WWE champion The Rock continues to demonstrate solid box office drawing power with the otherwise nondescript Snitch. The Lionsgate release fell only 34% to $5.1 million. It has a running total of $31.9 million, which has to be considered a best case scenario result…and then some.

21 & Over takes sixth place after debuting last week in third. The comedy about college dudes who hit the town for a big night of alcoholic overindulgence earned $5.1 million, down 42% from last weekend. So far, the Relativity release has earned $16.8 million, which means it's going to be a profitable project for the upstart studio.

Holding steady in seventh place is Safe Haven, which earned another $3.8 million this weekend, down 39%. Also distributed by Relativity, the adaptation of the Nicholas Sparks novel has now earned a solid $62.9 million, which compares very favorably to its $28 million budget. After starting 2013 off a bit rough with Movie 43, Relativity is seeing things turn around.

The bottom of the top ten is comprised is large, medium and small sized box office performers. Silver Linings Playbook may not have torn up the Academy Awards, winning only one of the six major categories for which it was nominated. Its consolation prize is a spectacular $120.7 million in domestic revenue, $3.7 million of it occurring this weekend. Down only 35% from last weekend, we may not have seen the last of it, either.

Ninth place is claimed by Escape from Planet Earth. The unheralded Weinstein Co. release has quietly become a solid hit. Another $3.2 million this weekend, a 52% decline, gives it a running total of $47.8 million against a $40 million budget. Give 'em credit. Those Weinstein boys are masterful salesmen. Tenth place goes to CBS Films' inaccurately named The Last Exorcism: Part II, which fell 60% to $3.1 million. With only $12.1 million in revenue thus far, it is a blueprint example of the release miscalculations of early 2013. An apple a day keeps the doctor away. A horror movie a week keeps the audience away.

Overall, this weekend's top 12 films earned $129.7 million, up 7.2% over last year's totals, but a number that feels like 1000%. Thank goodness for Oz. Next weekend brings the Steve Carell comedy The Incredible Burt Wonderstone and The Call, a thriller featuring Halle Berry and Abigail Breslin. We'd also like to take a moment to offer a hearty "get well soon" to this column's regular contributor, John Hamann, who is recovering from back surgery.