Friday Box Office Analysis
By David Mumpower
March 9, 2013
BoxOfficeProphets.com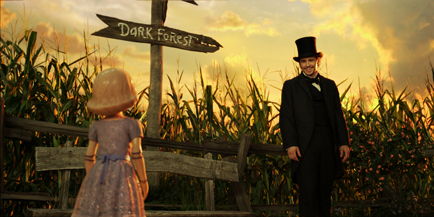 ---
After almost 75 years of waiting, theatrical audiences were finally treated to a new, big-budget adventure in Oz. While we were under the impression that this guy was just some charlatan hiding behind a curtain, Oz is being positioned as "Great and Powerful" and moviegoers were thrilled to watch him work. In earning $24.1 million worth of box office, Oz immediately became the best performer of 2013 to date. Watch your back, Identity Thief. Objects in the rearview mirror may be closer than they appear.

The appeal of Oz is, of course, the escape into a fantasy world where there is no filibuster and no sequester. If you don't like someone, you simply drop a house on them. The marketplace has experienced a dearth of family oriented entertainment. Combined with the box office lull created by an onslaught of low-budget horror films and little else, Oz the Great and Powerful was well positioned, bordering on monopolistic. Its performance is no surprise given these marketplace factors.

The question of whether Oz's opening weekend is large enough to justify its whopping $325 million expense is one we will debate in tomorrow's Weekend Wrap-Up as well as Monday Morning Quarterback later this week. For now, we can say with certainty that the run of disappointing 2013 releases has stopped, at least temporarily.

Oz is a family-friendly feature that should see at least a matched performance today if not a solid increase. We mentioned in the forecast that we thought expectations had gotten a bit out of control for opening weekend. Let's be clear about the fact that a $75 million three-day performance is rock solid, especially in light of what we've seen with A Good Day to Die Hard and Jack the Giant Slayer. Disney has averted disaster, which is what qualifies as a win at the moment.

Also debuting on Friday was the Colin Farrell thriller Dead Man Down, which has proven to be a prophetic title. The only real marketing effort was from the professional wrestling organization the WWE because one of their wrestlers plays a henchman. Yes, I'm serious. Alas, most WWE wrestlers have more Twitter followers than will see this movie over the weekend. Perhaps the movie would have been better served with a PG-13 rating that would have allowed the average WWE fan to see the film. Then again, the only person of that age who knows who Colin Farrell exists is Q'orianka Kilcher.

Dying on the vine this weekend was Jack the Giant Slayer, which suffered in the face of direct demographic competition, not to mention general dislike. Its $2.8 million Friday was a 68% decline from last Friday's number. Memo to Hollywood: Stop greenlighting movies that cost this much but fail to pass the laugh test.