Weekend Wrap-Up
Jack looms large at the box office, but not big enough
By Kim Hollis
March 3, 2013
BoxOfficeProphets.com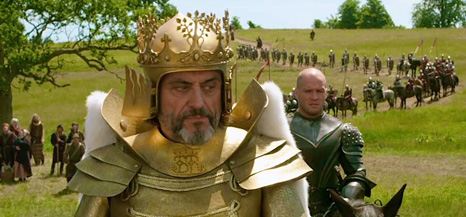 ---
After several weeks of mind-numbingly dull box office results, we were hoping for a little bit of excitement this weekend with the release of the big budget Jack the Giant Slayer. Alas, it simply wasn't to be.

Although Jack the Giant Slayer is the winner this weekend at the box office, it does so by opening significantly softer than expected. Early tracking estimates had predicted that the Warner Bros. fairy tale fantasy would open to about $40 million. With rollicking, fun commercials and a distinct lack of family fare in recent months, this seemed like a reasonable prospect. Instead, Jack the Giant Slayer debuted with just $28 million, a number that looks a little suspect when you consider the Friday-Saturday-Sunday split ($7.7 million / $12 million / $8.2 million). That breakdown would amount to a weekend multiplier (weekend total divided by Friday total) of 3.63, theoretically possible for a family film but still a number that defies recent box office trending.

It's tough to discern a reason why Jack the Giant Slayer didn't break out better. Reviews were average (52% at Rotten Tomatoes) and the Cinemascore was a B+, meaning that while there wasn't anything super positive with regard to word-of-mouth, it wasn't negative enough to keep people away, either. The marketing was pretty solid, with commercials and previews making the film look fun and lighthearted, something that sets it apart from recent fairy tale adaptations like Hansel & Gretel: Witch Hunters, Red Riding Hood and Snow White and the Huntsman. Most likely, the glut in fairy tale re-imaginings may be taking its toll, from a lackluster second season of Once Upon a Time to the recent blah performance of Hansel & Gretel.

The lack of real star power may have also been an issue. Nicholas Hoult is coming off a solid mid-level performer in Warm Bodies, but he's still not really a known commodity. Ewan McGregor is terrific, but no one is ever going to claim that he's a big box office draw. Jack the Giant Slayer might have been able to overcome the fairy tale ennui of the potential audience had there been a truly recognizable star to rally around.

Under any circumstance, Jack the Giant Slayer is going to struggle to come anywhere near its $190 million budget, at least domestically. Of course, as we've learned over the past couple of years, the global market is expanding to such a degree that Warner Bros. may come out okay once all the ancillary revenues are added in. With Oz the Great and Powerful hitting theaters next weekend, Jack the Giant Slayer pretty much had one weekend and one weekend only to establish itself. It failed in that regard, enough so that plans for future fairy tale reboots/retellings ought to be considered very carefully.

Second place goes to Identity Thief, which takes advantage of a weak crop of films to hang in the top two for yet another weekend. Its $9.7 million three-day total is good enough to take the Jason Bateman/Melissa McCarthy comedy past the $100 million mark, as its cumulative total now sits at $107.4 million. The weekend-to-weekend decline is just 31%, not bad for a movie that has been absolutely savaged by critics. While we're thrilled that McCarthy is a bona fide star, we hope that by doing a crappy but profitable film that she now has enough credibility to pick up leading roles in some quality stuff.

Relativity Media tried to capture the same audience that Project X found exactly a year ago, but 21 and Over proved to be just a middling performer. Starring absolutely no one that you've ever heard of (with perhaps the exception of the love interest in Pitch Perfect), the film managed $9 million from its 2,271 locations, good for a per venue average of $3,963. Critics (including BOP's Sean Collier) disliked the film, as it scored only 31% at Rotten Tomatoes. Audiences weren't overly impressed, either, as the movie's Cinemascore is a decidedly tepid B. The good news for Relativity is that the film's budget was a meager $13 million, so it's going to be profitable by the end of next weekend. Jon Lucas and Scott Moore, who wrote the original Hangover, directed 21 and Over. The marketing emphasized that fact, which was probably good enough to land fans of this sort of "dude flick" in theaters.

You might have thought that the last exorcism occurred in 2010, but you're wrong. No, we saw that the story could continue with The Last Exorcism Part II, which earned only $8 million this weekend, less than the $9.4 million that the original film debuted with on its opening day. From CBS films, The Last Exorcism Part II had a budget of only $5 million, so it's going to be just fine financially, but it does offer proof that not every film is really worthy of a sequel.

After finishing in second place last week, Snitch drops to fifth this frame. The action flick featuring The Rock dropped 41% to $7.7 million, bringing its overall total to $24.4 million. While this is actually better than some of the wrestler's other brethren in action have fared recently (Arnold Schwartzenegger, Jason Statham, Sylvester Stallone), it's still a thoroughly average performance overall. Still, although budget numbers aren't readily available, Lionsgate probably didn't have a big financial investment here. With home video, it will likely prove to have been a profitable venture.

Sixth place goes to the animated kid flick Escape from Planet Earth, I title that I regularly forget each week until I look at box office results and see it sitting there in the top five. Down 39% from the previous frame, the Weinstein Co. family film earned another $6.7 million this weekend. Its cumulative total now sits at $43.2 million. It should do right around the same amount of business that the Weinsteins' Hoodwinked managed back in 2005, or maybe a bit better. Does that justify a sequel? Considering the budget was just $40 million, that's probably enough to start a conversation, anyway.

When we get to the seventh place film, we start to notice the truly unusual composition of the top 12 this weekend. Only four movies in that group are from the "big" studios. The rest all come from the smaller upstarts and midsize distributors. Relativity sees its second project in the top ten with Safe Haven, the Nicholas Sparks adaptation that got off to a solid start on Valentine's Day and then has bottomed out from there. Despite a general lack of truly female-focused options in the top ten, Safe Haven declined 41% to $6.3 million. The romance, which features Julianne Hough and Josh Duhamel, has now earned $57 million, making it a solid winner for the studio even if it did earn the bulk of its money early on. The budget for the film was a frugal $28 million.

Eighth place gives us the Weinstein Co.'s second of three movies to appear in the top ten this weekend. Silver Linings Playbook, whose sole Oscar was Jennifer Lawrence's Best Actress award last Sunday, drops one spot from last weekend, falling only 2%. With another $5.9 million added to the coffers this weekend, the movie has now seen its domestic total rise to $115.5 million, compared to its $21 million budget. Considering its subject matter and unusual storytelling style, it's safe to say that Silver Linings Playbook was one of the big winners of award season even if it didn't come away with a ton of trophies.

Plummeting down the ranks of the top ten once again is A Good Day to Die Hard, which falls from fifth last weekend down to ninth in this frame. Shedding almost a thousand screens already, the Bruce Willis actioner earned $4.5 million this weekend, down another 55%. The big problem for A Good Day to Die Hard, unlike Live Free or Die Hard, is that it's just not very well-received by…well, anyone. Live Free or Die Hard finished with $134.5 million; the latest entry for the franchise has now reached $59.6 million and doesn't have a lot of life left in it. The only good news is that overseas revenues are already more than $130 million, so while profitability isn't as strong for that market, Fox is still going to come out of this okay.

The Weinsteins' third entry in the top ten winds up in tenth place. Dark Skies, a title that sounds like it ought to be a series on TNT (was it a series on TNT?) earned another $3.6 million this weekend, down a vicious 60% from its debut last week. That's a pretty typical result for horror, though, so that drop isn't really out of the ordinary. Anyway, the film was created on a shoestring $3.5 million budget, so its domestic total of $13.6 million is actually just fine.

There was another wide release this weekend, appearing in 1,118 locations. Phantom, which you've never heard of but featured Ed Harris, David Duchovny and William Fichtner, pulled a near-Oogieloves by earning just $465,000. If that estimate holds, it will have beaten the Oogieloves' opening weekend total by a few thousand dollars, but at least it won't have quite the same dismal per venue average. The Oogieloves in the Big Balloon Adventure earned only $206 per location during its opening weekend, but RCR Media's lower screen count means that the damage won't be as bad – we guess. The budget for this disaster was $18 million, so someone is definitely taking it on the chin here. Never has there been a more apt tagline than "You'll never see it coming."

Last weekend's big Oscar winners didn't see a lot of traction outside of Silver Linings Playbook, but that's mainly because the awards were split amongst so many of them and also because the Best Picture winner is available on home video. Life of Pi was the biggest beneficiary of its four wins, jumping 43% to $2.3 million. Its overall domestic total is now $117 million (along with $475 million from overseas venues). Argo got a bump of 21% up to $2.2 million, and now has a cumulative total of $132 million.

Overall this weekend, the box office underwhelmed once again. The top 12 earned $94.4 million, down 38% from last year's $152.4 million when Dr. Seuss's The Lorax opened with $70.2 million and Project X earned $21 million. In fact, this year's top 12 just barely beat last year's top two. Yikes.

Disney is hoping to turn things around next weekend when it releases Oz the Great and Powerful. Also new in theaters will be Dead Man Down, which features Colin Farrell, Noomi Rapace and Terrence Howard, but it isn't likely to have much impact.