Weekend Forecast for March 1-3, 2013
by Tim Briody
March 1, 2013
BoxOfficeProphets.com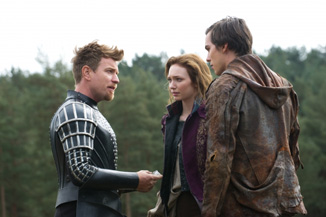 ---
While five films earned over $10 million last weekend, it was arguably the dullest weekend at the box office 2013 has had, with three-week old Identity Thief returning to the top. No longer distracted by the Oscars, Hollywood fixes that this weekend, launching four new releases to clear up some of the driftwood still hanging around.

Jack the Giant Slayer is a big budget adaptation of the fairy tale of the same name, with some Jack and the Beanstalk thrown in for good measure. Fie fi fo fum, the giants are big and ugly and we need lots of guys in armor and some catapults to try to bring them down but we obviously know who the big hero will be: the one named in the title. Nicholas Hoult plays the titular Jack after raising his profile with Warm Bodies a month ago. Other notable names featured include [bp:919_]Stanley Tucci[/bp], [bp:7608_]Ian McShane[/bp], [bp:854_]Bill Nighy[/bp] and [bp:1122_]Ewan McGregor[/bp]. The director is [bp:1060_]Bryan Singer[/bp], taking the helm for the first time since 2008's Valkyrie, though he's got X-Men: Days of Future Past (which also stars Hoult) coming next year.

In 3D because duh, it's getting an ultra wide release in over 3,500 theaters. The first thought on how Jack will perform is to look at John Carter, which flopped terribly around this time a year ago. Well, at least as much as a $30 million opening is a flop. But then again, it finished with $73 million against a supposed $250 to $300 million production budget so, yes: flop. Anyway, Jack the Giant Slayer has much more going for it than John Carter did: it's got a more recognizable story, is considerably more family friendly and has a fairly decent trailer (and only cost a mere $190 million to make). While it's going to be dwarfed (see what I did there?) by Oz the Great and Powerful next weekend, it still pretty much has this weekend to itself. Jack the Giant Slayer wakes up the box office from last weekend's doldrums, and I smell a weekend of about $36 million.

Four years later, being involved with The Hangover continues to pay dividends, as the two writers of that movie, Jon Lucas and Scott Moore, now get their first directorial credit with 21 and Over. Yet another "one wild and crazy night" film, two friends decide to get their best friend Jeff Chang (referred to by his full name at all times in likely one of the movie's "jokes") drunk on his 21st birthday, despite the fact he has an important med school interview the next day. All the usual tropes are involved, as is lots of booze and scantily-clad women.

The most notable name in the cast is Skylar Astin, the male lead in Pitch Perfect. That's…pretty much it. Oh, hey, the other friend was in last year's somewhat similar Project X, which pulled in $21 million on this very weekend, but benefited from a found-footage gimmick. The best news for 21 and Over and Relativity is it only cost $13 million to make, which is about what it can expect to make this weekend.

The most questionable title of the week belongs to The Last Exorcism Part II. But they told us this was the last exorcism! Those liars! Anyway, the 2010 film gets a sequel, which I suppose was to be expected after it opened to $20.3 million on a budget of just $1.6 million. It kind of doesn't matter that it only finished with $41 million, it's still found money for the studio, this time being CBS Films, not Lionsgate like the first go around.

The sequel begins right where the last one left off and returns somebody from the first film, but they still aren't anyone you would recognize. The best thing The Last Exorcism had going for it was its release date: the last weekend in August. This time, audiences are probably going to be a bit more selective. That said, it's good for about $10 million or so on the weekend, which is still probably twice its production cost, so stay tuned for "Really, Finally The Last Exorcism And This Time We Mean It" in a couple years.

The final wide release of the weekend is Phantom, which somehow is not a horror film. A thriller taking place on a Russian submarine during the Cold War, it stars [bp:132_]Ed Harris[/bp], David Duchovny and William Fichtner, all of whom look like they were blackmailed to appear in this. The first major release from heretofore unknown RCR Media Group, it somehow got in 2,000 theaters on the weekend. Some bizarre contractual obligation may be at work here, and if it happens to take in more than $3 million on the weekend, I'd be very surprised.

After rebounding to #1 last weekend, Identity Thief will cross $100 million sometime on Saturday, making it the first 2013 film to do so. That's certainly a feather in the cap of Melissa McCarthy, and to a lesser extent [bp:971_]Jason Bateman[/bp], who has quietly starred in three $100 million comedies in the last few years. Identity Thief remains the top comedy option on the weekend, and should be in the mix with another $10 million.

As is typically the case, Oscar fallout on the box office is pretty minimal, Silver Linings Playbook is the only major award winner still in wide release, and acting awards alone don't normally provide a big boost. Despite four new releases, it should cling to the bottom half of the top ten with about $4.6 million.

Best Picture winner Argo was 12th place last weekend with $1.8 million despite already being out on DVD. It's actually adding about 150 theaters this weekend, and has an outside shot at returning to the top ten with a soft bottom half of the chart. The Artist picked up about 25% a week after its victory last year, but that was after nearly doubling its screen count. The best case scenario for Argo would be about $2.5 million.