Weekend Wrap-Up
Oscar Doesn't Bring Out the Best at Box Office
By John Hamann
February 24, 2013
BoxOfficeProphets.com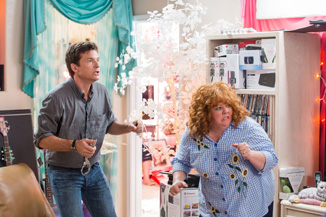 ---
It's the weekend we celebrate movies, and at theaters we get Snitch, Dark Skies, and a three-weekend old comedy leading the pack. Others will blame Oscar night, but don't let them. It wasn't always this way – on Oscar weekend in 2010, Alice in Wonderland earned $116 million, which amounted to about $30 million more than the top 12 did this weekend.

Yes, our openers are soft, most of our holdovers are weak, and there is only one Best Picture nominee in the top ten. Debuting films this weekend include the actioner Snitch with Dwayne "The Rock" Johnson and Dark Skies, the creeper from the Weinstein Company, which has three films in the top ten this weekend, all of them financial winners. So, again this weekend we have action and horror, which is the same theme we've had all year so far. January 4th we had Texas Chainsaw 3D; January 11th Gangster Squad; January 18th Mama, and The Last Stand; January 25th Parker and the R-rated Hansel and Gretel: Witch Hunters; February 1st was Warm Bodies and Bullet to the Head; February 8th we had our first comedy hit in Identity Thief; and then we were back to action and horror with A Good Day to Die Hard and Beautiful Creatures. It's been a tough start to 2013 as Hollywood does not seem to understand what the moviegoing public is looking for.

With that in mind, it is absolutely no surprise to me that Identity Thief returns to the top of the chart this weekend. The Melissa McCarthy flick (sorry Jason Bateman, you are not the draw here) debuted at number one over February 8th - 10th frame with $34.6 million, then lit it up between Valentine's Day and President's Day by earning $32.8 million. This weekend, things are understandably softer for the comedy, as it earns a gross of $14.1 million and drops 40% from last weekend's holiday-inflated three-day gross of $23.7 million. That means Identity Thief has earned a remarkable $93.7 million in only 17 days, which is a good score for a February release. It will cross the $100 million mark next weekend (or sooner, if McCarthy has a chance to shine tonight). Its chances of chasing down the $169.1 million total of Bridesmaids are slim, but if gets to $120 million, it joins Universal's top 50 films ever.

There is a new film in second, and it's Snitch with Dwayne "The Rock" Johnson doing his thing. Snitch, a better-than-expected action tale, earned a slim $13 million from only 2,511 venues, giving it the weekend's best venue average in the top 12, at $5,177 (not much, I know, but we have to look at the little things this weekend). With The Rock, the story is usually the same: if his film is a sequel, has a strong co-star or built in audience, he over-performs. If The Rock is on his own, an opening in the low to mid-teens is the easy bet. He had good results in Journey 2: The Mysterious Island, Fast Five, and Get Smart, but Snitch is more akin to Gridiron Gang, Faster, and Walking Tall. He picks okay scripts (this one was 55% fresh at RottenTomatoes - critics liked his performance, but didn't like the film), and is smart about picking smart supporting roles (The Other Guys). The Rock's next outing should be super-sized as he appears in GI Joe: Retaliation. He will also see further sequel work in Fast & Furious 6 later this year.

Third place does not go to either A Good Day to Die Hard or Safe Haven. Instead, the Weinstein Company's animated release Escape From Planet Earth, tops both of those one-week-old films. After quietly winning the President's Day Monday race with $5.1 million and a four-day total of $21.1 million, Escape From Planet Earth earned $11 million in weekend two, falling just 31% from a total that had the benefit of holiday inflation. This project cost that crafty Weinstein Company only $40 million to produce, meaning they should see a domestic profit on it. So far, Escape has earned $35.1 million thanks to smart placement on the release schedule.

Fourth also does not go to last weekend's winner A Good Day to Die Hard. Instead, it goes to last weekend's third place finisher, Safe Haven, the romance from writer Nicolas Sparks. Obviously chicks dig Sparks more than guys dig this version of Die Hard, as Safe Haven earned $10.6 million this weekend. It did follow the Sparks trend, though, declining a nasty 50% compared to last weekend. So far, the $28 million Relativity release has earned $48.1 million, $9 million of which came on Valentine's Day.

That puts last weekend's winner, A Good Day to Die Hard, way down in fifth this weekend after a five-day opening last weekend of $36.9 million. The Bruce Willis follow up to Live Free or Die Hard did a disappointing $24.8 million over last weekend proper, and this weekend, the 20th Century Fox sequel earned only $10 million, falling a hurtful 60%. Remember, Die Hard 5 cost its studio $92 million to make, and after this weekend, it has no hope of achieving that mark. The good news for this latest failure from an aging action star is the overseas box office. Away from home, A Good Day to Die Hard has already crossed the $80 million mark, so the overall score won't hurt Fox too much. Its domestic total so far is $51.8 million.

New release Dark Skies shows up way down the list in sixth, as it struggles for some sort of relevance. Apparently, being from "the producer of Paranormal Activity" is NOT an effective marketing strategy. The horror (?) flick earned an okay $8.9 million from 2,313 venues this weekend, as it only had to show up to earn a profit for its producers. Because it's from the producers of Paranormal Activity, that means it cost very little to make. In this case, that amount is $3.5 million, or about the amount it had earned by early Saturday afternoon. This one could have gone straight to airplanes and found a profit. It received the kind of reviews we might expect (poor) and earned a C+ Cinemascore, but given the cost, none of that really matters. With four new releases coming next weekend, this could be out of the top ten by next Sunday. Fingers crossed.

Silver Linings Playbook, our only Oscar nominated film in the top ten this weekend, is seventh. Now in its 15th weekend of release, the Jennifer Lawrence/Bradley Cooper flick earned another $6 million and dropped only 1%. Silver Linings Playbook faces some seriously long odds to walk away with the Best Picture trophy tonight (30-1), but could do okay with some of the acting awards. That could give it another couple of weekends of playability, which will only add to its outstanding gross so far of $107.5 million. Give some credit to the Weinstein Company, who showed a lot of faith in this $21 million release.


Eighth goes to Warm Bodies, as the zom-rom-com continues to wax the other YA movie in the top ten, Beautiful Creatures. Now in its fourth weekend, Warm Bodies earned another $4.8 million and fell 47% compared to last weekend. Warm Bodies has turned into a decent success for Summit Entertainment, as the $30 million dollar film has a domestic gross so far of $58.2 million and is approaching $20 million overseas.

Steven Soderbergh's Side Effects finishes ninth this weekend with a gross of $3.5 million. It declined 44% and has a gross so far of $25.3 million. Maybe Soderbergh should have retired after Magic Mike earned $114 million.

Ninth is Beautiful Creatures, the large miss from Warner Bros., as repetitive marketing does not always lead to a big opening weekend. After a $7.6 million start last weekend, Beautiful Creatures could only drum up $3.4 million this weekend, giving the $60 million flick a drop of 54%. This one will be lucky to earn $25 million for its studio, as it has a gross so far of $16.4 million.

Finishing outside of the top ten are Zero Dark Thirty and Argo, both of which will be featured at the big show tonight. Zero Dark Thirty earned another $2.3 million to bring its total up to $xx.xx million; Argo, which came out on Blu-Ray this week, still managed to pull in $x.xx million, giving the Ben Affleck flick a running total of $91.6 million. The big earner of tonight's show is Lincoln, which has surpassed the $175 million mark on the domestic front. The big, big winner, though, is Life of Pi, which took in $111 million domestically and almost $500 million from overseas theaters.

Overall this weekend, the top 12 films at the box office are a slouching group. The top 12 earned only $89.5 million, whereas last year, the top 12 brought in $114 million. Next weekend will be interesting as we have a high profile film (Jack the Giant Slayer), a horror sequel (The Last Exorcism Part II, or, The Last Last Exorcism), and two oddballs in 21 and Over and Phantom.