Weekend Wrap-Up
A Decent Holiday to Die Hard
By John Hamann
February 17, 2013
BoxOfficeProphets.com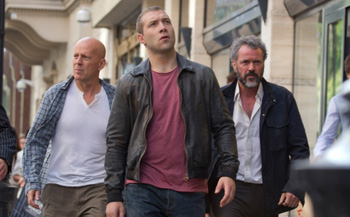 ---
It's a box office weekend on steroids, fuelled by action (A Good Day to Die Hard), romance (Safe Haven), comedy (Identify Thief), and something sweet for the kids (Escape from Planet Earth). The overall news isn't great, but at least we have a battle for number one over a weekend that included Valentine's Day on Thursday and President's Day on Monday.

It all started Wednesday night when A Good Day to Die Hard had its late night previews, and took in $840,000 from 2,328 locations. That was a softer midnight that I was expecting, and it meant the race was going to be close moving forward. Thursday was Valentine's Day, so my money was on Nicolas Sparks, whose Safe Haven opened just in time for Hallmark's day of the year. Surprisingly, the race was much closer than anyone expected, as Safe Haven beat Die Hard 5 by only $600,000, with the romance earning $8.8 million and the actioner taking in $8.2 million. This tells me that had A Good Day to Die Hard forgone the late night previews on Wednesday, it could have won Valentine's Day. Maybe I'm the only one that finds that odd.

The other odd thing on Valentine's Day was the 14-day old Warm Bodies eking out a victory over the opening day of Beautiful Creatures, which we can add to the pile of failed Twilight wannabes that we will see over the next few years. Warm Bodies proved the power of Valentine's Day at the box office, as the zombie rom-com was up from the previous day by more than 300%. Last weekend's opener, Identity Thief also had a big Valentine's, ringing up $5.4 million, up 160% over the previous day. All of these things foreshadowed the weekend.

That led us to Friday, where the top two movies switched spots, and Identity Thief continued to grow. A Good Day to Die Hard was the number one film with $7.2 million, and Safe Haven was second with $7.15 million. Both films were off from their opening Valentine's Day grosses by 12% and 20% respectively. Going the opposite way was Identity Thief, which increased from Valentine's Day by 21%, taking in $6.5 million. Also, waiting until Friday to debut was the kids flick Escape from Planet Earth, which drew $3.7 million. Escape didn't care about Valentine's Day, but it did care about President's Day, as distributor Weinstein knew the weekend multiplier (opening three-day weekend gross divided by Friday gross) was going to be in the 4.0 range. The showdown was set for an extremely tight weekend.

Saying that there was a winner at the box office this weekend is silly, as there are really three. However, studio estimates are telling us this morning that winner is A Good Day to Die Hard, as the Friday-to-Sunday estimate for the Bruce Willis sequel came in at $25 million. When we add Thursday's amount, that number becomes $33.2 million from Thursday-to-Sunday. Released to 3,553 venues, Die Hard 5 had a venue average of $7,036, the second best in the top ten. A Good Day to Die Hard did miss tracking estimates, which had it opening between $45 and $50 million over five days.

The Die Hard franchise has had its ups and downs. The first movie remains the high point; however, throwing Justin Long into the last entry, Live Free or Die Hard, breathed new life into the series after it struggled with parts two and three. I had hoped that the franchise would find a way to continue with Justin Long, but instead went with John McClane travelling to Russia to see his wayward son… and yeah, I lost interest at that point too. Reviews were by far the worst of the series, coming in at only 17% fresh at Rotten Tomatoes, and the site's "top critics" hating it even more at only 10%.

Fans of the Die Hard series are not 15, they are more likely between 40 and 50, and more prone to read a newspaper. 20th Century Fox needed to make a good film if they were to hand the reigns of the series off to John McClane's son Jack, but that is not the case here, and the Die Hard series may come to an end with this one. A Good Day to Die Hard cost $92 million to make, a number it likely won't see domestically. Still, given the location this time around, international audiences will almost certainly come out. Live Free or Die Hard earned $135 million stateside, but found $250 million overseas. This entry did manage a B+ Cinemascore, but then qtqinThe Last Stand also earned a B.

Finishing second is last weekend's number one film, Identity Thief. After a decent Valentine's Day and a stronger Friday, Identity Thief completed the weekend with a three-day $23.4 million take, down a not bad 32% from its $34.6 million debut. Last weekend, Identity Thief matched is production budget ($35 million) with its opening weekend take, so to have a strong Valentine's and follow-up weekend only adds fuel to its fire. This is another movie that was not made very well, but it opened to a similar amount as say the 11% fresh Couples Retreat, which went on to earn almost $110 million domestically. Identity Thief is currently on a very similar trajectory, and the holiday Monday's gross will only push that forward some more. All of a sudden, Mellissa McCarthy may be in two $100 million comedies (Bridesmaids being the other) and may be the next big thing. Identity Thief now has a running total of $70.7 million, and has the comedy demo to itself for the new few weekends.

Third place goes to Safe Haven, the latest in what has become a very long list of often popular Nicolas Sparks movies (The Lucky One, The Last Song, Dear John, The Notebook). After a strong Valentine's Day, Safe Haven faded a little, but not much, as it earned a powerful $21.4 million over the Friday-to-Sunday period, and $30.3 million since opening. The amount for the three-day portion of the weekend was not far off that of The Lucky One, the last Sparks romantic drama, which opened to $22.5 million in April of last year. Like most of these movies, critics got their hate on for this one, too, as reviews for this were even worse than that of Die Hard 5. Only 12 out of a possible 93 found something to like, giving the Lasse Hallstrom flick a 13% fresh rating. Of course, the difference between the Die Hard blockbuster and Safe Haven is budget, as the romance cost only $28 million to make, which means it will be profitable by the end of next weekend. What it doesn't have that a Die Hard sequel does have is an international audience. As an example, Dear John earned $80 million stateside, and picked up only $35 million overseas.

The Weinstein Company's new kid flick Escape to Planet Earth takes fourth place. Yes, before we get into numbers, we must remember that this one does not come from the animation hit factories like Disney, DreamWorks or even Fox. That's why a weekend gross of $16.1 million is actually good news for this one, as it avoids the $4 million opening that the Weinstein animated sequel Hoodwinked Too! Hood vs. Evil debuted to in 2011. Escape from Planet Earth cost a decent $40 million to make (versus $150 million for a Kung Fu Panda sequel). It received poor reviews (as expected), but will be akin to a discounted DreamWorks flick with lower production values. The Weinstein Company will end up spending as much as they earn on this one theatrically, before it finds some life in the world of home entertainment.

Fifth is Warm Bodies. As discussed above, the now three-weekend-old Warm Bodies took down the new Twilight wannabe Beautiful Creatures, and didn't have to earn much to do so. Warm Bodies earned another $9 million this weekend, off a solid 21% from the previous frame. Teens seem to be warming up to the $30 million zom-rom-com, as it has now earned $50.2 million, helping it to move into the top ten biggest films ever list for Summit Entertainment.

Beautiful Creatures, the mostly ignored new teen feature from Warner Bros., finishes in sixth place. Beautiful Creatures could only find $7.5 million this weekend (and $10 million over four days), as marketing made this one look hokey. The addition of stars like Emma Thompson, Viola Davis and Jeremy Irons made it feel like the fix was in, too. This project cost Warner Bros. $60 million, a debt they will be paying off for a while.

Seventh is Steven Soderbergh's Side Effects, one of the very few good movies released over the last few weeks. Side Effects earned $6.3 million in its second weekend and fell 32%. The $30 million film being distributed by Open Road has now earned a soft $19.1 million.

Silver Linings Playbook, which has now been in release for 14 weekends, takes eighth place. This time around, the Oscar nominated flick earned $6.1 million, off 5% from last weekend. The $21 million feature has now grossed an outstanding $98.5 million for the Weinstein Company, as it moves closer and closer to the $100 million mark. It has picked up an additional $40 million overseas.

Hansel & Gretel: Witch Hunters is ninth. The $50 million action flick earned $3.5 million, as it inches closer to matching its production budget stateside. Revenue for Paramount will come from overseas markets, as this one has made $50 million on the domestic side and is approaching $150 million internationally.

Closing out the top ten is Zero Dark Thirty, and unless it surprises at the Oscars next weekend, will probably be nearing the end of its run in theaters. The movie about the hunt for Osama bin Laden earned another $3.1 million, down 23% from the previous frame. The Sony project has now earned $88 million domestically and just over $20 million overseas.

Overall, the box office did okay, but for a President's Day long weekend, the top 12 is somewhat soft. The top 12 films earned $126.4 million this weekend, which is the first time the top 12 has crossed the $100 million mark since mid-January, but compared to last year, the weekend didn't stack up. Last year, five films earned between $17.4 million and $23 million, which led the top 12 to $143.3 million. Next weekend is Oscar weekend, and the choices are poor. Opening films include Snitch with The Rock and Dark Skies, a new thriller from the Weinstein Company.