Weekend Forecast for February 15-17, 2013
By Reagen Sulewski
February 14, 2013
BoxOfficeProphets.com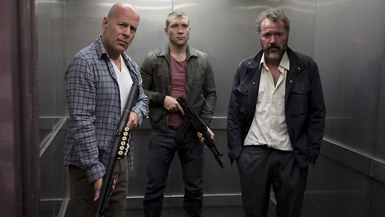 ---
The weekend starts one day early, at least as far as the movies are concerned. Something to do with chocolates, flowers and an angel in a diaper. Sometimes I don't really get holidays.

Probably the top movie this Valentine's Day weekend is the most romantic film imaginable – A Good Day to Die Hard, the fifth film in the Die Hard series, which you have to admit is living up to its title. The series leaves the continent for the first time, heading to Russia, where John McClane is on vacation, and just happens to stumble into a terrorist plot of some kind because why else would we be watching this? Naturally, he decides to lend out his particular brand of stopping bad guys to the people on the case, which just happens to include his son, now a CIA operative. Letting the ridiculousness of that just slide on by, aren't we ready for more over-the-top against-all-odds action?

Well, maybe we are. While the general idea behind the series is familiar, if having undergone a few tweaks over the decades (Happy 25th anniversary, Die Hard 1! You're welcome for feeling old), the execution at times has been lacking. In fact, I wouldn't even argue too hard if you wanted to say that only the first was any good, although I have a spot in my heart for all of them for their cartoonish excess. Irish director John Moore, he of Behind Enemy Lines, Max Payne and the 6/6/6 remake of The Omen gets the director chair this time, which I cannot in any way see as an improvement on Len Wiseman, let alone John McTiernan (who is, shall we say, indisposed at the moment) or even Renny Harlin. So we are almost entirely relying on our good will towards the series for this outing.

The last few weeks have not been kind, at the risk of understatement, to classic action stars, with three of Bruce Willis' contemporaries bombing quite spectacularly in their own films. The major difference here is of course that none of those films were in a franchise, which is kind of all what audiences want to see these days, at least in action. I bet even a Tango & Cash sequel would do decent business these days but don't get any ideas, Hollywood. 2007's Live Free or Die Hard opened to $33 million over an extended weekend, but was partially subsumed by the first Transformers movie. A February opening shouldn't detract from that, and may even help out by giving the film a bit more attention away from a crowded summer marketplace. It also helps a bit that Willis has kept current in action with RED and Looper. Even the execrable Cop Out managed an $18 million opening weekend. Over four days, Die Hard 5 should manage $46 million, with $35 million of that happening over the Friday-to-Sunday period.

Nicolas Sparks continues his assault on romance with the latest of his books to be turned into a movie, Safe Haven. Josh Duhamel and Julianne Hough play the couple standing on the beach kissing in the rain, and that's all women need to hear so just shut up and take them already. If you're concerned at all about the plot, it's essentially Sleeping With The Enemy without all that boring character establishing part. Hough plays a mysterious stranger who shows up in a small North Carolina town where Duhamel has just been waiting with his three kids for someone to share his life with since his wife died and oh my God just nominate these people for sainthood already.

Anyhow, it's just like every other Sparks adaptation, albeit with much less famous people. If only they could have worked Channing Tatum and/or Rachel McAdams in there somehow. Their not-Sparks film The Vow opened to $40 million last Valentine's Day Weekend, but at this point we have to concede that a good portion of that was due to star power and timing, seeing how The Lucky One and The Last Song performed. Duhamel is definitely no Tatum, and his only other lead role that didn't see him competing for screen time against robots was Life As We Know It, which opened to an unimpressive $14 million. Even then, that was probably Katherine Heigl. This is Hough's first film that doesn't prominently feature singing and/or dancing, but even those weren't spectacular performers. So it's Valentine's or bust for Safe Haven, and it should probably work to a degree. I'd look for $15 million over three days and $24 million over four.

It'll be competing for romantic dollars with Beautiful Creatures, a film I'm still not entirely convinced isn't an elaborate prank. And while Warm Bodies was knocked as a supposed attempt to "rip off Twilight", this is in fact the real deal in that department. Based on a young adult book series about a family of "casters", magic-users who are locked in a battle for good and evil, with the tipping point apparently resting on one young girl who will be claimed on his 16th birthday because that's not creepy at all. There's some tragic romance stuff mixed in there too between said girl and a "norm" boyfriend who is caught up in the midst of all this fate of the world stuff. Don't worry, you've probably never heard of either of them.

There are, however, three Oscar nominees in this cast, which means the pay must have been good. Jeremy Irons (visibly sighing in every scene), Emma Thompson and Viola Davis lend some gravitas to this silliness, while Emmy Rossum does her best femme fatale with the help of some gold contacts. As terrible and fake-gothic as this looks, it's hitting its target audience right where it wants, although it's relatively much smaller than some other books-turned-films in the hype department. Maybe the PR department should have cooked up a fake intra-cast romance or two. I expect a fairly Thursday-heavy bow for this, with about $14 million on the weekend, but $24 million over four days.

Avoiding the holiday is Escape From Planet Earth, an animated feature from the Weinstein Company. Brendan Fraser plays an alien stranded on Earth after a rescue mission goes awry. Guess what? Humans are dangerous to aliens! This is essentially the opposite plot of 2009's Planet 51, which is to say not much of a twist at all. Other voices in the cast include William Shatner, Jessica Biel, Sofia Vergara, Rob Corddry, Ricky Gervais and Sarah Jessica Parker, although kids really won't care about that part. For animated films, it often comes down to exposure and the juice of the studio, for lack of a better term. The Weinstein Company has decidedly lacked that in general, and its only other animated releases, the Hoodwinked films, have been something of a disaster. This looks to be a pretty low level performer with around $10 million over the weekend.

Identity Thief was a bit of a shocker with $34 million last weekend, this despite some pretty terrible reviews and not particularly brilliant advertising. Perhaps we can officially anoint Melissa McCarthy as a box office draw now, at least in comedy? Hit comedies can usually catch a break on the legs front, so I'd look for about $22 million here this weekend.

Warm Bodies likely takes a hit from the similarly targeted Beautiful Creatures this weekend, though that just means it makes a little over $5 million instead of $6 million in its third frame. Also returning to significant numbers are Side Effects, Steven Soderbergh's last theatrical film, which should add another $5 million, and Silver Linings Playbook, cruising along in post-Oscar nomination afterglow, also due for about $5 million this weekend.