The 400 Word Review: Side Effects
By Sean Collier
February 10, 2013
BoxOfficeProphets.com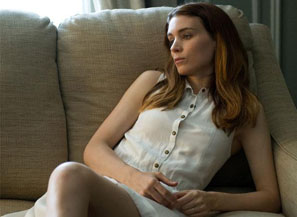 ---
America's continued love affair with prescription medication, while a frequent topic of debate (and more than ample conspiracy-minded hoopla) in news and online, has been more or less given a wide swath by Hollywood. Perhaps it's out of fear, as studios seek to avoid charges of slander by the long, litigious arms of the pill-makers; perhaps, though, there's a more pedestrian explanation: dealing with addiction and its effects on-screen is, like, hard.

Steven Soderbergh, however, has found a way, and (no spoilers) it isn't what you'd think. Rooney Mara stars as a young wife in bad shape; her dashing husband (Channing Tatum, obviously) is rounding out a prison term for insider trading (or something like that). He'll be home soon, but he's already talking about deals with other financiers he met on the inside.

After a bizarre car accident, the muddled missus finds herself consulting with a well-meaning psychiatrist (Jude Law); she's badly in need of something to help with her serotonin levels, and whaddayaknow, he just happens to be part of a study on the effects of a new wonder-drug. Of course, he warns, there's a chance of...the film's title.

What unfolds is a suspenseful small-cast guessing game, every bit as dark and mysterious as a good horror flick — while operating as a straight drama. Twists and developments come at unexpected intervals, plot structure be damned; while a thread will unwind slowly, it's nearly impossible to predict what's coming. Don't get up for popcorn.

Rooney Mara is finding herself occupying the headspace of damaged young women almost exclusively — don't forget, even before she got that Dragon Tattoo, she was dueling with Freddy Krueger — but she's good enough to make this character complex and distinctive. Tatum charms, as always; Law is sympathetic. The fourth part of the top-billed quartet is Catherine Zeta-Jones, who doesn't sink the ship (but has certainly lost her way.)

The turns get wild in the film's second half, and there will be viewers that question the realism of the outcome — but where's the fun in that? Behind powerful, compelling performances, Side Effects succeeds as a gripping, tense thriller. Where some films would force in a heavy-handed dose of social commentary, Soderbergh's movie concerns itself instead with providing an easy night's entertainment with a satisfying payoff. Side Effects is a movie that could trouble you. But you'll still be glad you went.