Weekend Wrap-Up
Melissa McCarthy a Blizzard at the Box Office
By John Hamann
February 10, 2013
BoxOfficeProphets.com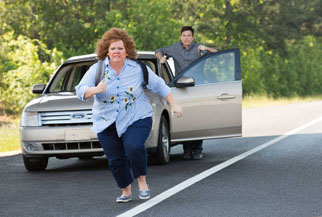 ---
We've got a one-woman wrecking crew at the box this weekend, and her name is Melissa McCarthy. Her new film, Identity Thief, opened bigger than Bridesmaids, despite a May versus February release date - and a blizzard.

With some in the Northeast thinking that today IS the day after tomorrow, the argument starts now about the effect of the blizzard some are calling Nemo. We know the Melissa McCarthy/Jason Bateman comedy Identity Thief showed up strongly this weekend, but the rest of the pack left something to be desired. The top 12 films this weekend grossed $89.6 million, where over the February 10-12, 2012 weekend, the top two films alone (The Vow and Safe House) grossed $81.4 million. A year earlier was the February 11th - 13th weekend, and the top three films earned $85.4 million. A lot of the discrepancy has to do with how Valentine's Day falls, with this year's romantic day falling on a Thursday, when four new films come out, taking advantage of both President's Day AND Valentine's Day. The last time the calendar configuration was the same as this year was in 2008. That year, the weekend before Valentine's Day had a top 12 gross of about $90 million, so one assumes this weekend's overall total is off about 10-15% of the norm.

With our other openers this weekend being quite small (they include Steven Soderbergh's self-proclaimed final theatrical film, Side Effects, and a re-release of Top Gun in 3D), Identity Thief had the playing field almost to itself and took advantage. The box office has been dry of laughs for quite a while. If we don't include Warm Bodies, the last comedy to finish on top was Ted, which was number one way back in early July. Identity Thief was marketed hard (much like Warm Bodies), and the payoff is truly large. As Kim Hollis reported yesterday, Identity Thief had an $11.2 million opening day – despite the storm – and cruised to a weekend gross of $36.6 million. That gross beat expectations, but was handicapped by a blizzard in the Northeast that slowed or stopped 10% of the movie going population in North America.

Universal Pictures wins again with Melissa McCarthy, as they were also the studio behind Bridesmaids, which gave McCarthy her breakout opportunity. Bridesmaids earned $169 million domestically and another $119 million overseas, all against a budget of only $33 million. With an Oscar nomination for Bridesmaids, McCarthy is more of a known quantity now (the actress also appears in the CBS sitcom Mike & Molly), which helped propel Identity Thief beyond Bridesmaids, at least in terms of opening weekend. Bridesmaids got started with a $26.2 million opening, but was able to able to multiply its opening weekend by about 6.5 before it was done. It is doubtful that Identity Thief will do the same, as it got drubbed by critics. Of the 102 reviews counted at RottenTomatoes, a surprising 77 were to the negative, leaving it with a 25% fresh rating. On the slightly more positive side, the Cinemascore for Identity Thief was a middling B, which should cause a mix of word-of-mouth.

For Jason Bateman, this is his biggest debut since Couples Retreat ($34.3 million), but that movie could be credited more to Vince Vaughn. The star of Arrested Development was more of an above-the-title star in lesser comedies like The Switch ($8.4 million opening) and The Change-Up ($13.5 million opening), but broke out in Horrible Bosses, which like Identity Thief, was directed by Seth Gordon. Hopefully, the movie version of Arrested Development will come soon, but it looks like Bateman's spelling bee movie Bad Words will come first.

Warm Bodies takes the number two spot this weekend, and unlike its lesser-made brethren Twilight, holds up pretty decently in its second weekend. The Nicholas Hoult zombie rom-com opened to $20.4 million last weekend (including previews), and fell just 43% to $11.5 million in its second frame. The production budget on this movie was only $30 million, so Summit Entertainment will be very happy with Warm Bodies. It has a gross so far of $36.7 million and will likely see $55 million.

Steven Soderbergh's Side Effects is third this weekend. The psychological thriller with Channing Tatum, Jude Law, Catherine Zeta Jones and Rooney Mara did only okay in its first weekend, taking in $10 million from 2,605 venues, right in line with expectations. Side Effects is the best reviewed wide release of the year so far, as 95 reviewers out of a possible 112 found something to like, giving it a fresh rating of 85%. Like Identity Thief, which was 25% fresh, Side Effects also earned a B Cinemascore, which could make one wonder about the Cinemascore process. Endgame Entertainment and Di Bonaventura Pictures put up $30 million for Side Effects, and it was distributed by Open Road Films. Endgame and Open Road last collaborated on A Haunted House, which cost $2.5 million and has made $38 million so far.

Fourth goes to top five stalwart Silver Linings Playbook, which continues to rake it in leading up to Oscar night. The Jennifer Lawrence dramatic comedy earned another $6.9 million and fell 11%. The $21 million-budgeted Weinstein release has now earned $90 million as it moves it way toward $100 million. It will be interesting to see how it performs next weekend, as four new films appear on the scene Thursday, and all of them will see 2,900+ venues.

Hansel & Gretel: Witch Hunters takes fifth place. After a 52% drop last weekend, Hansel & Gretel does a little bit better this weekend, as the poorly made fairy tale action movie earned $5.8 million. That gives the Jeremy Renner flick a drop of 39%, and a gross so far of $43.8 million. This Paramount release is actually finding success overseas, as it has an international total that exceeds $100 million, all against a budget of $50 million.

Mama dips to sixth this weekend, as the already big Jessica Chastain horror flick continues to hold up surprisingly well for horror. Mama earned another $4.3 million and declined 34% compared to last weekend. The $15 million Universal release has now grossed $64 million.

Seventh goes to Zero Dark Thirty, as it likely spends its last weekend in the top ten, unless it wins big on Oscar night. This weekend, the hunt for Osama Bin Laden film earns another $4 million, a 23% decline from the previous frame. So far, the $40 million Sony release has taken in $83.6 million stateside.

Eighth is Argo, as Warner Bros. continues to re-expand its Ben Affleck award winner to take advantage of all the good press. With another 470 venues in play this weekend, Argo earned $2.5 million, an increase of 23% over last weekend. So far, the $45 million Argo has earned $123.7 million stateside, and another $75 million overseas. What will big Ben do next?

Quentin Tarantino's Django Unchained finishes in ninth place. In its seventh weekend of release, Django earned another $2.3 million, and was off 24%. The $100 million Weinstein release has now earned $154.5 million, and about the same amount overseas.

Rounding out the top 10 is Bullet to the Head, the Sylvester Stallone disaster that debuted last weekend. The action flick took in another $2 million this weekend, down 56% from its opening frame. This one will be a memory next weekend, as its $8.2 million total so far is nothing to get excited about.

Eleventh goes to Top Gun 3D, which gets a re-release this weekend. The late Tony Scott's film earned $1.9 million from only 300 locations, giving it a venue average of $6,333.

Overall this weekend, the top ten managed only $89.6 million, well off of where we were last year and the year before, but as discussed above, the calendar is more to blame than the blizzard. The next frame should be a weekend on steroids at the box office, as we have Valentine's Day on Thursday and President's Day on Monday. Films looking to benefit include A Good Day to Die Hard, Beautiful Creatures, Escape from Planet Earth, and Safe Haven.