Weekend Wrap-Up
Box Office Plummets Thanks to Awful Openers
By John Hamann
January 27, 2013
BoxOfficeProphets.com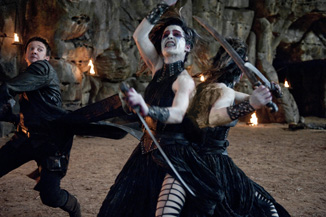 ---
It's the post-Martin Luther King Jr. weekend and the openers suck. So what else is new?

The weekend following the extended January weekend is notorious for serving up critically reviled movies, and this one is no different. Hansel & Gretel: Witch Hunters, Parker, and Movie 43 join a historically bad weekend where openers have included Red Tails, Legion, The Tooth Fairy, Extraordinary Measures, Inkheart, Meet the Spartans, The Hitcher, and Are We There Yet? – and that's just going back seven years. These late January weekends have a neon sign on the calendar that says "DUMP HERE," and studios do just that. The openers have an average rating at RottenTomatoes of 18%, and audiences caught on.

Our number one film, unfortunately, is one of those titles. The top film at the box office is Hansel & Gretel: Witch Hunters, Paramount's $50 million, R-rated update on the Grimm fairy tale. With TV shows like Once Upon a Time and Grimm being popular right now, this would seem like a natural winner. It did win, but it came in about $6 million below its tracking estimate, earning $19 million from 3,372 venues this weekend. It was expected to earn $25 million plus, but the Jeremy Renner/Gemma Arterton (Clash of the Titans) horror/fairy tale failed to draw a big audience. Renner hasn't been in a film without a built-in audience since The Town, where he supported Ben Affleck, instead going for pre-positioned roles in The Avengers, Mission: Impossible - Ghost Protocol and The Bourne Legacy. Obviously, audiences weren't ready to buy him as the grown up Hansel, and the fact that this one was held back from reviewers prior to release was the death knell. Studios should know by now they are better off getting bad reviews than no reviews.

Hansel & Gretel: Witch Hunters was supposed to be released in March 2012, after production began a year earlier in March 2011. The film was delayed, and in the age of the Internet, this is just as bad as not screening a film for critics. Released in 3D, Hansel & Gretel even had the admission mark-up going for it; nonetheless, it failed to cross the $20 million mark. The marketing was poor and the reviews (once they started to come out) were worse, with only six positive reviews out of a possible 37. The makers of Hansel & Gretel seemed to have a list of what not to do with their property, and hit every item. Still, with only a $50 million budget, and already a following overseas (it made $8.6 million in Russia alone last weekend), Hansel & Gretel: Witch Hunters won't cost Paramount too much.

After a huge MLK long weekend at $32 million, Mama's box office trend settles into traditional horror, as the spooker falls 55% from its $28.4 million three-day total last weekend. In its follow up weekend, the Jessica Chastain horror title earned $12.9 million from 2,682 venues for Universal, a studio that's been on a bit of a roll, releasing Pitch Perfect ($107 million worldwide, $17 million budget), This is 40 ($70 million worldwide, $35 million budget), and Les Miserables (approaching $300 million worldwide, $60 million budget) over the last few months. With the $15 million Mama, Universal is only the distributor, but given the film's $48.6 million gross so far, Universal will do just fine with Mama as well.


Third and fourth this weekend go to our Oscar players this year, Silver Linings Playbook and Zero Dark Thirty. Silver Linings Playbook is third, as the Weinstein Company continues to throw more screens at this release. This weekend, the studio added another 118 venues to the romantic dramedy's run, after going wide last weekend with a 1,713 screen expansion. Following last weekend's holiday inflated $10.8 million take, Playbook drops a terrific 7% this weekend to $10 million. Anything Weinstein is always shrewd, and the awards driven studio has turned this small $21 million picture into a $69.5 million winner. Should Oscar shine its light (doubtful but possible), $100 million could be on the table.

Silver Linings Playbook actually leapfrogged Zero Dark Thirty this weekend, as the Kathryn Bigelow bin Laden film moves from second last weekend to fourth this frame. Zero Dark Thirty picked up another $9.8 million but falls a troubling 38% compared to last weekend. The $40 million Sony release has now earned $69.9 million, a very similar amount to Silver Linings Playbook, despite the very different release strategies. Playbook platformed in the traditional way, while Zero Dark Thirty did the NY/LA opening, then added 60 venues, and then went to a wide pattern. Look for this showdown to continue over the next few weeks, leading up to Oscar.

Fifth place goes to Parker, the new Jason Statham film that was attempting to start a franchise. The franchise idea is no more, as Parker had an opening weekend gross of only $7 million. Out to 2,224 venues, the actioner actually had the best reviews amongst the openers this weekend at 35% fresh, but that's not good enough to get any buzz going. Reviews again generally like Statham (they always seem to), but the material here wasn't up to par. This debut follows the Statham trend of mid-to-high single digits, a domestic multiplier of about 2.5, and then a similar result overseas. Someone needs to get this guy some better material. If you are thinking about seeing Parker, rent Payback with Mel Gibson instead. You get Maria Bello and Lucy Liu instead of Jennifer Lopez.

Sixth goes to Django Unchained, the Weinstein Company's biggest film ever. Django earned another $5 million this weekend as it declined 35% from the previous frame. The Christmas Day release has now earned $146.3 million stateside, and another $50 million from overseas markets.

Movie 43, a critical and financial flop, takes seventh place. The film, which is series of interconnected stories shot by different directors, opened badly with only $5 million. Relativity put it out to only 2,023 venues, a lower number that indicates they knew how bad this was. Movie 43 was another one not screened for critics, and it currently sits with only two positive reviews out of a possible 35. This one cost only $6 million to make, so again, no one gets hurt (except those that pay to see it). Oddly, Movie 43 is another movie that is finding popularity in Russia - it has tallied $8.5 million there so far.

Eighth is Gangster Squad, the star studded throwback action movie. The Warner Bros. released earned only $4.2 million, off 51% from its fourth place finish last weekend. The $60 million gangster flick has pulled in $39.6 million.

Down in ninth is Broken City, which is going to be out of the top ten after only two weekends. The Mark Wahlberg/Russell Crowe flop earned another $4 million, but will leave with a domestic total of only $15.3 million.

Les Miserables, Universal's other big movie, finishes in 10th. The musical earned another $3.9 million as it fell 48% from the previous frame. It looks like it will lose the Christmas Day showdown with Django Unchained stateside, as Les Mis has earned $137.2 million, about $9 million less than the Tarantino picture; however, it has earned $150 million overseas. It will lose the domestic battle, but win the worldwide war.

In other box office news this weekend, Life of Pi crossed the $100 million mark on Monday, its 62nd day of release, but will end up with a worldwide gross that will put Django Unchained and Les Mis to shame. Life of Pi also crossed the half-billion mark, making those that greenlit the $120 million production look like superstars. Lastly, remember all that talk about Tom Cruise and the miss that was Jack Reacher? The action flick should cross the $100 million plateau overseas this weekend, which means the overall take for the $60 million Paramount release has reached $175 million.

Overall this weekend, the top 12 films earned a poor $88 million. A year ago over the same weekend, the top 12 films took in $98.1 million on the strength of The Grey. Next weekend brings Stallone in Bullet to the Head, as it hopes to avoid the one and done that was Arnold's Last Stand; the other opener is Warm Bodies, a teen zombie flick.