Weekend Forecast for January 25-27, 2013
By Reagen Sulewski
January 25, 2013
BoxOfficeProphets.com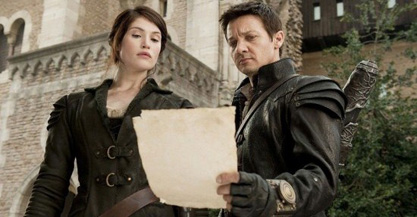 ---
The ridiculously mixed bag of films this January has provided continues this week with three new offerings that include among them what is likely to be the strangest wide release of the year, and that's not even the one with witches.

After an almost year-long delay, Hansel and Gretel: Witch Hunters hits theaters, pegging the "It's Titled What?" meter at its highest levels since Abraham Lincoln: Vampire Hunter or possibly Snakes on a Plane. At least this has the benefit of being based on a fairy tale, allowing more room for poetic license. It's MTV's first 3D film and looks every inch what you'd expect an MTV version of Hansel and Gretel to be, with a misplaced sense of edge and Baysian explosions.

Jeremy Renner and Gemma Arterton star as the brother and sister of the Brothers Grimm story, who survived being abandoned in the woods at a witch's cabin, and decided to turn pro at the whole witch killing thing. Instead of waiting for witches to crawl into an oven, they get a little more proactive with crossbows and shotguns, and a several-hundred years too early machine gun. Screw witches, why not invade Russia with that?

The director here is Tommy Wirkola, which appears to be Norwegian for Timur Bekmambetov. He was also responsible for the cult midnight film Dead Snow, which brought us zombie Nazis. This looks to be much in the same spirit – that is, the "can you believe this is a film?" sense that you get from most of these trailers and commercials. Completely over the top action has its place, as evidenced by the vampirey Lincoln film opening to about $16 million this past summer. Paramount is obviously hoping that the addition of Renner (and to a lesser extent Arterton) makes this a better bet, but even with his exposure this year from The Avengers and The Bourne Legacy, I don't think anyone's going to this saying "ooh, Hawkeye!" There's no notion of how good it as, as it's been held back from critics (though that's a notion in its own, isn't it?), but it does look just crazy enough to get attention in this first weekend, to the tune of about $17 million.

Also not being screened for critics this weekend is Movie 43, a film I don't think I've seen anyone successfully explain just yet. Twelve credited directors and starring...well, to save some time, I'll just say it's starring everyone, it's kind of an anthology film, sort of a sketch comedy movie, and mostly an excuse for big names to act in filthy, filthy material. It's largely the brainchild of Peter Farrelly and sort of harkens back to the days of the Zucker/Abrahams films like Kentucky Fried Movie. What's quite unusual is how many big names have gotten involved, including a number of Oscar winners like Kate Winslet and Halle Berry, and a bunch of... not Oscar winners.

It's a difficult film to sell, both because there's been very little like it in ages, and because it's hard to separate a lot of the jokes out of context from their setups. As such, it's leaned heavily on a couple of laughlines, in particular Terrence Howard's oh-so hip jokes about black people and basketball. It's a very hard-R rating, and it's certainly possible that the best jokes can't really be shown. But "trust us, it's funny" is always a hard, hard sell with comedies. The unique nature of the film should be good for some curiosity, but only to around $8 million. Thankfully for the film, it only has a $6 million budget, and should be okay with just about anything.

These past few and next few weeks seem to have a lot of big names in action lining up to release films. This week it's Jason Statham's turn with Parker, which differs from all the other films where Statham beats people up in that this time he wears disguises while he does it. He teams up with Jennifer Lopez (all but invisible in the ads) to intercept his old crew's heist after they leave him for dead, leading to car chases, gunfire, you know the drill.

As a standalone star, Statham has actually been on a steady downward trend, with only the Expendables films really counting as hits for him lately. Last year's Safe was one of his lowest grossing films since breaking out, only just throwing over Crank 2 in domestic box office. A lot of this is due to changing appetites for action – last week's Schwarzenegger film is stark evidence of that – but Statham's non-Transporter films haven't done a great job of selling themselves as something special or even that much better than a straight to DVD release. I'd look for just $7 million here this weekend.

Jessica Chastain will yield up the top spot, grudgingly, for now, after the twin successes of Zero Dark Thirty and Mama in successive weeks. The latter film is a bit more of a surprise hit, opening to $28 million, the largest weekend in this young year. As with any horror film, it's hard to believe that it has all that much to do with the stars (so many have hit with absolutely no names in them to think they bank on that), but it's also hard to completely dismiss that idea when it opens so above what you'd expect. Horror does tend to be premise-based, but were those creepy kids all that effective in the ads? I really don't think so. One thing that does seem to be certain about horror is that it's usually one and done, and while Mama may push a little back from that, I wouldn't expect more than around $13 million this weekend.

Whatever the controversy surrounding Zero Dark Thirty is causing people to think of it, it is getting people to think of it. Last weekend, its second in wide release, saw it bring in a solid $16 million, a drop of about one-third. That's a little bit below average for an Oscar contender once it expands, but it's nothing to hit the panic button about yet. Give it $11 million this weekend.

Silver Linings Playbook, on the other hand, definitely seems to be picking up momentum, losing just 30% of its per screen average after a huge expansion last weekend. Jumping all the way into third place with nearly $11 million, the unconventional romantic comedy is closing in on $60 million total, with definite Oscar possibilities out there for it. As such, a final box office total is impossible to project at the moment, but at the minimum we can say it'll hit the $100 million mark before too long. A strong holdover to $9 million shouldn't be surprising this weekend.