Top Chef Power Rankings
By David Mumpower
January 23, 2013
BoxOfficeProphets.com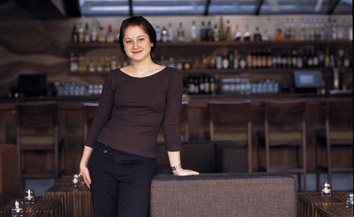 ---
With Kristen's shocking elimination last week, the top of the leaderboard requires a lot more consideration. I eventually settled upon a mostly stagnant ranking system from the prior episode. The only difference is that most people move up a spot now that the 800-pound gorilla of the season is gone. The title of Top Chef feels a lot less predetermined than it did seven days ago.

1) Brooke: I had hoped/expected that Kristen would get a mulligan if Restaurant Wars went south. She had never been in the bottom group before. While I knew the track record of recent Restaurant Wars executive chefs, I felt Kristen would be okay. This was not the case as not only did Kristen go home but she did instead of Josie, easily the worst remaining player.

Brooke is the primary beneficiary in the short term. We will never know who had the stronger individual performance between her and Sheldonlast week because that is not how the Restaurant Wars grading system works. What I can say with confidence is that Brooke has either won or finished in the top group of four of the last five Elimination challenges prior to Restaurant Wars. I viewed her as a co-favorite previously. The only aspect that has changed is that she has a different co-favorite joining her now.

2) Sheldon: Only nine previous contestants could say that they won Restaurant Wars. Sheldon somehow found a new and novel way to lord above the rest of the bunch. He won Restaurant Wars twice. First, he won the preliminary challenge that led to his becoming executive chef for Urbano. His Filipino concept was dominant in terms of plates served with the only knock involving Stefan's service rather than any issues with food. Over the last two episodes, Sheldon has won $10,000 and a $35,000 car. Even if he doesn't win, those are some phenomenal consolation prizes. Sheldon has been solid all season. If he is peaking at the right time, a man may wind up winning Top Chef: Seattle after all. That would be an unexpected turn of events given what has transpired this season.

3) Lizzie: Lizzie's consistency had been the rationale beyond her consistently high power ranking. After she narrowly avoided elimination in consecutive episodes, I dropped her down to fifth. Despite Josh's recent hot streak, I was impressed enough by Lizzie's Restaurant Wars performance that I decided to flip flop their positions. Yes, I recognize that Josh's team won while Josh's food was heavily praised. What got lost in the shuffle is that the judges singled out Lizzie's charcuterie as their favorite dish from the women. Sheldon created the men's best dish. I believe that Lizzie caught a bad break with the scallops two weeks ago. The following Elimination challenge dish was in no danger of leading to her dismissal. Overall, Lizzie has remained quite consistent and I have chosen to view her candidacy in this light. If Joshua outperforms her again this week, my opinion will change.

4) Joshua: The barbaric egg dish that he served last week offered the vibe of an apex predator taunting a weaker species. Still, the judges thought it was delicious. In fact, lavish praise was directed toward all of his plates in the most recent episode. If Sheldon is the hottest contestant at the moment, Joshua is a close second. After a terrible struggle at the start of the season, the horribly-mustached Oklahoman has now finished in the top group in four out of the last five challenges.

5) Stefan: From a certain perspective, Stefan was closer to elimination last week than Josie. Honest to God. Josie. Stefan has always demonstrated a crippling amount of hubris. This season, he has added apathy and antipathy to the repertoire. His Restaurant Wars behavior was stunning in this regard. First, he announced a desire to impress famed restaurateur Danny Meyer. Then, he acted annoyed when Meyer attempted to ask him any questions about the food being presented. I Love You So Much That I Wish You Would Leave Me Alone Forever is perfectly acceptable behavior for a teen girl. For a middle-aged man, such erratic behavior is oftentimes a warning sign for some sort of addiction. In this particular instance, Stefan is addicted to Stefan.

6) Josie: I hate you. I am in hate with you.

Quips aside, there is a certain amount of self-fulfilling prophecy to what transpired with Josie last week. The judges could have voted her out of the competition in five (!) previous challenges. The fact that she survived the cut each time placed everyone in an awkward situation where the frequent pattern of Restaurant Wars led to Kristen's elimination.

The best, the most marketable and the most attractive chef this season was undone by a series of past decisions by the judges in combination with her impressive demonstration of leadership and responsibility. All of this happened almost independent of Josie, who should not even have been a cast member this year. So the casting department is to blame as well. Josie's Top Chef existence this season represents total systemic failure on the part of what I consider to be the best production team in reality television.