Weekend Wrap-Up
Mama Rocks, Arnold Flops
By John Hamann
January 20, 2013
BoxOfficeProphets.com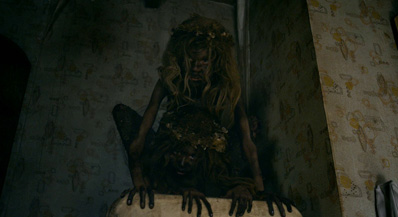 ---
This is NOT a good weekend to be Arnold Schwarzenegger, as the former governor gets no love at the weekend box office. However, Jessica Chastain and the Martin Luther King Jr. long weekend keep a strong January rolling.

The real star of the box office this weekend is Jessica Chastain, last weekend's Best Actress Golden Globe winner for Zero Dark Thirty. This weekend Chastain appears in an entirely different film, the horror flick Mama. It appeared as if it would only have to contend with last weekend's winner, Zero Dark Thirty, for the top spot. Chastain is in the process of blooming into a superstar, and this weekend will only add to a resume that includes The Debt, The Tree of Life, The Help, Madagascar 3, and Lawless - and these films all came out within the last year and a half.

Our number one film over the MLK weekend is Jessica Chastain's Mama, the dark horror film from Executive Producer and all around weird guy Guillermo del Toro. Universal opened Mama at 2,647 venues, and it earned $28.1 million over three days, with another decent day to come tomorrow, on the holiday Monday. Mama cost only $15 million to make, so this will be a profitable venture for Universal and del Toro, and only serve to keep Chastain's name in the headlines as she moves toward Oscar glory.

Mama received better notices than the typical horror flick; for once, it seems some thought went into a true scary movie. Critics didn't hate it. At the time of this writing, Mama has received 51 positive reviews and 29 negative at RottenTomatoes, good for a 64% fresh rating. Audiences also appear to be digging Mama, as it earned a B- Cinemascore, which isn't bad for horror. This is a nicely scheduled, smartly made picture, which benefited from a decent marketing campaign. For Executive Producer del Toro, this is his first return to horror since Don't Be Afraid of the Dark, another scary movie that got decent reviews (but flopped at the box office). Surprisingly, between horror films, del Toro served as Executive Producer on a handful of kids movies, like Rise of the Guardians, Kung Fu Panda 2 and Puss in Boots. With the del Toro brand, Mama should make at least $50 million domestically and another $25 million overseas.

Chastain's second punch in this weekend's top two comes with Zero Dark Thirty, which expanded last weekend and took the number one spot with $24.4 million. This weekend, the shine comes off a little, as Zero Dark Thirty won little at last weekend's Golden Globes, beyond the win for Chastain, of course. Couple that with ongoing chatter about the torture in the film, and the gross this weekend becomes $17.6 million, a dip of 28% - despite having the holiday Monday prop that drop up. With Chastain having the one-two punch at the box office this weekend, the title will continue to be bandied about in the press, giving it even more free marketing. The question everyone asks me is whether ZDT will be a $100 million earner in North America. My answer is that it still appears to be close, but will need some decent holds over the next two weekends to do it. Its gross so far is $55.9 million.

Third place goes to the film that was the big winner at last weekend's Golden Globes, Silver Linings Playbook. Last Sunday was a coming out party for the film, even though it didn't win much. Playbook has been on the fringe of the box office for a while now, but comes out swinging with a gross of $11.3 million over the three-day portion of the long weekend. That gives it a stunning increase over last weekend of 126%, as last weekend it was on 810 venues, and this weekend was smartly expanded to 2,523. It is that "Weinstein time of year" as the Weinstein Company has Django Unchained moving down, and Silver Linings Playbook moving up. Don't forget that this film has been in theaters since mid-November, and after 10 weekend of release has grossed $55.3 million. It cost only $21 million to make, so will be a strong performer for the Weinsteins.

Gangster Squad falls to fourth this weekend after opening in third with $17 million last weekend. Despite the long weekend, Gangster Squad took it on the chin this weekend, dropping 47% to earn $9.1 million. Gangster Squad has turned into only a "meh" release - obviously not good enough for an Oscar campaign - despite the stellar cast that includes Ryan Gosling, Josh Brolin, Sean Penn, and Emma Stone. Made for $60 million, this is another project that will end up being just okay with regards to domestic gross. It should earn $50 million domestically, and will likely pull a similar amount overseas. So far, it has earned $32.2 million.

Newcomer Broken City shows up in fifth, and there is nothing to get excited about here. Despite a cast that includes Mark Wahlberg and Oscar winners Russell Crowe and Catherine Zeta-Jones, Broken City did not repair itself this weekend. The thriller grossed only $9 million from 2,620 venues. Wahlberg, star of the biggest comedy of 2012 in Ted, can't bring the magic to this broken down story. Broken City was more hated by critics than a horror flick and a Schwarzenegger action film, as it earned only a 24% fresh rating at RottenTomatoes. The good news for Fox and New Regency is the fact that it cost only $35 million to make, so there shouldn't be too many shirts lost one this one.

Sixth goes to last weekend's second place film, A Haunted House. The spoof held up somewhat better than you might expect, as it declined 54%, which sounds bad, but considering the bigger-than-expected opening, anything above 60% for a movie in this genre is pretty solid. It earned $8.3 million and is now sitting with a super profitable total of $29.9 million. Open Road has to be extremely pleased with how this has turned out.

Tarantino's Django Unchained moves from fourth last weekend to seventh this weekend, as a successful holiday season means this one is starting to run out of gas. Django earned another $8.2 million this weekend and dipped 25% from its $11 million score last weekend. The $100 million Tarantino film has now earned $138.4 million stateside, and is just getting started overseas.

Django's fellow-Christmas opener falls to eighth place, as successful Golden Globes weekend keeps the percentage decline low. The Tom Hooper flick earned another $7.8 million this weekend, a decline of 19%. Les Mis has now picked up $130.4 million on the domestic front, and its foreign take has just about matched it. Where does it finish? It is tough to say. $150 million may be in play as it does have eight Oscar nominations. Still, by the time the awards ceremony rolls out, it will be out of the top ten.

The Hobbit moves from 3,012 screens last weekend to 2,323 venues this weekend, and its gross disappeared accordingly. After earning $9.2 million last weekend, The Hobbit dropped three spots to ninth with a weekend total of $6.4 million. That gives it a drop of 30% and increases its overall domestic take to $287.4 million. It has earned over $600 million overseas.

Finally in a sad, stale 10th is Arnold Schwarzenegger and The Last Stand. The Last Stand tanked this weekend despite more critics liking it than not. The Last Stand (which it won't be, as Ahnold has two films in post-production) earned only $6.3 million from 2,913 venues. This is the lowest opening weekend for the Terminator since 1986's Raw Deal, which opened to $5.4 million (that's 27 years ago, folks). While The Last Stand won't turn him back into a superstar, Lionsgate played this one smart, spending only $30 million on the production budget. It will be interesting to see if The Last Stand plays overseas.

Lincoln dips to 11th this weekend, as it was mostly ignored at last weekend's Golden Globes and has been running for 11 weekends. Lincoln earned $5.4 million and dropped 15% from last weekend (when it was up by 17%). The $65 million Lincoln has now earned an amazing $160.5 million.

In other box office news this weekend, Fox re-expanded Life of Pi to 1,256 venues after receiving some strong marketing at the Golden Globes. The result was an increase in business of 26%, but the gross was still small at $3.4 million. The real power for Pi has been that overseas audience, as it has a worldwide gross of $450 million plus. Argo benefited from some big wins last Sunday, as it increased its take by 94% this weekend as the Ben Affleck flick earned $2.4 million, bringing its overall gross up to $115 million. Also, Skyfall finally crossed the $300 million mark on its 71st day of release. Here's to you, Bond.

Overall, the box office remains in okay shape, as the top 12 films this weekend earned $122 million. In both 2011 and 2010, the three-day portion of the long MLK weekend brought in $115.1 million. Next weekend could be interesting, as we get Hansel and Gretel: Witch Hunters, Parker with Jason Statham, and Movie 43.