Weekend Forecast for January 18-20, 2013
By Reagen Sulewski
January 18, 2013
BoxOfficeProphets.com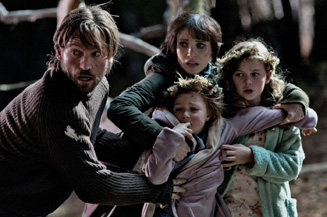 ---
The third weekend of the year is positively flooded with new content, including three new films and the first chance for most of the country to see one of the top Oscar contenders of the year. It's a possible rare feat that might be the real story of this weekend, though.

After headlining the top film of last weekend with the expansion of Zero Dark Thirty, Jessica Chastain is set to double that achievement, albeit not with the same film. Although virtually unrecognizable in a brunette wig, she's the main drawing card in the horror film Mama, which is the most likely film to top the charts this weekend.

She and Nikolaj Coster-Waldau (Jaime Lannister from Game of Thrones) play a couple who find his long-lost nieces in the woods after a five year search. Somehow they survived all this time, but just how did these young children stay alive – or perhaps more importantly, who was protecting them all this time, and is whoever, or whatever, ready to give them up?

Expanded from a short film by neophyte director Andres Muschietti, this is sort of a hybrid of three different kinds of horror – The Scary House, The Creepy Little Girl (x2), and the The Thing In The Woods. It's also one of the darkest-looking horror films in some time, and I don't mean in tone. The entire thing looks like it was shot by candlelight, which I suppose makes that all the more scarier in some people's eyes. The main hook appears to be the affection the girls still have for their monstrous protector and the creepy little whisper that anchors the end of the trailer and commercials. It's a bit weak, but successful horror films have been built off less. And of course, horror sells in just about any form these days. This one reminds me a bit of 2011's Insidious, but with a little better star power and better commercials. With non-Chainsaw horror running in the upper teens of late, look for this to start with about $17 million.

Arnold Schwarzenegger makes his return to leading roles after almost ten years in politics with the rather insane looking The Last Stand, from Korean director Kim Jee-woon. Schwarzenegger plays an Arizona sheriff with the rather unlikely name of Ray Owens called on to assist in the capture of a Mexican drug lord who has escaped from a Las Vegas prison, and who is making a run back to the border. With his band of misfit deputies and an arsenal that could apparently take over a small country, he gets to be the last thing between a violent criminal and his freedom. Make things go boom now.

The Last Stand doesn't appear to aspire to much other than a balls-to-the-wall action film with some crazy driving stunts and lots and lots of weaponry, and it apparently succeeds on that level, in addition to some half-hearted comedy, in the form of self-deprecating old jokes from Arnold, and Johnny Knoxville playing a slightly damaged weapons hoarder and a walking argument for background checks.


The level of interest in a Schwarzenegger film is tough to judge at this point, since anyone old enough to see his last action film in theaters has graduated from college by now. This kind of action is a tough sell in general now anyway, with only The Expendables managing to get through to hit status, and that's thanks to having *all* the action stars. Still, a new Schwarzenegger film is likely good for some curiosity, and it looks like it might be a fun little diversion. $14 million so could be in the making here.

The pairing that we've always asked for, Mark Wahlberg and Russell Crowe, headlines Broken City, a political/cop thriller from Allen Hughes, one half of the Hughes Brothers. Crowe plays a New York City mayor (with a ridiculous hairstyle, but that's neither here nor there) who brings in ex-cop and current-detective Wahlberg to investigate his wife (Catherine Zeta-Jones), whom he suspects of having an affair on him. However, as he gets further into his investigation, Wahlberg discovers much deeper, darker secrets that run all the way to the top and blah de blah, lots of intense yelling at each other and scandal.

With all the political intrigue and murder and sex scandals, this looks a lot like a previous Russell Crowe film, State of Play, but with Crowe on the other side of the good/bad divide. That was a bit of a flop, earning just $37 million in theaters. Fox is likely hoping that the presence of Wahlberg, who has been a bit of a hit machine of late, will make the difference here. Of course, Wahlberg has a cop thriller flop of his own, We Own the Night, on his resume, which made only $28 million in October of 2007. These films just aren't that interesting to audiences, and there's nothing that looks particularly special about this one relative to others (sex and power scandals just aren't shocking to film audiences anymore), so this one likely gets the ho-hum treatment from the public, with about $10 million this weekend.

The major expansion this weekend goes to Silver Linings Playbook, which jumps from 810 to over 2,500 venues following its Oscar nominations and Golden Globe win for Jennifer Lawrence. It's been kind of a curious campaign for this film, as I'm not convinced it's really done a great job of selling what the film is about. Rather, so far, it's been "Hey, our film has been nominated for a bunch of things, and aren't Jennifer Lawrence and Bradley Cooper adorable?" For the record, the film is about mental illness and loss, but that's kind of a tough thing to jam into 30 seconds. In any case, the technique has worked fairly well until now, it already has over $40 million in the bank. This expansion should get it to about $9 million this weekend.

Jessica Chastain's biggest competition is from herself, as mentioned previously, with Zero Dark Thirty. Its expansion netted it $24 million and lots more controversy over the film's depiction of torture (which, as it purports to depict actual events, and we know this happened, is pretty damn silly). It's not really a conventional war film, playing a lot more like an episode of To Catch A Killer: Abbottabad Edition. In other words, it's solid all around but probably won't inspire a lot of passion in word-of-mouth, which probably means around $16 million this weekend.

Of the two new films from last week, Gangster Squad should easily outpace the horror spoof A Haunted House, but then I'm not really setting the bar high there. The Josh Brolin/Ryan Gosling led film opened to $17 million, which isn't all that bad in context, but doesn't particularly inspire hosannahs in the accounting department. Look for about $10 million this frame. Meanwhile, with horror and spoofs both being genres that age poorly, the Marlon Wayans excuse to get out of the house for a few weeks might drop to around $6 million from its opening weekend of $18 million. Then again, with a budget of $2.5 million (note to self: Cedric the Entertainer works cheap) this is so wildly profitable that I can't imagine anyone caring.

Other returning films include award contenders Django Unchained, Les Miserables and Lincoln, along with The Hobbit. Only Lincoln really showed much of a benefit from awards, increasing by nearly 20%, while Django and Les Miserables chugged along as if nothing happened. Perhaps it's only Oscars that matter for those two films. They should slide in at around $7 million, with Lincoln and The Hobbit earning about $5 million each.