Weekend Wrap-Up
Unloved by the Academy, Zero Dark Thirty Is the People's Choice
By Kim Hollis and David Mumpower
January 13, 2013
BoxOfficeProphets.com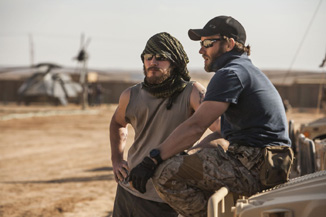 ---
Academy Awards nominations were revealed on Thursday, and they directly impacted weekend box office for half the movies in the top ten. A couple of the Academy's most lauded films even increased from last weekend. In the end, the movie that was slighted by the Oscars, Zero Dark Thirty, handily won the weekend.

At the start of awards season, critics rushed to anoint Zero Dark Thirty as THE movie of 2012. The fact-based recreation of the CIA's pursuit of Osama Bin Laden dominated the competition. It was named Film of the Year by the National Board of Review and a slew of other online/print media groups. Quickly after the Kathryn Bigelow title secured frontrunner status, it became the target of a politicized argument due to its early scenes featuring torture.

Bigelow's attempt to tell the story as presented to her by some Washington D.C. officials would have been lessened without this authenticity. The subject of waterboarding has become such a hot button issue that simply by including the torture technique in the movie, Zero Dark Thirty became a divisive topic. How much this impacted Zero Dark Thirty's Oscars positioning is something that will never be known. What can be said with certainty is that Skyfall and Amour earned as many nominations as Zero Dark Thirty, a befuddling turn of events given what had transpired during the first six weeks of awards season.

Fortunately for the producers of Zero Dark Thirty, North American consumers were undeterred by the hot button nature of the subject matter. There was a great deal of passion to witness the events that led to Osama Bin Laden's being brought to justice. Due to this support, the expansion of Zero Dark Thirty from 60 locations last weekend to 2,937 exhibitions this weekend was a box office triumph. The Jessica Chastain tour de force spiked 790% (!) from $2.7 million to $24 million. In the process, it became the number one film in North America.

Zero Dark Thirty's reported production budget has varied wildly, even this week. Ordinarily reliable sources have disagreed by as much as $20 million regarding the financial outlay for the project. Our comfortable guess after exhaustive research is that the project cost somewhere in the range of $35 million. Given that Zero Dark Thirty has grossed $29.5 million after 23 days in limited release and now three days in wide release, it is undeniably a profitable endeavor for Sony Pictures.

Currently 93% fresh at Rotten Tomatoes, Zero Dark Thirty was well received by audiences as well. It earned an A- Cinemascore and appears likely to be a box office factor for the next six weeks. While the movie is unlikely to win Best Picture due to the political schism, it is an unqualified hit. And we consider it to be the rare must-watch theatrical release. Its clinical evaluation of real life events is powerhouse entertainment and important subject matter to boot, independent of political affiliations.

Second place is a bit of a surprise, as A Haunted House had far better staying power on Saturday and Sunday than Gangster Squad did. Although both films opened on Friday with almost exactly the same amount ($6.8 million for A Haunted Hause versus $6.7 million for Gangster Squad), the horror movie spoof is estimated to have come out ahead to the tune of just over $2 million. A Haunted House's weekend total was estimated at $18.8 million, equal to a per venue average of $8,712 (it's playing in almost a thousand fewer locations than Gangster Squad, incidentally).

Needless to say, Open Road Films is going to be extremely pleased with the performance of A Haunted House. The movie had a minuscule $2.5 million budget, following the pattern of the films it mocks (Paranormal Activity, all of the various exorcism movies of the past couple of years), meaning that it's easily going to turn a profit even if it falls off a cliff next weekend. Considering that this movie stars Marlon Wayans, Cedric the Entertainer, Anchorman's David Koechner, and a bunch of other people no one knows, it's extremely impressive that the upstart distributor (The Grey, End of Watch) was able to parlay this product into such a stellar result. Open Road will probably have to be happy with the money they got this weekend, though, because A Haunted House has been savaged by critics (10% fresh at Rotten Tomatoes) and its B- from Cinemascore-polled audiences shows there's not much enthusiasm for it from everyday movie-goers, either.

Gangster Squad's fortunes probably changed on July 20, 2012 in the aftermath of the Aurora, Colorado theater shooting. The trailer for the film highlighted the climactic action scene, which showed characters from the film shooting submachine guns at moviegoers through the screen at Grauman's Chinese Theatre in Hollywood. At this point, the trailers were yanked from theaters and the film was pushed from its September 7, 2012 release date in order to accommodate re-shoots that would relocate that scene and change the context. From this point on, Warner Bros. seemed uneasy about promoting the project, and the move to push the opening to January 11, 2013 is evidence of this fact, particularly since it's generally later in January before audiences really warm to new releases as opposed to Oscar nominees and other awards bait.

On paper, Gangster Squad appeared to have everything going for it. Ruben Fleischer, the man behind Zombieland, was the director, and the film was chock full of big stars. The cast list includes such heavyweights as Sean Penn, Josh Brolin, Ryan Gosling, Emma Stone and Nick Nolte, lending it the appearance of a movie that might have been meant for Academy Awards attention (note that every single one of those gentlemen have previously been nominated for an Academy Award; Stone was part of last year's SAG-winning cast of The Help). The budget for the film is reported to be $75 million, and there's not a chance Gangster Squad gets there domestically, because word-of-mouth is not on its side. Only 34% of critics at Rotten Tomatoes endorse the film, while it received a B+ Cinemascore from opening night audiences (not terrible, but not glowing, either).

Fourth and fifth go to a pair of movies that have seen their fortunes tied together even if their subject matter couldn't be more different. Django Unchained and Les Miserables both opened on Christmas Day and have more or less been right beside each other in the rankings ever since. This weekend, even with the theoretical boost they should have received from their Oscar nominations, both films fell fairly significantly, likely because they had already been doing well throughout their release.

For Django Unchained, the decline was 45% as it fell to $11.1 million this weekend. Its grand total is now $125.4 million, which makes it the highest grossing Quentin Tarantino movie ever, surpassing Inglourious Basterds' $120.8 million. Les Miserables held slightly better, with its $10.1 million amounting to a 37% drop, actually one of the better holds in the top ten. Its $119.2 million is good enough to push it past both Dreamgirls and Hairspray to be the third-highest grossing musical of all-time. It has a good shot at also beating Mamma Mia!, but Chicago's $170.7 million is likely out of reach without a Best Picture win.

Two of the blockbusters of the holiday season finish in sixth and seventh place this week. The Hobbit: An Unexpected Journey is not the domestic blockbuster that New Line Pictures and Warner Bros. had projected. Despite this slight disappointment in North America, the latest Middle Earth movie grossed $9.1 million this weekend, a 48% fall from last frame. It has garnered $278.1 million after 31 days in theaters. Well behind it in terms of domestic revenue yet far ahead in terms of perception is Lincoln. The Steven Spielberg biopic capitalized on its Academy accreditation, leading 2012 films with a dozen nominations. Renewed consumer interest caused a 17% uptick in box office from last weekend, giving the movie $6.3 million for this frame and a running total of $152.6 million. Thanks to the Oscar buzz, Lincoln has a legitimate shot at $200 million.

Rounding out the top ten are a summer leftover, last weekend's number one film and another Best Picture nominee. Parental Guidance, the movie that reminds us that Bette Midler and Billy Crystal are still alive, fell a respectable 37% to $6.1 million. It has earned $60.7 million domestically from what we presume are very disappointed consumers with low self-esteem. Meanwhile, Texas Chainsaw 3D is the latest one and done slasher flick. It fell a near-historic 76% to $5.2 million and is already effectively done in theaters with $30.8 million. Tenth place goes to Silver Linings Playbook, the angry romantic comedy that tied for third with eight Academy Awards nominations. Consumers demonstrated an uptick in interest, boosting the movie's weekend total 38% to $5 million. The surprise hit has now earned $41.3 million and should expect further box office life next week as it expands into wide release.

The top 12 films this weekend grossed $121.8 million, a modest increase of 6% from last year's $115.1 million. Next weekend features a trio of new titles. Mark Wahlberg and Russell Crowe square off in Broken City, Arnold Schwarzenegger defends his city in The Last Stand, and Academy Awards frontrunner Jessica Chastain becomes the unluckiest children's caretaker ever in Mama.