Weekend Wrap-Up
The Sound of Chainsaws (and Money) Ring in the New Year
By John Hamann
January 6, 2013
BoxOfficeProphets.com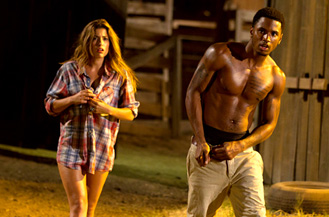 ---
What better way to indicate the end of the holiday season by releasing a Texas Chainsaw movie? At least they dropped "Massacre" out of the title. Happy New Box Office Year everyone!

Yes, the lucrative holiday season is winding down, leaving us our first horror release since November's The Collection, but seeing how that grossed less than $7 million, the better example might be October's Silent Hill: Revelation 3D (which gets my vote for stupidest title ever). Thankfully, the days of the instant-money horror flick are almost behind us; however, the titles that still make horror coin are those that are steeped in scary tradition, like the Friday the 13th films, the Nightmare on Elm Street series, and the Texas Chainsaw films, just to name a few. These "name recognition" horror properties still bring in the kids on opening day, but there won't be much more to it than that.

So, our number one film of the weekend is not a Christmas event film like Django Unchained, Les Miserables or The Hobbit. Instead, it is Texas Chainsaw 3D, the return of the torture porn franchise that has been dormant for seven years. Audiences were obviously hungry for something new, as Texas Chainsaw 3D took in a surprise $10.2 million on Friday night, on its way to a higher than expected weekend gross of $23 million. Lionsgate put the slasher flick out to 2,654 venues, and it earned a venue average of $8,666. Considering the 24% fresh Chainsaw picture cost only $8 million to make, any money made after next weekend (or sooner) should be pure profit for distributor Lionsgate and production company Twisted Pictures (Saw I-7).

The last Texas Chainsaw film, The Beginning, opened with $18.5 million in October 2008, good for second place. It went on to make $39.5 million domestically and another $12 million from overseas markets, all against a production budget of $16 million, or twice the cost of this latest chapter. The real money-film in the franchise was the reboot in 2003, simply called The Texas Chainsaw Massacre. A the time, horror was hot, and with Michael Bay producing, New Line was able to turn a $9.5 million budget into a worldwide gross that crossed the $107 million mark. Lionsgate made a smart move picking up this (at times) lucrative series, and with the choice of release date and scheduling strategy, may have launched itself a small franchise.

By opening the film this weekend, younger viewers (despite the film being rated R) would have had Friday off, and been able to gobble this one up. The weekend multiplier (weekend gross divided by Friday gross) came in at 2.25, which indicates the Friday front-loading is exactly what happened. In 2007, a film called One Missed Call employed the same scheduling strategy over the same calendar configuration we have this year. It opened to $12.5 million against a budget of $20 million, and went on to earn $46 million worldwide. For Lionsgate, Texas Chainsaw 3D starts their year off perfectly, as it sticks to their business plan – make them cheap and reap the rewards.


Finishing second is Django Unchained, Quentin Tarantino's bloody blaxploitation spaghetti western, which critics adore. This weekend, Django earned a still solid $20.1 million and dropped 33% from last weekend when it was also in second, earning $30.1 million. The Jamie Foxx/Leonardo DiCaprio flick crossed the $100 million mark this weekend, and has a domestic gross so far of $106.4 million. That means that in the 13 days since it opened on Christmas Day, the Weinstein release has earned an average of $8.2 million per day, which shows how lucrative the holiday season can be. Django Unchained has already become the third biggest western title ever, behind only Dances with Wolves ($184.2 million) and the Coen Brothers' True Grit ($171.2 million). The difference between the $100 million Django Unchained and these films is budget, as Dances With Wolves cost only $22 million to make in 1990, and True Grit cost Paramount $38 million to make in 2010. At this point, it looks like Django will push toward the $200 million mark if Oscar shines its light, if not, $175 million might be a more realistic finish.

The Hobbit, which had a chance to four-peat this weekend, fails and falls to third in its fourth weekend out of the gate. A weekend ago, The Hobbit earned $31.9 million. This weekend the shine comes off, with The Hobbit earning only $17.5 million, good for a 45% decline. The big drop almost had to be coming, as this one has already grossed $263.8 million at the domestic box office and has earned more than a half billion overseas. Still, despite these numbers, I believe viewers of The Hobbit are down on the franchise, so it will be extremely interesting to see how the next film performs. The Hobbit should finish with about $300 million on the domestic front. It needs $313 million to beat Fellowship of the Ring, without taking into consideration inflation on a film that is 12 years old.

That puts Les Miserables down to fourth, and like The Hobbit, the hold this weekend isn't so great. Les Mis earned another $16.1 million from its 2,904 venues, but was down a somewhat alarming 41% from the previous frame. Since opening so big on Christmas Day ($18.5 million), the musical has been seemingly sliding downward ever since. Still, the $61 million-budgeted epic has averaged $8 million over the 13 days it's been open, and has a gross so far of $103.6 million. Like Django Unchained, it crossed the $100 million mark this weekend; however Les Miserables seems to be stepping out, while Django is still going strong.

Parental Guidance is fifth this weekend, as I guess there are still people that enjoy the old-fashioned kick in the groin jokes. The Billy Crystal picture earned another $10.1 million and fell a mere 30% compared to last weekend's take of $14.6 million. Made for two balls of twine and a bucket of water (or $20 million), Parental Guidance has now earned $52.7 million, and is proof of why studios release films at Christmas.

Jack Reacher drops to sixth, but despite what some media outlets are reporting, Jack Reacher is going to be a success for Paramount. This weekend, the Tom Cruise film earned another $9.3 million at the box office and declined 32% compared to last weekend's $13.6 million take. Since opening, the action flick has brought in $64.8 million on the domestic front, and is just getting started overseas, where it's already tallied $22.5 million. Remember, this one was made for $60 million, and should approach $90 million on the domestic front. In the end, Jack Reacher should be Tom Cruise's second biggest picture out his last six, as this should outgross Knight and Day ($76.4 million – cost $117 million), Valkyrie ($83 million – cost $75 million), Rock of Ages ($38.5 million) and Lions for Lambs ($15 million).

This Is 40 drops to seventh, and despite never rising above third spot at the box office in its first weekend, will still be a decent sized success for Universal. This weekend, This Is 40 earned another $8.6 million and dropped 32% from last weekend. However, let's remember that this one earned more in its second weekend than it did during its first, so has now seen weekends of $11.6 million, $12.5 million, and now $8.6 million. It has a domestic gross so far of $54.5 million and cost only $35 million to make. This Is 40 will likely reach $70 million before all is said and done, and will end up as one of Universal's top seven films of 2012.

Eighth spot goes to Lincoln, which has now been in wide release for an incredible eight weekends. After increasing its gross by a whopping 33% last weekend, things get back to normal this weekend, as the Steven Spielberg flick earns another $5.3 million. It fell 28%, but is closer to flat when looking at the gross from the December 21-23 weekend ($5.5 million). Lincoln did everything right, and most of its moves went against the usual studio grain. It had its first wide weekend against the blockbuster The Twilight Saga: Breaking Dawn Part 2, which every other studio avoided. Then, Lincoln had a strong second weekend against three big Thanksgiving openers. Next, it expanded against the opening weekend of The Hobbit and as mentioned, increased its take in weekend seven by 33%, despite dropping 327 screens. Lincoln has made all the right moves and has survived long enough to get to Oscar nominations, which will put more fuel in its tank. Remember, this one cost only $65 million to make, has a gross so far of $143.9 million, and could finish with as much as $175 million.

Ninth is The Guilt Trip, which manages to survive despite being the odd man out for the holiday lottery. This weekend, The Guilt Trip earned $4.5 million, and fell 31% from the previous frame. Since opening, though, The Guilt Trip has amassed only $31.2 million, and will finish with about half of what Parental Guidance will earn.

Finally in tenth is Promised Land, which stars Matt Damon and John Krasinski, and is directed by Gus Van Sant. This one has never been able to get over so-so reviews and its message, and is going to pay for it. Promised Land earned only $4.3 million from 1,676 venues, and will be a big miss for Focus Features.

In other box office news this weekend, Skyfall earned another $3.2 million this weekend, taking it close to the $300 million domestic mark. So far, the greatest Bond film ever has earned $296.9 million. Additionally, the Weinsteins expanded Silver Linings Playbook this weekend to 745 venues. It took in $3.6 million, which gives it a drop of only 11%. It has earned $34.7 million so far. Zero Dark Thirty also expanded this weekend to 60 venues and brought in $2.7 million. It had a venue average of $45,833 and has a gross so far of $4.5 million.

Overall, the box office starts out the year on the right note, with a top 12 gross of $126.3 million. In 2008, when the calendar configuration was the same, the top 12 earned $121.2 million. Last year, the first weekend of the year brought a virtually identical $126.2 million. Next weekend, Gangster Squad, which stars Sean Penn, Ryan Gosling, Josh Brolin and Emma Stone opens, along with A Haunted House, from the Wayans Brothers. Zero Dark Thirty also expands to wide release.