Top 12 Film Industry Stories of 2012: #7
Peter Griffin: Now in Bear Form
By Tim Briody
January 4, 2013
BoxOfficeProphets.com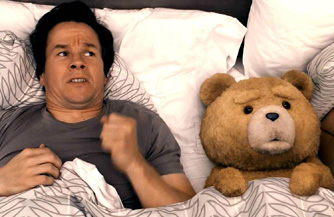 ---
The R-rated comedy. For years this was a clear sign that a movie's box office had a firm ceiling. It wasn't going to bring in the younger crowd that goes to the movies virtually every weekend and has a higher disposable income. You had to get that PG-13 rating to really bring in the big bucks, the conventional wisdom went.

But we know none of that silly conventional wisdom truly applies to box office. Going back to 1998 when There's Something About Mary earned $176 million, every couple of years you get an R-rated comedy that breaks out huge. Wedding Crashers in 2005 ($209 million). The undisputed R-rated comedy champion, The Hangover in 2009 ($277 million). 2011 upped the ante with Bridesmaids ($169 million) surprising many and The Hangover: Part 2 using up all the goodwill the first one earned as it took in an astonishing $254 million.

This year, an R-rated comedy starring an actor not known for many comedic roles and made by the man behind one of the more polarizing shows of the last decade couldn't possibly join that list. Or could it?

Ted, co-written and directed by Family Guy mastermind Seth MacFarlane (who also voiced and provided motion-capture for Ted), shocked everyone by starting with $54 million in its opening weekend. With its one-note premise of a teddy bear who comes to life, gets older and discovers an affinity for marijuana, booze and hookers, Ted earned $231 million, good enough to be the ninth highest grossing film of 2012, along with the seventh highest earning R-rated film of all time.

Perhaps its success can be explained due to the fact that this may very well be the closest thing that we'll get to Family Guy: The Movie (it certainly did not hurt that Ted's voice was essentially the same voice MacFarlane uses for Peter Griffin), though from personal experience Ted managed to bring in people who aren't big Family Guy fans. But I suppose the final question is "how in the blue hell did this happen?"

What Ted had in its favor (which also goes for aforementioned R-rated hits) is a very funny trailer, one of the funniest of the year, capped off with what we like to refer to around here as "the money shot:" A knock-down drag-out fight between Mark Wahlberg and Ted. Yes, a grown man fighting a teddy bear. The Thunder Buddies battling to the death surely sold a few tickets. Ted also used the power of YouTube and the red-band trailer to highlight the scene where Wahlberg tries to guess the name of Ted's new girlfriend by firing off "white trash" names in rapid succession. Sometimes it's the obvious things that still work.

The remarkable breakout success of Ted has pretty much given MacFarlane a blank check and complete creative control for whatever he chooses his next project to be. And based on what he's done in the past (an album of '50s jazz standards? Sure, why not?), that could be absolutely anything. Already his profile has increased; with a well-received Saturday Night Live appearance last fall and he'll also be the host of the 2013 Academy Awards ceremony.

In short, when Seth MacFarlane takes over the world in 2013, this is all your fault, America.