Weekend Forecast for January 4-6, 2013
By Reagen Sulewski
January 4, 2013
BoxOfficeProphets.com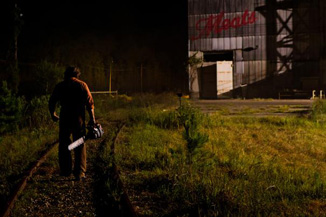 ---
Now, where were we? After Christmas 2012's subdued orgy of box office gold, things get back to more-or-less normal patterns, though we still have a lot of Oscar-baiting expansions to deal with. And, as has somehow become something of a tradition, we also have a horror film to pair with them. Nothing like ringing in the New Year with pointless carnage, right?

That it's from one of the grand-daddy franchises of horror mitigates things a bit, although by the same token, is there really anything possible to say about the Texas Chainsaw Massacre anymore? I mean, what possible reason can there be for another installme... oh, right. 3D. Carry on, then.

This feels like approximately the 12th reboot of the Texas Chainsaw Franchise since the original film in 1974, which has gone from the highs of cult classic status, to the lows of being starred with Matthew McConaughey and Renee Zellweger and back up to highs again with the Michael Bay-produced remake. Sacrilege though they were, at least thy seemed to have a point in existing, updating the series to the "modern" style of horror at the time. Torture porn has kind of died out in the meantime, replaced by voyeurism horror, so this film is basically just a dude in a mask running around with a chainsaw. Without the gimmick of 3D, this film has almost zero reason to exist.

Starring no one you've ever heard of, and directed by the guy who brought you Takers (the anti-Heat), this is one of the more cynical products that the Hollywood horror film factory has put out in some time. That's not going to stop you completely from seeing it, but I do think it's going to be just a modest $13 million opening weekend.

The major expansion this weekend is Promised Land, Gus van Sant's fracking drama starring Matt Damon. Although it's highly topical, it has the feel of an advocacy film that's going to be like being preached at for two hours. Damon plays a natural gas salesman brought in to help close the residents of a small town in rural Pennsylvania on the idea of allowing hydrofracturing on their land. The Office's John Krasinski plays an environmental activist who throws a monkey wrench in his plans. At the same time, a love triangle also develops with the two and Rosemarie DeWitt, a local farmer whose land is crucial in the potential deal.

Although the film is getting some praise for not taking the easy route with its villains and heroes, it's also taking a lot of criticism for its melodramatic plot and a weird swerve of a third act that's leaving many cold. To date, it's failed to win over audiences in its limited release, with an unimpressive $173,000 in 25 venues. For a film with significant star power and Oscar hopes, that's not a good start. Co-written by Damon and Krasinski with Dave Eggers, its expansion to around 1,400 venues should bring in around $4 million.


Smaller expansions go to the tsunami drama The Impossible and the '60s rock nostalgia piece Not Fade Away, but weekend totals should fall under $2 million for the former, and under $1 million for the latter.

Which brings us back to our returning films, led by The Hobbit. After a strong-but-could-have-been-better $84 million opening weekend, it dropped sharply to $36 million and held that figure over Christmas week to bring its running total to around $240 million so far. That's... pretty good, but in the context of past Lord of the Rings movies and ten years of inflation, The Hobbit has unquestionably proven itself to be a harder sell. The nearly $500 million from foreign receipts cushions this blow somewhat and it was probably impossible for this not to be profitable, but I'm certainly seeing a bit of grumbling about how they're going to manage to get three films out of this material. It should still be able to win this weekend, its fourth straight, with around $18 million.

The two big Christmas Day openers, Django Unchained and Les Miserables, are running about neck and neck in total box office, each with $80 million or so as of Wednesday, with the Tarantino film actually showing surprisingly stronger legs than the musical, which you might expect to be more of a crowd pleaser. Indeed. Django seems quite certain to surpass the $120 million of Inglourious Basterds, and to do so easily. Deep into his career, Tarantino seems to have found the magic ingredient to make his films wildly successful and not just critically acclaimed orgies of violence. I look for this to be a close second this weekend with $17 million.

Miserables is of course no slouch either, although it undoubtedly peaked with its Christmas Day win. Upcoming Oscar nominations will eventually push this one into another level, but for now this is going to run a bit behind the two films mentioned above, with about $15 million.

Just as I'd feared, Parental Guidance became the "well, gotta see *something*" film over Christmas Week and earned $14 million over its first full weekend, with $38 million to date. While this is fairly small as far as holiday family movies go, this is still a film which has a highlight of comedy Billy Crystal vomiting on a child after being whacked in the balls. Typically, without the impetus of family movie viewing, these films drop off sharply, but I'm not getting my hopes up. It may earn as much as $9 million this frame.

Tom Cruise's Christmas outing this year is significantly less impressive than last year's in the box office. Jack Reacher currently sits at around $50 million, less than a third of Mission: Impossible 4. Admittedly this film is not part of an established big effing action franchise, but it's part of a troubling pattern for Cruise, where his non-franchise films have decidedly ordinary box office. Perhaps it's just the small scale of a film like Reacher, but I think we have reason to be nervous about things like Oblivion at this point. Look for around $8 million this weekend here.

This Is 40 also failed to connect in a big way with audiences, though the stakes were a bit lower for Paul Rudd and Leslie Mann. The spinoff movie continues to be a hard sell in audience-land, although the likely $75 million final total for this film isn't bad, per se. It just marks a big drop off in compared to the nearly $150 million that Knocked Up brought in. Then again, it's a King's Ransom compared to Rudd's last three films, which wouldn't combine to gross that. It's perhaps a bit more troubling for Judd Apatow, who has gone from comedy king maker to a man in desperate need of a hit in just a couple of years. It should match Jack Reacher's $8 million this weekend.

Lincoln continues to rack up small but significant weekends and now stands at around $135 million. With inevitable Oscar nominations coming by the boatload, it's going to get a chance to go for $175 million, which is kind of an astounding figure even with the Spielberg name on this. Give it another $5 million this weekend.