Top Chef: Seattle Recap
By David Mumpower
January 8, 2013
BoxOfficeProphets.com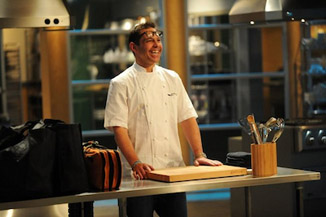 ---
Previously on Top Chef, Josie irritated everyone. The brash chef relished an opportunity to celebrate girl power thanks to a Roller Derby event. Before, during and after this match, Josie managed to engage in a war of words with no fewer than four of the nine other remaining players. A fifth person, Bart, had reason to dislike her even more.

Bart was stuck with Josie during an elimination challenge. As she always does, Josie imposed her will upon the too-respectful Belgian. Bart and Josie wound up serving the worst dish in the challenge. When the judges queried them on the mistakes of the dish, there was no mistaking the fact that Josie had chosen the food, determined the preparation methodology and failed to deliver a tasty dish. Moments later, Bart was eliminated from the competition. A week later, this is still a mystery to me.

I am reminded of season 4 of Top Chef when Lisa Fernandes narrowly avoided elimination each week. There was speculation at the time that she stayed alive not because of her cooking ability but instead because of the drama she provoked. Josie is similar in that she will not win Top Chef but she provides the flavor in a season of otherwise vanilla contestants. Bart is a polite, quiet man who also was not going to win Top Chef. My suspicion is that Josie's explosive personality is what has kept her in the competition. I sincerely hope that this changes with tonight's episode because I find her distracting rather than memorable.

And then there were nine. Well, eight plus Josie. Tonight's episode starts with a focus on Sheldon and his knife skills. Sheldon has had very little face time during the season. A sudden highlight ordinarily foreshadows his elimination or his domination in the upcoming challenges. Sheldon is shown carving his knives, a task he performs daily because he believes that this is an important for a chef.

Cut to the Top Chef Kitchen. Who is the guest judge today? Why, his name is Bob Kramer and he is a Master Bladesmith, one of only 120 in the United States. His cutlery sells for $500 per inch and I doubt you can buy any of it on Amazon. (Editor's note: a quick Amazon search reveals that David is wrong: You can find one right here).

Master Bladesmith Kramer demonstrates his craft by using a knife to slice through thick rope. The blade instantly tears the rope, even when he adds a second strand. After the stunning presentation, Sheldon has a simple request. "Can I hug you right now?" It's always the quiet ones…who become obsessed with sharp knives and wind up having their crimes re-enacted on Law & Order.

There are three phases to the Quickfire challenge. The first two teams who sharpen their knives enough to cut through paper easily advance to round two. The second round requires the teams to tournée a batch of 20 potatoes. The final round sees the remaining team converted into individual players, all of whom are competing for immunity as well as a Bob Kramer blade. Sheldon all but climaxes at this revelation.

The contestants are divided into teams of three. The groupings are Micah, Sheldon and Joshua on the first team followed by John, Josie and Kristen on the second team and Lizzie, Brooke and Stefan are on the third team. I'll say what we're all thinking. Poor Kristen. Padma provides a stipulation for the challenge. Any player who suffers a cut during the challenge is automatically eliminated.

There are many frayed nerves during this challenge. John Tesar immediately starts nagging his team that the knives only have to cut through paper. Brooke immediately signals the judges that her team is ready to be tested. Stefan and Lizzie both pass while Brooke herself has a lot of work to do. Her knife will not cut at all yet.

Perhaps panicking due to the competition, John requests a check for his team. Guess who fails! Kristen was already salty about John's lack of camaraderie. Now he has failed to a task that JOSIE has managed. Eventually, he does and they become the first team to qualify. Almost immediately afterward, Sheldon calls for his team to be tested. All three men pass the requirements of Bob Kramer and advance. Brooke prevents her team from reaching the second round. And she feels terrible about it.

The second round's irritation involves Josie. What a shock. Josie becomes the first player to cut herself during the challenge. The incision is tiny but the damage is done. With only two players competing, John and Kristen lose the numbers game to their opponents. Sheldon struggles in creating the correct type of potato but with a full player advantage, the outcome is a foregone conclusion. To their credit, John and Kristen finish only two behind the winning trio.

The final challenge should favor Sheldon, the would-be Blademaster of the cheftestants. Alas, he has never broken down bunnies before, presumably because he has a soul. Joshua handles more game yet he does no better. In an upset, Micah is the devourer of bunnies, making him the natural choice for a remake of Monty Python's The Holy Grail. The editing proves to be a swerve as Sheldon fails to win the rare knife he covets. Meanwhile, Micah's hot streak continues, although winning today's challenge had little to do with cooking.

The Elimination challenge is another cheap shill for the Kindle Fire. I like our Kindles so I will cede to product placement this time. And I immediately have to do it again when the details of the challenge emerge. There is a Kindle Fire located under each chef's station. These tablets are pre-loaded with memorable moments from previous seasons of Top Chef.

The participants are expected to recreate the dishes from these famous incidents, only healthier. This is the moment where I mention that Healthy Choice will reward $15,000 to the winner of the Elimination challenge. Yes, there are two different instances of product placement in the same segment. Top Chef turned into a whore so gradually I didn't even notice.

John gets off the best zinger of the season thus far. One of the moments is Fabio's hilarious quip, "This is Top Chef; it's not Top Scallop." The moment John sees Jamie the lesbian from that season, he shouts, "Stefan's old girlfriend!" Yes, Stefan had a huge crush on the woman who later dated an actual cast member of The L Word. Now he is flirting with Kristen, whose maybe girlfriend has already been eliminated. I say again that Stefan has a type.

I recognize almost all of the video clips. There is Carla's celebration of receiving chicken pot pie as a dish. And Alex's theft of Ed's pea puree is also included. Dale Talde's screaming match with Jennifer Biesty during season four is probably the best video although I have no idea what the dish was in that challenge. The most famous Top Chef moment, the one that put the show on the reality show map, is probably Dave Martin's "I'm not your bitch, bitch" rant. Since Josie recreates this dish, it is all but certain to be the worst of the bunch yet not one that leads to elimination.

There are only 150 minutes of prep work for this challenge. The chefs are particularly stressed because they will be cooking for Top Chef superfans tonight. John Tesar enters the kitchen and immediately begins to complain about the pan options for his risotto, a dish from Season 3 that Tesar's friend Anthony Bourdain despised. A contestant that season, Howie, then used words from Bourdain's own book, Kitchen Confidential.

Tesar recounts how he hired Bourdain in the 1980s and eventually introduced our favorite guest judge to Eric Ripert, our second favorite guest judge. The odd aspect of this story is how Tesar fits into the equation. He is such a jerk while Bourdain and Ripert are so professional. As proof, Tesar deems no pots or pans in the kitchen worthy of his dish. He has been in the kitchen one minute yet Tesar is already blaming something random for his inevitable failure. Is this the episode where Tesar finally implodes?

The judges for this round are an intimidating bunch. To that point, multiple contestants appear to be shaking as they present their dishes. Wolfgang Puck can have that effect on people. So can Jonathan Waxman and Wylie Dufresne. The current champion of Top Chef Masters, Chris Cosentino, rounds out the impressive group. This is a day where reputations can be made.

The first three presenters are Josie, Stefan and John. Josie starts, presumably to get the worst out of the way first. Her dish is an herb-roasted chicken with parsnip purée & steamed root vegetables. It looks undercooked to me. I should note that I would eat an open flame if I could, though. So many proteins appear undercooked when I evaluate the plates. The judges quickly confirm that I am wrong on the point as they believe it is cooked well. In a shocking turn of events, Josie does not seem to be in danger of elimination this week. We're going to need a bigger wooden stake if we're going to kill her.

Stefan presents a wonderful looking plate of food. It is a roasted red pepper soup with bacon & grilled mimolette cheese sandwich. We know from watching the preparation of this dish that he has cheated, though. Worried about the flavor, Stefan has loaded it with butter, which means that while such a move may save him from elimination, the dish will not win. There is nothing that screams Healthy Choice in a buttery dish.

John suffers the worst fate of the first group. His umami risotto with chicken, salmon roe, burdock root & carrot emulsion is cooked every bit as unevenly as he had expected. The judges despise the rice and line up to count the mistakes made in preparing the dish. John is in some trouble.

The second heat includes the chef who is in the most trouble, though. Lizzie's scallops purchase was a bust. She knew the moment she opened the bag that the fish was less than fresh. Since there was no time to replace it, she had no choice but to serve bad fish to the judges. I hope that they remembered to bring their barf bags. Lizzie's dish is seared scallops with roasted fennel, garlic purée, orange & olive salad. Their noses warn the judges that this dish is trouble. Lizzie has not finished in the bottom group at any point this season and yet I see no scenario where she survives the round.

Sheldon serves the judges a beef carpaccio with poi aioli, mizuna & mushroom salad & silken tofu foam. I set a personal record for number of foods Googled in one dish for the poi aioli and mizuna. Suffice to say that I don't see myself eating either one any time soon. The judges largely agree with me as they do not enjoy the tofu flavor at all.

Joshua spits in the face of fate once more as he presents a pork dish. The man with the horrible mustache is quite stubborn. To his credit, the soy-glazed pork tenderloin with smoked cashew purée & heirloom peaches dazzles in terms of presentation. The much greater shock occurs moments later when the judges compliment his cooking of the pork. Josh has served a quality pork dish. We are through the looking glass, people.

The final group is the most triumphant. Brooke presents smoked salmon, forbidden black rice with English pea & parsnip purée. Purée is in this week. The judges lick their plates. At least three demonstrate the tell-tale signs of sexual arousal. A couple of men need to hide their private parts behind textbooks as they leave the area.

Kristen's dish is something I would never eat. It is a poached chicken breast, carrot purée with garlic & tofu emulsion. I'm pretty sure that Hell's lunchroom serves tofu emulsion every meal. My jaw hits the floor as the judges express every bit as much admiration for Kristen's dish as they did for Brooke's. More impressively, they acknowledge that Brooke has honored the healthy stipulation for the challenge more than anyone else. After all, chicken, carrots and tofu are what children are offered by parents instead of ice cream and candy. Why do parents traumatize children like this anyway?

The news is less positive for Micah. He has prepared a five-spiced duck breast with miso polenta & pickled cherries. Jonathan Waxman describes the whole thing as "a bad idea". Wolfgang Puck, genius that he is, immediately states a solution for how to improve the dish. The guests seem to enjoy it, though. Even if Micah is on the bottom, he is in no real jeopardy of going home. His recent hot streak is (at least temporarily) derailed, though.

Judges Table is a first for the show. Five players are asked to participate. Three of them are informed that they are in the top group. They are Joshua (!), Kristen and Brooke. After glowing compliments are hurled at the top trio, Kristen is declared the winner. She is once again richer, this time to the tune of $15,000. I liked Brooke's chances but there is no disputing that Kristen's dish is healthier.

The other two represent the bottom pair for the evening. Yes, the two people in the bottom group have a 50/50 chance of going home. Those two people are both fine chefs, Lizzie and John. An above average competitor this season will be eliminated tonight.

The judges quiz John on what went wrong and he hilariously starts by saying, "I'm not making you an excuse but there wasn't one level pot in the kitchen that would cook that much risotto." Wolfgang Puck jumps down his throat over this disingenuous statement. "Now, you can make excuses about the pots. At the end of the day, when the customer eats it, he doesn't want any excuse for it."

Joshua finally has his moment to tell the judges what he thinks of John Tesar. "To say there are no small pots is not true because the pot I used on my stock…was just fine." John immediately shrugs off this criticism as coming from someone who has an agenda against him. Tom Colicchio tries to hide his smile at this but fails. The judges know all too well about the entirety of John Tesar's personality.

Lizzie's critique takes another form. Tom presses for details about the experience. Before he can finish, Lizzie almost bursts into tears. "No, it was horrible. I'm sorry. It was horrible." The only reason why I am not braced for Lizzie's elimination is that there are still ten minutes left in the program. A swerve is coming.

Padma reveals the twist of the week. There is a tenth Kindle Fire (it's like an Amazon warehouse on Top Chef!) loaded with another memorable moment, this one coming from the current season. Lizzie and John are informed that they will duel to determine who survives Judges table. Their challenge is to create a healthier version of the horrible burger that led to Tyler and CJ's elimination.

What follows next is probably the best insight into the real John Tesar. Desperate to remain alive in the competition, he employs a tactic of gamesmanship to disrupt Lizzie. All that matters to Tesar is that he survives. At various points, he knocks Lizzie out of the way, he moves her pots and pans and he steals an entire ingredient from her.

Lizzie refuses to be bullied by his behavior. She develops a defense mechanism of being equal parts girlish and maternal. She says things like "lovey" then turns around and scolds him for inappropriate behavior. John's narration reveals that he is livid about the whole thing. He starts ranting about how he could have kept the pickles for himself. In John's world, a Top Chef contestant should be allowed to steal the key ingredient in a challenge if it suits him. Winning by default is still winning, right?

Both chefs deliver great dishes but Lizzie has the last laugh. John presents a lamb burger with fried egg & spicy pickle, tomato & pomegranate salad. I instantly recognize why he won't win. The egg on top of the burger, while appealing, represents empty calories. That's a poor tactical decision for a Healthy Choice challenge.

Lizzie's response is a chicken burger with goat cheese ricotta & dill pickle roasted red pepper salad. The judges love everything about the dish. They fail to find anything of note to criticize. After being stuck with bad scallops earlier, she is lucky to be alive and she knows it. Her second plate demonstrates focus and creativity. The judges unanimously declare it the winner.

In the process, John Tesar is eliminated from Top Chef. While he never imploded like a Real Housewife the way that we all expected, his final comments reveal how unhinged he is by the turn of events. He keeps ranting about pickles to the point that I would suggest a prank to our Texas readers. If you ever see him on the street, walk by him and say something about pickles. I expect that he will grab a board with a nail in it and chase you down the street. On second thought, don't do that. I don't want any of you to get board-nailed by John Tesar.

Last Chance Kitchen is the rarest of rare Top Chef grudge match. CJ was forthcoming about his dislike of John earlier in the season. He probably never expected to have an opportunity to completely remove John from the competition. Will he take advantage? I think I speak for all of us when I say, "God, I hope so."

The challenge is open-ended. The chefs can cook whatever they want. All they have to do is drive a Prius (Bravo TV: now with 30% more hooking!) to a grocery store to buy ingredients. When they return to Last Chance Kitchen, the trap is sprung. John's complaint about pots and pans leads to a great prank from Tom Colicchio. He has assigned a bunch of people to scour local Seattle yard sales to acquire pots and pans. They return with some of the "most worn out, torn up, nasty, cheap cooking equipment available"…and John and CJ have to use them.

How big an impediment is this? CJ has a skillet handle catch fire. I don't even know how that's possible. The handle later breaks from the skillet. CJ is suffering for John's inability to admit when he screws up. In the end, it doesn't matter. Tom Colicchio is well aware of the difficulty of this challenge. He grades on a curve, accepting that both dishes are inferior due to the poor utensils.

What is important is that CJ wins! John Tesar has been eliminated from Top Chef. CJ runs his winning streak up to five, beating Beverly's standing record from last season. With eight chefs still alive on Top Chef, he presumably would need to reach nine or possibly ten to return to the winner's bracket. You're roughly hallway there, CJ! Tails never fails!