The Twelve Days of Box Office: Day Nine
Weekend Wrap-Up
By John Hamann
December 30, 2012
BoxOfficeProphets.com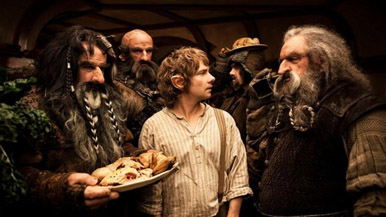 ---
Imagine a table of studio executives looking at a calendar, opened to the Twelve Days of Christmas Box Office. Now imagine all of them wringing their hands and crying, "My Precious".

The big earnings from the Twelve Days of Box Office become very apparent today, as we get to compare late December opening weekends with their follow up frames, and get a better look at how films that opened on Christmas Day stack up against weekend competition. As Tim Briody said yesterday, this is the money train.

I will say it now: This is not a normal weekend at the box office. There were days off for kids and parents on Friday, with some parents going back to work on Monday, but most kids having next week off. Often in this column, we talk about weekend multipliers (weekend gross divided by Friday gross), but because of the holidays and the way the calendar is configured this year, this Friday-to-Sunday portion of the 12 Days of Box Office every multiplier should be tuned to 3.0, as every day is like a Saturday. Normally, kids' films would see higher multipliers, as they would be in school on Friday (thus reducing the first day take), and free to attend during the day on Sunday. Take a film like Rango, for example. It opened on a Friday in March to $9.6 million, but then increased its take on Saturday by 73%, to $16.6 million. Because of how that weekend was structured, its opening weekend multiplier was 3.96. This weekend, numbers are flatter. A film like Monsters, Inc. won't jump as much on Saturday and Sunday.

With that in mind, it is a very close race to the top of the weekend box office. The Hobbit, Django Unchained and Les Miserables all had very solid Friday numbers, all within $1.7 million of each other. Normally, The Hobbit would be the easy winner of the weekend, as the kid multiplier would work the weekend in its favor. But again, it's not a normal weekend. This is box office on steroids.

The Hobbit is the number one film of the weekend – its third straight number one finish - but is closer than it has been thanks to our strong Christmas openers. Already in its third weekend, The Hobbit earned $32.9 million and dropped 11% from the $36.9 million it earned last weekend. The question to ask now is whether the result is good enough. The Hobbit crossed the $200 million mark on Friday, its 15th day.

This is faster than The Fellowship of the Ring, the Lord of the Rings film that had a similar calendar configuration to The Hobbit. Fellowship took 19 days to hit $200 million, but A) opened on a Wednesday; B) opened 11 years ago (hello, inflation); and C) wasn't released in 3D or IMAX. Fellowship was also the slowest Lord of the Rings film to earn $200 million, as Two Towers earned the same amount in 12 days, and Return of the King in 11 days. To add some perspective, Skyfall also earned $200 million in 15 days, and did not have the holiday season to aid its gain.

From Friday the 21st to Friday the 28th, The Hobbit averaged $10.9 million over those eight days, almost exactly what it earned on the eighth day. It still has nine more days before kids go back to school, and while the average will drop somewhat with adults back to work next week, it should hold around the $8.5 to $9 million mark. What it shows is how lucrative the holiday season can be, as The Hobbit will earn around $150 million over that 17 day period. There is no other two week period at the box office that has that kind of power.

The weekend-to-weekend percentage drop for The Hobbit was kept at the rate needed (much less than 30%), so Warner Bros. can certainly be more positive this weekend than they were last weekend when the drop from opening weekend was 56%. The domestic gross has reached $222.7 million and the overseas mark has already reached $400 million. Where will The Hobbit finish domestically? As we are smack in the middle of the 12 Days of Box Office, it is tough to provide a good finishing figure, but Fellowship of the Ring earned about $100 million after New Year's weekend. I imagine The Hobbit will have about $80 million left in the tank, so there should be no reason why it won't earn $300 million domestically, if not $350 million. Next weekend will be key.

Second place goes to Django Unchained, a pleasant surprise. This is a film that I believed would do well, but not close to this well. Despite getting caught in the shadows of Les Mis earlier in the week, the Quentin Tarantino flick performed strongly since then, recording a $15 million Christmas Day and $30.7 million over its first traditional weekend. Since opening Tuesday, Django has earned a remarkable $64 million. While Inglourious Basterds has the bigger opening on paper at $38.1 million, over its first six days it earned $47 million, well back of Django. Tarantino isn't making the Weinsteins rich yet, as Django wasn't cheap to make, costing $83 million to bring to the screen. However, it has an A minus Cinemascore, great reviews at RottenTomatoes (88% fresh), and another week of potentially solid earnings. Django should have no problem out-earning the $120.5 million that Basterds brought in, but the Brad Pitt WWII fairy tale also earned $200 million overseas, a figure Django may struggle to reach.

Finishing third is Les Miserables. The theatrical Christmas opener continued to light it up this weekend, as the star studded musical took in $28 million from 2,808 venues. Since opening on Tuesday, though, Les Mis has pulled in a simply amazing, best case scenario amount of $67.5 million. This is far and away better than I had expected. When I saw the Christmas Day gross of $18 million, I almost fell out of my chair.

Interestingly, the gross for the weekend proper was similar to that of other popular musicals like Mamma Mia! ($27.8 million) and Hairspray ($27.5 million). However, had Les Miserables opened on a traditional Friday, it would have obliterated those amounts. The Christmas Day gross was the biggest opening day for a musical ever, and was the second best Christmas opener ever.

The trick now for Les Mis is to hold. It has the coveted A Cinemascore; however, I would imagine that A came from eight A+'s and two F's, as some audience members are expecting dialogue, not constant singing. The Hugh Jackman/Anne Hathaway spectacular cost only $61 million to make, and will be very interesting to watch during its remaining days of the 12 Day of Box Office. This one is also going to be huge internationally, so there is simply zero downside at this point – it will be all profit by the end of next weekend.

Fourth goes to Parental Guidance, as crap doesn't take a break for Christmas (see: Alvin and the Chipmunks). Parental Guidance earned $14.8 million this weekend (more than it should have made in its entire run) and, sadly, $29.6 million since opening Christmas Day. This flick is from the Hollywood Factory, designed without viewers in mind, only money. It's easy: Find two aging stars, put them in a movie with kids, and open it at Christmas with ads that show the ending and voila – money! This piece of dung cost Fox and Walden Media (grrr) only a rumored $25 million to make, so anything earned beyond next Thursday is going to be pure profit. Hopefully the producers of this movie are visited by three ghosts next Christmas Eve.

Jack Reacher is fifth, but the ranking, as predicted in last weekend's column, won't hurt it too badly, as this isn't the traditional Cruise film with an overblown budget. First, Jack Reacher earned $14.0 million in its second weekend, down a slim 10% compared to last weekend, and a good example of why to release a film at Christmas. If we look at all days since opening and removing Christmas Eve, the low point for Jack Reacher was $3.6 million and the high point was last Saturday at $5.8 million. That's only a $2.2 million difference, something we only see over the holidays. Jack Reacher cost Paramount only $60 million to make (unlike Ghost Protocol which cost $145 million), and has already earned $44.7 million.

This Is 40 is the best example of Christmas box office, as it earns more this weekend than it did last weekend, likely thanks to the saturation marketing it has received. This Is 40 earned $13.2 million in its second weekend after earning $11.6 million in its first. That gives it an increase of 14%, and when you have back-to-back weekends over $10 million, and a budget of only $35 million, you know you are in good shape. So far, This Is 40 has earned $37.1 million, and will likely take in double its production budget.

Seventh this weekend is Lincoln, and despite being in its eighth weekend of release, Lincoln also rises strongly versus last weekend. Last weekend, Lincoln earned $5.5 million. This weekend, Lincoln took in $7.5 million, or an increase of 36%. Lincoln had already earned $100 million prior to the Christmas season, and is going to tack on an extra $40-50 million thanks to the holidays. With the box office holiday season like it is, it is going to be one of the more interesting Oscar races we have seen, and Lincoln will be considered, as it has earned $132 million so far.

Finishing in eighth is The Guilt Trip, and is what could be the lone loser over the holidays (notice we no longer see the commercials). The Guilt Trip earned $6.7 million this weekend, and was still up slightly from where it was last weekend, when it earned $5.4 million. Still, this one cost $40 million to make, and has a gross so far of $21.1 million.

Ninth goes to Monsters, Inc., as Scrooge McDisney cashes in on another holiday. Likely converted to 3D for less than $10 million, Monsters, Inc. earned $6.4 million this weekend, and is another film to increase its take over last weekend, as the Pixar re-release rose by 33%. It has earned $18.5 million since being re-released.

Tenth is Rise of the Guardians, which is leaving the top ten at the right time, but with less revenue than expected. Rise earned $4.9 million this weekend, down 17% from fourth last weekend. It cost $145 million to make, and has a domestic gross to date of $90.2 million.

Overall, the box office is chugging along nicely. The top 12 films this weekend earned a solid $167.8 million. The best comparison is the 2007 and 2001 post-Christmas weekends, as the calendar configuration was the same. In 2007, the top 12 earned $168.6 million; in 2001, the top 12 earned $147.2 million. Next weekend we get back to normal, as Texas Chainsaw 3D opens and The Impossible and Promised Land expand.