The Twelve Days of Box Office: Day One
By Tim Briody
December 22, 2012
BoxOfficeProphets.com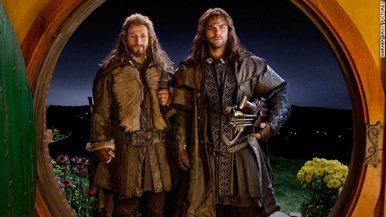 ---
The most magical time of the year for Hollywood is here as we welcome you to BOP's 12th annual Twelve Days of Box Office.

Starting with today until New Year's Day, it's the most lucrative period of box office in the calendar year. With many people having extended amounts of time off in the week between Christmas and New Year's, more people go to the movies. Weekday box office revenues for all films remain high, often to where films have the equivalent of an entire week of Fridays. We like the phrase "a rising tide lifts all boats" around here because it's an apt metaphor for what's about to happen.

With this year's calendar arrangement, we have a fairly standard weekend heading into a Christmas Eve Monday. Things start out a little slow despite having four new releases in over 2,400 theaters. That's because the two biggest films (Les Miserables and Django Unchained) won't open until Christmas Day proper, and are the only films likely to challenge The Hobbit, as it seems to match the performance of each of the films in the Lord of the Rings trilogy, having marched through three consecutive holiday seasons largely uncontested. How did The Twelve Days of Box Office start? Let's go!

The Hobbit: An Unexpected Journey

[bp:598_]Peter Jackson[/bp]'s The Hobbit holds off all the newcomers with a second Friday of $10 million. Yup, that's a 73.3% collapse from last Friday but that's pretty much to be expected. The holiday box office week bonanza doesn't kick in until Christmas and coupled with midnight showings the opening day of The Hobbit was obviously inflated. Still, it had enough of a head start on this weekend's cavalcade of new releases so it will be the dominant film through the holidays, with the possible exception of Christmas Day.

As mentioned, this year's calendar arrangement is a little strange, with Christmas Eve (a box office anti-holiday) on Monday, expect Sunday box office to be slightly stronger than usual before exploding on Christmas Day. The Hobbit will take the pre-Christmas weekend with $32.5 million.

[tm:5384_]Jack Reacher[/tm]

After winning last December with Mission: Impossible - Ghost Protocol, [bp:145_]Tom Cruise[/bp] returns with Jack Reacher and earns $5 million. That's a decent enough start for the best action option for the holidays, and will be a solid if unspectacular performer over the next 12 days. For this weekend, give it $15.5 million.

This Is 40

The Knocked Up spinoff starts with $3.7 million on Friday. The best comedy option for the holiday season, This Is 40 needed to really knock it out of the park with the advertising and it didn't. It's not a bomb (see below) and the holiday season will carry it to a respectable total but given the talent involved there's going to be a sense of money left on the table. It should start the holiday season with $11.1 million.

[tm:5385_]The Guilt Trip[/tm]

Meanwhile, Knocked Up star [bp:9212_]Seth Rogen[/bp]'s The Guilt Trip pretty much flops with $1.5 million on Friday after taking in $2 million after inexplicably opening on Wednesday. There is no good reason why this had to open on Wednesday (and given the reviews, even at all) and it's going to get buried in the holiday shuffle, even with the increased box office. The Guilt Trip looks to have a weekend of $4.5 million and $6.5 million over five days.

Monsters, Inc. 3D

The Pixar re-release (to also prepare audiences for next summer's Monsters University) only musters $1.4 million on Friday, after earning that same amount over two days after also, strangely, opening on Wednesday. With no automatic go-to children's option this Christmas season (given the choices are month old [tm:5389_]Rise of the Guardians[/tm] and 11-year-old Monsters, Inc.), all is not completely lost but this probably isn't what Disney was hoping for when they gave it the 3D treatment. Look for a weekend of $4.8 million and $6.2 million in five days.