Weekend Forecast for December 21-23, 2012
By Reagen Sulewski
December 21, 2012
BoxOfficeProphets.com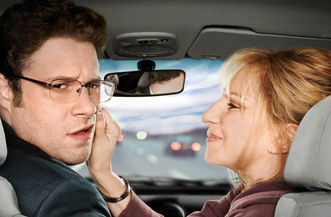 ---
Even for this time of year, this is a pretty crowded slate. An astounding eight, count 'em, eight new wide releases find their way to theaters over the Christmas opening "weekend", stretched out over three different opening dates. As big as Christmas week can be, expecting eight films to succeed is a huge stretch, and there's going to be bad news for at least half of these films.

Let's start with the two films that have already opened on Wednesday, The Guilt Trip and Monsters, Inc. 3D. The first of those two brings together that pairing we've been asking for for so long, Seth Rogen and Barbra Streisand, as a mother and son on a cross-country business trip. Or rather, Streisand as a mother who invites herself on said same trip, presumably because she secretly wants to destroy her child and everything he's done. I mean, I'm just guessing here.

The commercials for this have been stunningly laugh free, and I'm frankly left a little baffled as to who exactly this movie is targeted at. "Just like spending two hours in a car with your overbearing mother" isn't the greatest of sell-lines ever, you know? While Rogen has turned into a fairly consistent performer in his big comedy vehicles, The Guilt Trips seems to be actively turning off his audience and I don't think we have to try very hard to figure out who to blame that on. With an anemic $1 million on Wednesday, just barely beating out the six-week old Lincoln for second place, this is pretty squarely in bomb territory already, and we might see just $6 million for the weekend.

Monsters, Inc 3D is really the only out and out children's film opening over the holiday period, which seems like a bizarre oversight by Hollywood – no Alvin, no Night at the Museum, not even a Smurfs. While 3D re-releases are more or less found money for studios, at the same time, none of them so far have really destroyed the box office. The Lion King, with about $100 million, is the gold standard, while Star Wars Episode I's $40 million is looking to be more along the line of the average. That Monsters, Inc. is one of the lower grossing Pixar films is no particular help to the bottom line here, and that shows in the under $800,000 debut. Of course, kids are not out of school yet (so why open on a Wednesday then?) and things will pick up for it – certainly more than they will for The Guilt Trip – but a sub-million dollar day never turns into a $20 million weekend or anything of that ilk. I'd expect something closer to a $10 million three-day total.

The battle that starts December 21st is between Tom Cruise and Judd Apatow, and who'd have thought that was a statement that would ever make sense? Cruise represents action with Jack Reacher, while Apatow brings the comedy with This Is 40, and while neither looks like a world beater, both have a good shot at being middle tier hits.

Cruise's film is based on a series of novels by Lee Child about an ex-military investigator who lives a nomadic existence applying his skills to track down murderers and break up criminal organizations – like a mix of Alex Cross and Caine from Kung Fu. In this film, he's finds himself working for the defense attorney of a man accused of killing five people by sniper fire – only to uncover a larger conspiracy behind the crimes. And he gets to beat up a lot of people in methodical fashion too.

Directed by Christopher McQuarrie (writer of The Usual Suspects), Reacher looks like a bit of a throwback to '70s Tough Guy films, or perhaps a little more mainstream version of last year's Drive. So although it certainly has its action elements and a little bit of Bourne in it, it's more towards the crime thriller end of things, a genre which has fallen out of favor with movie audiences. Thanks to the proliferation of procedurals on TV, these films have stopped feeling special. Jack Reacher looks a little more cinematic than most and has the star power to push it (it's mostly Cruise's show, but has in supporting roles Rosamund Pike, Richard Jenkins and most exciting and bizarre of all, famed German director Werner Herzog as the film's main antagonist). Although Cruise ruled last Christmas with Mission: Impossible 4, he's likely not going to have as much luck this time around, with Reacher opening to about $19 million.

One of the emerging trends in film is the spin-off, which in recent years started with U.S. Marshalls, continued on through films like Elektra, Evan Almighty, Get Him to the Greek and The Bourne Legacy. The latest is This Is 40, which takes Paul Rudd and Leslie Mann's barely-keeping-it-together couple from Knocked Up and catches up with them five years later, apparently having stepped back from the brink of marital destruction, but still struggling with their relationship like all couples do. With Rogen apparently being too busy destroying his career, this film brings in Jason Segel, Chris O'Dowd, Megan Fox, Melissa McCarthy and many, many more to help with the heavy comedy lifting.

Getting back to the Bickersons is a decent idea for a movie, but I don't know if anyone was really dying for this film. On the other hand, Apatow, Rudd and Mann are all extremely funny people and if anyone can make this idea work, it's them. What This Is 40 needs to be a major hit is some uproarious moments in the trailer and commercials, and I don't think it has them. Several funny and chuckle-worthy moments to be sure, but nothing amazing that screams, "I've gotta see this!" What it is, though, is the only significant comedy for adults out right now and that's going to be good for a lot of default choices. This weekend, I'd say that's good for about $17 million.

Also opening on Friday is Cirque du Soleil: Worlds Away 3D, which will help us all to open our jar of rainbows this Christmas. Effectively the closest thing we'll get to a concert film from the Cirque people, this is exec produced by James Cameron, directed by Andrew Adamson of the Shrek and Narnia films, and stars no one you've ever heard of. While Cirque shows remain a worldwide phenomenon, the main appeal is going to the shows, and not viewing a 3D version with a tacked on narrative. Opening in just 800 or so venues, this is likely to earn just $3 million or so this weekend.

It's Christmas Day that brings out the heavy hitters, as two films decide to skip the dead zone that is Christmas Eve and go straight to the bonanza that is Christmas Day. The odds-on favorite to win is Les Miserables, the adaptation of the stage music that in turn is based on the Victor Hugo novel about the French Revolution (no, not that one). Directed by Tom Hooper, relatively fresh off winning a Best Director Oscar for The King's Speech, this is probably the biggest scale production of the material ever (a non-musical version notoriously bombed in 1998).

Hugh Jackman plays the main role of Jean Valjean, a man on the run for decades after breaking parole (from his original crime of stealing bread, and several escape attempts) from the relentless officer Javert (Russell Crowe) and his caring for the daughter of a desperate factory worker (Anne Hathaway). The film is also filled out by Amanda Seyfried, Sacha Baron Cohen and Helena Bonham Carter, and for those who care about such things, was filmed in a slightly unusual manner for movie musicals, where the actors actually sung on set instead of lip-syncing to prerecorded tracks.

For those who like such things as musicals (you strange, strange people), this appears to have been done right, and is one of the few that deserves this massive scale. It's also one of the most beloved musicals ever, and the hype surrounding this version has been tremendous, with it coming in as an anointed co-favorite for Best Picture with Zero Dark Thirty. A huge Christmas Day figure of around $16 million seems entirely possible.

Another period piece opens that day in Django Unchained, the latest from Quentin Tarantino. Jamie Foxx stars as the title character, a slave rescued from bondage by a European bounty hunter (Christoph Waltz) who needs his help in tracking down a pair of particularly loathsome fugitives, in exchange for helping Foxx rescue his wife (Kerry Washington) from a plantation owner (a preening Leonardo DiCaprio). Essentially a big-budget spaghetti western mixed with a love story and blaxploitation styling, this is Tarantino once again throwing down against what he obviously considers the rest of Hollywood's tame offerings.

The most amazing thing about recent Tarantino is that he seems to have convinced the rest of the world to go along with him. This looks to be the equal in audaciousness to Inglourious Basterds, which he managed to open to $38 million, and a total of $120 million, plus a Best Picture nomination. With the rapturous reviews (it's near perfect at Rotten Tomatoes), the latter seems entirely possible again, although the Christmas Day release will make direct comparisons to opening weekends difficult. I'd expect an opening day figure of around $15 million.

Let's not forget, even though we'd like to, Parental Guidance, or The Final Humiliation of Billy Crystal. He and Bette Midler star as grandparents who volunteer to look after their daughter's three children while she's on a work trip, with the inevitable chaos ensuing. Essentially 90 minutes of "kids these days" combined with shots to the crotch, this is an embarrassing looking attempt at "family" entertainment – so much so that I'm a little afraid it's actually going to be a hit. Then again, it's the sole Christmas release not being screened for critics, and there's not a single thing in the ads that anyone can reasonably find funny, so maybe it's meant to be a stern dramatic cautionary tale. Anyhow, with just a "nationwide" release pattern from Walden Media, this is probably going to make a mild splash on Christmas Day of about $3 million and then disappear.

With all these films, it's easy to forget that the roost is still going to be ruled by Peter Jackson and The Hobbit. Even with mediocre word-of-mouth and severely mixed reactions to the 48 FPS shooting method, it did open to $84 million, and as such has a huge headstart on everything else. Tiny weekend dropoffs don't happen until next weekend, so this is still going to see a significant fall this weekend before starting its Christmas run, where it likely leads each day other than the 25th. For this weekend, however, we're looking at around $44 million.

We also can't forget about a few other films that should have some impact on the week to come as well. Rise of the Guardians did manage to make it to this weekend after all, and with kids off school and in a Christmas mood should manage to hit around $6 million this frame. Lincoln continues to run strongly and garner awards attention, and probably earns $5 million this weekend. Skyfall isn't completely out of it either, and should be close to $5 million.