Weekend Wrap-Up
The Hobbit Hammers December Record
By John Hamann
December 16, 2012
BoxOfficeProphets.com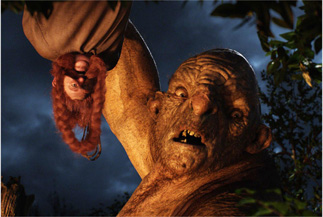 ---
Ho ho ho hobbit. Peter Jackson's J.R.R. Tolkien tales at Christmas are becoming so popular, they should have its own Christmas carol. The Hobbit Holiday blockbuster took in $84.8 million this weekend, a record for a December frame.

After a great early-November with Argo, Skyfall and Wreck-It Ralph on top, Twilight showed up - drunk - and ruined what could have been a nice Thanksgiving. Now that we've cleaned up the blood and Part 2 is safely tucked away in the bottom rungs of the top ten, we can celebrate the arrival of The Hobbit, which is a better-made film at least, but may be even greedier than those darned Twilight kids. Everyone should know by now that this is part one of three – not book one of three – and we will be dealing with Hobbits for a while to come. At least George Lucas didn't direct.

After an abysmal box office weekend in the last frame, the question wasn't whether or not The Hobbit would be #1, it was how big it was going to be. With early reviews not being overly kind, a few alarms must have rung at Warner Bros. Critics complained loudly about the length, the frames per second, and scenes that never seemed to end. Personally, when I read those I was reminded of Jackson's end to Return of the King, and how through the last half hour I grew to not like the characters I had spent the previous nine hours with. At Rotten Tomatoes, The Hobbit is 65% fresh at the time of this writing, but "top critics," those that are actually read, were less kind, coming in at only 42%. The Cinemascore was an A, but those scores would have been recorded during the evening showings on Thursday night, which would have been much like being at Comicon.

The Hobbit opened late Thursday (midnight screenings is suddenly a misnomer, as studios have figured out they can get two screenings in if they start at 10 p.m.), and secured $13 million for New Line, MGM, and the distributor Warner Bros., a record for December (beating a December box office record is like beating your grandma at the high jump). The good news from the Thursday number is that advanced ticket sales were strong for The Hobbit, and not much else. The devil was in the Friday number, as the Newtown, Connecticut school shootings could have been put a serious damper on moviegoing on Friday. It didn't, but the Colorado movie theatre shootings didn't seem to stop The Dark Knight Rises, either. Even so, it is hard to provide empirical evidence about people *not* going to the movies. The number released for The Hobbit's Friday was $37.5 million, which looks great, but then the calculator comes out.

After we pull the $13 million out of that $37.5 million, we are left with $24.5 million for that "true" Friday. How did The Hobbit: An Unexpected Journey do relative to Return of the King? The Lord of the Rings films all opened on Wednesday, which makes comparisons more difficult. However, Return of the King pulled in $34.4 million on its first Wednesday in 2003, but $8 million of that was from late night Thursday screenings. This means Return of the King had a "true" Friday of $26.4 million, or $2 million more than the first episode of The Hobbit. Is this in any way bad news? No way. Despite the relation to the Lord of the Rings films, this is Part 1 of a three-part series. Audience "build-up" prior to release was only with fanboys. As an example, my parents saw The Lord of the Rings: The Return of the King in the theater on opening weekend, but will likely catch The Hobbit on Blu-ray. They say it's too long.


The rest of the weekend followed expectations. The Saturday gross was $28.2 million, up from the "true" Friday gross of $24.5 million by 15%. The weekend was closed out with a $19.1 million gross on Sunday, for a three-day take of $84.8 million. That's enough to beat I Am Legend's December weekend record of $77.2 million, and trounces Return of the King's $72.7 million Friday-to-Sunday gross. Keep in mind, though, that if Return of the King opened on a Friday, that number would have been much, much higher. Released to 4,045 venues, The Hobbit had a venue average of $20,958, and a weekend multiplier of 3.46 once the Thursday night grosses are stripped out. There is nothing here for the producers of The Hobbit to be upset about, or particularly overjoyed about either. This is simply December at the box office.

The big question this morning is where does The Hobbit go from here? Return of the King earned $124.1 million over its first five days, and went on to take in $377 million domestically. The first Rings film showed true legs, though, debuting to $75.1 million over five days, and turning that opening into $313 million. I see The Hobbit as a mix of those two results, likely with poorer legs than the original, but propped up by a higher opening weekend. The cost to bring The Hobbit to the screen is $250 million (some say $270 million), an amount it should have no problem earning domestically. It will then likely earn a half-billion overseas, but it will earn less than the last Lord of the Rings movie, as The Hobbit cost $175 million more to make than Return of the King did. For now, things are happy in Hobbit Land, but audiences could turn on these films if the quality doesn't remain.

There were other films in release this weekend, and it was a very close race between Rise of the Guardians, Lincoln and last weekend's winner, the now six-weekend-old Skyfall. In the end, second spot goes to Rise of the Guardians, the four-weekend-old holiday-themed picture. Rise of the Guardians earned $7.4 million. Since opening to $23.7 million on Thanksgiving, it has seen drops of 44%, 22% and now 29%. Paramount's expensive $145 million gamble may lift a bit next weekend, but there is no way it matches its production budget stateside. Its domestic total currently sits at $71.4 million. The good news for Paramount is that Rise of the Guardians has earned an additional $100 million overseas, so if they are lucky, it will end up as a push for the studio.

Lincoln, which was nominated for seven Golden Globes this week, places third. The Buena Vista release actually had a better hold than the holiday themed Rise of the Guardians, as it earned $7.2 million and fell a scant 19%. Those Golden Globe nominations and a raft of other critical awards helped push Lincoln over the $100 million mark on Friday night, and it now sits with $107.9 million. There seem to be about a dozen films aimed at older audiences released between now and the New Year. Should any of those slip up (I'm looking at you, The Guilt Trip), Lincoln will quickly fill that void.


That means Skyfall moves from first last weekend to fourth this weekend, but after six weekends of release and a gross approaching $275 million, there's only so much 007 can do. This weekend, Skyfall took in $7 million, and declined 35%. Maybe the most interesting thing here is that MGM, a studio that has a history of screwing up at all the wrong times, has a piece of both Skyfall and The Hobbit. Skyfall has earned $272.4 million so far, and continues to look dreamily at the $300 million mark.

Fives are lucky for Life of Pi, as the Ang Lee film spends its fourth consecutive weekend in the number five spot (I wonder how many times that has happened in the last 10 years). After an $8.3 million take last weekend, Life of Pi falls 35% to $5.4 million this weekend. It got two big Golden Globe nominations this week, Director and Picture, as it tries to hang on for the lucrative holiday season. Like Rise of the Guardians, Pi was expensive at $120 million, but once the large foreign gross is counted, Pi appears to better off than the animated kid flick. It has a gross so far of $70 million, and over $100 million from overseas venues.

Sixth is Twilight: Breaking Dawn Part 2. It earned $5.2 million and dropped a joyous 43%. It has now earned $276.9 million and will be gone soon.

Wreck-It Ralph is seventh and is seven weekends old. Ralph earned another $3.3 million and declined 33%. It matched its $165 million production budget with domestic sales this weekend, and the overseas grosses should help it find a profit. So far, the throwback has earned $168.8 million.

Eighth is the disaster that is Playing For Keeps; however, the lack of any sort of romantic comedies lately is keeping it somewhat afloat. The Gerard Butler release earned $3.2 million in its second weekend and dropped 44%. It has now earned $10.8 million.

Ninth is Red Dawn, which is only here because we've had just a handful of films released since Thanksgiving. Red Dawn earned $2.4 million and fell 43%. The FilmDistrict release has now earned $40.9 million.

Finally in tenth is Silver Linings Playbook, which also benefits from a solid awards season. Still at only 371 locations, Silver Linings Playbook earned $2.1 million this weekend on the back of its four Golden Globe nominations. It dropped 4% and has a gross so far of $17 million.

Overall, the box office is way up over last weekend's $72 million disaster, and also does better than the same weekend last year. The top 12 films earned $131.1 million this weekend, which is better than last year's $110.5 million, when Sherlock Holmes 2, Alvin and the Chipmunks 2 opened (Mission: Impossible Ghost Protocol also debuted on 425 screens). Next weekend, things get all sorts of busy, all at once. Paramount releases three films: Jack Reacher, The Guilt Trip, and Cirque De Soleil: Worlds Away. Disney pulls out the 3D treatment of Monsters, Inc., and Universal serves up This Is 40.