Top Chef: Seattle Recap
By David Mumpower
December 12, 2012
BoxOfficeProphets.com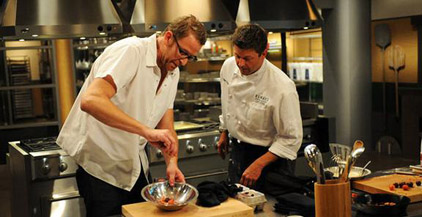 ---
Previously on Top Chef, the loudest and the quietest contestants were eliminated. While you will probably need to Google to remind yourself who Chrissy is, I am confident that Carla left an indelible impression. If that woman ever has an unspoken thought, the world will end.

In terms of the competition itself, there are a couple of trends developing. The judges seem largely pleased with the dishes presented thus far, a rarity for the early episodes of most seasons. Oddly, the people who are struggled the most are the returning players from past seasons.

Josie, whoever she is, has finished on the bottom in two of the previous three challenges. Stefan was almost eliminated in the first episode. And our beloved CJ, who bragged about how much he had improved as a chef since season three, narrowly avoided elimination last week.

I had anticipated that returning players would have an advantage since they are familiar with the peculiarities of Top Chef challenges. Instead, their problems are two-fold. They all possess an older man's fear rather than a young man's unaware invulnerability. The constant second guessing about dishes has proven almost fatal to Stefan and CJ thus far. Even worse, these three competitors are being held to a different standard by the judges because there is an existing expectation regarding the quality of their cuisine.

Stefan and CJ clearly came back to win – while Josie returned so that people will know who Josie is. The two gentlemen are now struggling to avoid the same fate as Jennifer Carroll, the accomplished culinary artist whose appearance on Top Chef All Stars was an unmitigated disaster. After only three episodes of competition, I have moved away from the belief that Stefan and CJ are the favorites for the competition. At this point, I wonder if either of them will even survive until the midpoint of the season. I hope that this is paranoia, at least with regards to CJ. Stefan can get voted out tonight for all I care.

Speaking of Stefan, he demonstrates his trademarked brand of class and grace as we begin the episode. "Chrissy who? Carla who? Bye. See you later." For a guy who was also almost eliminated for incorrectly preparing squab, Stefan is oddly unsympathetic to Carla's plight. He is an angry thumb-man.

Reality competition fans know all too well that a few key clips aired at the beginning of an episode oftentimes foreshadow later events. I mention this because recovering alcoholic Tyler states, "I better continue to do the best I can because tomorrow, I could be gone." He notes that Kuniko and Carla each finished at the top of a challenge in one competition then were eliminated the following day. Until further notice, I'm calling Tyler Dead Meat.

Hmm, further notice may be right now. Stefan is being congratulated for celebrating his 40th birthday. While his entrance into middle age could be cause for concern, Stefan is obsessed with something else altogether. During the fifth season of Top Chef, an odd twist of fate occurred. Everyone who celebrated a birthday was eliminated within 24 hours. Stefan is fearful that history could repeat itself. I hope I do not sound remorseless when I say, "Stefan who? Bye. See you later."

The morning of Stefan's 40th birthday, the contestants all arrive at historical Pike Place Market in Seattle, a local icon for over a century. They are informed that the Quickfire challenge will pair teams of two in a breakfast challenge. The participants must purchase the cooking equipment requisite to prepare a meal for Seattle residents on the go as they rush to work. The catch is that the food must be on a stick. Are corndogs a breakfast food?

The pairing up process reveals that if a person competes on Top Chef, they must have a game plan even for the moments when they are just standing around. Most of the groupings wind up being those of convenience as people turn around and go, "Oh hey, I guess we're a team." The notable exception is that John Tesar (accidentally?) shuns previous teammate Sheldon in favor of Joshua, who would rather work with Jack the Ripper.

Also, Eliza isn't quick enough to grab a musical chair before the song stops, so she winds up stuck with Josie. We already know from a previous challenge that their cooking styles do not mesh. So this should be a combustible situation. The other tandems are Sheldon and Bart, Danyele and Lizzie, Brooke and Stefan, CJ and Tyler and Micah and Kristen.

This Quickfire challenge is more combative than most. Because there are so few prime ingredients such as eggs, some teams wind up without their desired food choices. Danyele and Lizzie are forced to reboot because they are late to the pantry. Similarly, the chefs who rush to the store wind up elbowing one another as they push to reach the needed cooking appliances. Bart tries to run over CJ, who pays his irritation forward by grabbing an item right in front of Brooke. She desperately tries to flirt/play/tease him in hopes that he'll be a gentleman but CJ is feeling the pressure after several lackluster results.

The team dynamic is engrossing. Kristen and Micah have a natural chemistry that he believes stems from their being the youngest players on Top Chef. Tyler just does anything CJ says. Josie behaves like a petulant child when Eliza does not immediately bend to her will. John Tesar continues to demonstrate impressive teamwork, easily his most commendable trait thus far. And Bart and Sheldon get along great. Alas, Bart is a bit clumsy. He drops the expensive appliance he just purchased. Even if he were allowed to return it, they do not have time to do so. And yes, the machine does tear up as they try to cook their food.

Padma and special guest judge Daisley Gordon of Marché are largely impressed by the results. The notable exceptions are Danyele and Lizzy and Josie and Eliza. The former team is unsurprising given their inability to acquire the appropriate ingredients. Their final product is too slight for the amount of time they were given to prepare a dish. Both players had feared this would be the case although they liked the taste of the food enough to hope for a better fate.

The latter team is punished for Josie's unwillingness to acknowledge any opinion other than her own. Even though the idea was Eliza's, Josie arbitrarily determined that a component was too spicy. Eliza patiently attempted to explain how the dish would be too sweet otherwise. Moments later, Daisley Gordon informs them that the dish tasted too sweet. Josie does a wonderful Rodney Dangerfield impersonation at this moment, awkwardly tugging the neckline of her shirt as she appreciates the idiocy of her behavior. Let's see if she learns from this mistake since the same teams will be working together in the elimination challenge.

The top side of the Quickfire is comprised of John and Joshua and Bart and Sheldon. The latter is surprising only because there was a hardware malfunction. John's continued success in team challenges save for the regrettable incident at the 1950s diner is the surprise of the season thus far. As hard-headed and condescending as Tesar is, he does possess a team-first attitude in most instances. Even Carla's squab mistake was one for which he gave her early warning. Josie needs to learn from him in this regard. The winners are Sheldon and Bart, both of whom will be immune from elimination. The statements above involving Tesar also apply to Sheldon, a tremendous team player, while this is the first sign that Bart merits his knighthood. I dub thee Sir Doesn't Always Suck!

The news that the same teams will compete in the elimination challenge is not well received. Danyele and Lizzie have barely spoken, unsurprising since they each strike me as introverts. Eliza wants no part of Josie; the good news for Josie is at least somebody knows who she is now. Everyone's mood grows even grimmer when they draw knives to determine flavors. Some of these sound like mad libs gone awry.

Sheldon and Bart draw salmon candy. John and Joshua receive truffle popcorn. Brooke and Stefan pull rose petal jelly. After only three entries, I recognize I know little about food. From the way Stefan describes his ingredient, it sounds like edible potpourri. This challenge will be brutal. Eliza and Josie receive cardamom bitters. I think those are flavored Angry Soccer Moms.

Tyler and CJ, Micah and Chrissy and Danyele and Lizzie are the lucky ones as they draw spicy dill pickles, cheese curds and coconut curry chocolate, respectively. These are real foods that people know. How did those knives get in the group? Before these six people can celebrate their relative fortunes, however, the other shoe drops. Lunch will be served in two hours. I love the smell of truffle popcorn dipped in birthday rose petal jelly in the morning. It smells like Stefan's elimination tears.

Ideas are quickly exchanged, the vicious part of this challenge. Not only are the fates of two players joined together, they are also time limited in their amount of discussion. The first idea is almost always accepted as the meal to be prepared. In some cases, this is worrisome. CJ locks upon the idea of creating a delicious cheeseburger served with pickles. Even affable Tyler believes this idea is too simple.

CJ feels strongly that if they cook something else that isn't good, Tom Colicchio will ask why they didn't simply serve a burger. What he fails to appreciate is that the reverse is true. This dilemma is the dual-edged frustration stemming from drawing a well-known ingredient. If they screw up a burger, there will be little forgiveness from the judges. Then again, if I can cook a burger, I'm sure CJ can make one that tastes better than rose petal jelly, which I believe is the primary ingredient in Vaseline.

A hilarious conversation occurs between Josie and Eliza. Strong-willed Josie is apprehensive about the current working relationship. She entreats Eliza to be a team first player rather than hard-headed. If the world had ended at the moment those words were spoken by Josie, no one could be surprised. This is like Terrell Owens complaining about the selfishness of other professional athletes.

The subtext of the conversation is unmistakable. "Do what I say and we won't get eliminated, Noob." To her credit, Eliza bites her tongue and agrees. Few of us would be so polite in the face of such hypocrisy.

A different team promptly demonstrates the dangers of such politeness. Joshua and John do not like one another yet they do respect one another's cooking skills. Their joint dish features grits and pork. Unbeknownst to one another, both of them have concerns about the other's preparations. Joshua believes the grits are too thick; John believes that Joshua has failed to sear the pork properly. Sagely, John notes that he is only being tolerated by his partner. Too much criticism will torpedo their dish. This is the problem with being respected but not liked. People are less receptive to professional tips from a jerk. I suspect that the editing hints at the duo finishing in the bottom group this week.

Only five minutes of the show is devoted to the preparation of the elimination challenge food. Generally, this indicates that the meals themselves are in some way noteworthy enough that the judging will be the focus of the episode. It's either that or someone is going to shave Marcel's head again. And since he is on Next Iron Chef at the moment, this seems unlikely.

At judges table, a handful of local merchants participate. They are the purveyors of many of the obscure ingredients used in this challenge. Spoiler: they are not impressed with the meals served. This lunch contains the worst food served since the dreaded Chinese restaurant episode during Top Chef All Stars. Tom and Padma wind up apologizing to the guest judges for the lackluster food quality. This episode is the inverse of the Charlize Theron episode. There is no imagination in the dishes and everything sucks. To wit, Tom later informs the contestants that there will be no winner for the challenge since no dish is worthy. This is like telling everyone in baseball that the season sucked and so there will be no MVP or Cy Young winner.

Let's count up the mistakes. Stefan overcooks the duck. Brooke's flavoring is too sweet. The Top Chef birthday curse is in play. Hugh moves on to the next dish by Joshua and John. He firmly states, "As a guy who makes grits pretty much every day of my life, those grits suck." Tom notes that the sauce and the meat also suck while Daisley Gordon questions the creativity of the dish. I'm vaguely surprised no one insults John's cheesy glasses while they're at it.

Kristen and Micah produce a cheese component that is so poorly implemented that Padma cannot identify it. There is also not enough of the curd flavoring, the required ingredient of the dish. Sheldon and Bart absorb a similar complaint regarding their (lack of) salmon candy flavoring. The old maxim "everyone's a critic" is shining through at judges table.

There is fear in Padma's eyes as she samples the final three dishes. The fear is quickly confirmed when she announces that Josie and Eliza's clams have sand in them. Gail Simmons adds that hers has a rock in it. CJ and Tyler's burgers are somehow less popular. Hugh describes it as a "really spongy, gross bottom bun". Right on cue, Tom laments the laziness of presenting a burger as a pickle dish. Demonstrating how agitated the judges are by this point, Danyele and Lizzie's dessert dish is attacked as well. Even a double dose of chocolate is not enough to satisfy the angry judges. The 16 remaining Top Chef contestants have failed tonight.

Tom delivers the news in person. "You know, I gotta say that overall, we were really, really disappointed today. This was actually a pretty poor showing. The food just wasn't up to par. These dishes showed just a lack of imagination, a lack of technique. We actually had to apologize to these artisans. We thought these dishes for the most part were pretty bad. We're not going to award a win to this at all. This ten thousand dollars is off the table. Each of you are responsible for the overall failure of these dishes and so we're sending an entire team home tomorrow. Now listen, we're doing Last Chance Kitchen again. So if you lose, you got a chance to get back in. So step it up, take some risks. Get some sleep, think about this. We'll get through judges table tomorrow but you guys, whoever's left standing, you guys, you gotta push it." The entire Top Chef crew has just been sent to the Principal's Office.

The question becomes who is the worst of the worst. I expect all 14 contestants to be called to judges table. Instead, only three teams are humiliated. Stefan and Brooke, John and Joshua and CJ and Tyler finish on the bottom on a day where everyone smells like bottom. Come to think of it, just imagine how bad these three dishes must have been to throw under Josie and Eliza's food with sand and rocks in it. No matter which of them is eliminated, a great player is going home. Stefan, Brooke, John and CJ are all capable of winning Top Chef. At least one if not two of them will not advance beyond this episode. That is an upset of Jennifer Carroll proportions.

The queries at Top Chef involve responsibilities as usual. The difference is that all six players wear their fear on their faces. Being up for elimination is always scary but being one of the worst chefs in a situation such as this represents unspeakable failure. I empathize with all of them (yes, even Stefan).

Brooke reveals that she cooked the duck, and Padma wants to know what went wrong. Gail assails Stefan over the cabbage preparation. A funny moment occurs when Joshua is quizzed about the grits. He honestly states, "I'm always going to be apprehensive making grits for Hugh." Without missing a beat, Hugh quips, "At this point, I am apprehensive to eat your grits." This is why Hugh deserves a spot at judges table. He is hysterical.

The judges administer the most savage beating upon CJ's gangly frame. As expected, they lash out at him for creating a burger rather than something more original. I bite my tongue as I mentally catalog at least three different instances where a contestant defending him/herself at judges table was told exactly the opposite. CJ notes the same dual-edged sword issue I mentioned earlier. This is a problem for the judges, not him, yet I expect he will be the one who suffers for it.

Amusingly, CJ takes a shot at Danyele and Lizzie's chocolate dessert, which he considers a debacle. While the judges all laugh, they also make the point that CJ's burger was even worse. Top Chef is all about kicking people when they're down this week.

The judges confer and in the process elucidate how atrocious all of the meals were. Tom wants to eliminate John and Joshua for the pork and grits dish. Hugh is emphatic about the burger. And Padma hates Stefan and Brooke's duck. Ordinarily, Tom gets his way in these instances but he defers to the tiebreaking vote, Gail. Given that she had already expressed disbelief that CJ felt he had prepared a good burger, the choice seems obvious. CJ and Tyler are eliminated from the competition and thereby relegated to Top Chef Kitchen. I will add that they (as a team) upended Kuniko and remain alive thanks to something called hay ice cream. So CJ is not 100% gone yet but the odds of him winning Top Chef are remote. He'll never win Padma's heart now.