Weekend Wrap-Up
Skyfall Wins a Lost Weekend at the Box Office
By John Hamann
December 9, 2012
BoxOfficeProphets.com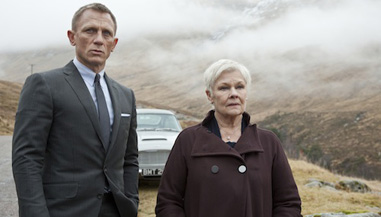 ---
James Bond doesn't fear The Hobbit, but it would appear everyone else does.

With only a turd of a film called Playing for Keeps opening this weekend, one has to wonder what the studios were thinking, literally abandoning a weekend in December, and only two-and-a-half weeks before Christmas. Some blame Peter Jackson's The Hobbit, which takes over cinemas next weekend, and is sure to be huge. Some blame an early Thanksgiving, which opened an extra weekend prior to Christmas. And finally, some blame greed, as four films open on the 21st and three more on the 25th, aligning themselves for the holiday box office lottery. The Hobbit excuse I understand, but only to a point, as the biggest Ring flick, Return of the King, opened to $72.6 million, or currently the 47th biggest of all time. The weekend before Return of the King opened, Something's Gotta Give debuted, and became a $125 million earner. Get my point?

The second and third excuses are interesting. If a film opens this weekend, it would be the ninth film to open between now and Christmas Day. The odds of succeeding would be low unless you were an event picture like The Hobbit or Les Miserables. The benefit would be an extra weekend to work alone, before the big Christmas two week spectacular at the box office. A middle-range film is going to be almost automatically sixth before the big day arrives, as The Guilt Trip, Jack Reacher, Monsters, Inc. 3D and This Is 40 should all do decent business. Studios would be taking a big risk dropping a picture into this weekend, so I do buy that excuse, although it pains me to do so. With an earlier Thanksgiving this year, turkey holiday debuts will not see the benefit that a normal Thanksgiving release would over the Christmas season. This leaves those films opening over the next 14 days in a prime position - or mayl leave us with a weak holiday season.

All we are left with this weekend is a repeat of the last two, and brings a big down weekend when the box office had been on a roll following Thanksgiving. It also leaves us with an interesting story this weekend, as Skyfall is the number one picture, returning to the top in its fifth weekend. Skyfall earned $11 million to return to the top this weekend, falling 34% compared to the previous frame. It is extremely rare in this box office age for a film to open at #1, spend three weekends at #2, and then move back into top spot. We've heard of films languishing in lower spots and then moving to the top (The Blind Side took three weekends to get to #1), but probably the best example of this is The Passion of the Christ, which spent its first three weekends in the #1 spot, and then spent three weekends out of the top spot but in the top five before returning to the top in its seventh weekend. Another example is Mel Gibson's Signs. That movie opened at #1 and then spent two weekends at #2 (ironically versus Die Another Day) before returning to the top for two consecutive weekends. For this feat to happen in today's box office, you either have to be Christ or the devil (Mel Gibson) I guess.

Skyfall does add another anomaly to its very odd run, as any film that takes down a Twilight picture has a special place in my heart. It now looks longingly at the $300 million plateau, a number it's going to have a hard time reaching. Harry Potter and the Deathly Hallows Part 1 earned about $40 million from the end of this weekend until the end of its run. That would just be enough for Skyfall to reach $300 million, so we will keep an eye on it throughout the holiday season. Instead, it will likely be in the lower levels of the top ten by the time I open my Christmas presents. So far, Skyfall has earned $261.6 million at the domestic box office. Its worldwide number is even more significant, though. With $918 million worldwide, the 23rd Bond film has now passed Spider-Man 3 to become Sony's highest-grossing film ever.

Number two this weekend is not Breaking Dawn Part 2. Instead, it's Rise of the Guardians, which is rising at the right time. It may be too little, too late, though, and probably shouldn't have been a Thanksgiving release. After a 44% drop last weekend, Rise of the Guardians improved on its plunge, earning $10.5 million this weekend and falling a much better 21%. It's great that this $145 million holiday release had a good third frame, because it will likely be hurt next weekend when The Hobbit opens. Paramount will likely feel little pain from Rise of the Guardians, but it is certainly not going to be a bonanza, either. A combination of domestic and international receipts will likely keep this one in the black, but there was a feeling that this could have been one of the BIG holiday pictures, and it is simply not going to be. If it can keep its percentage of decline low, it might earn another $40 million by the first weekend in January, but it won't match its production budget domestically. Give it $61.9 million so far.

That puts The Twilight Saga: Breaking Dawn Part 2 down to third. Part 2 earned $9.2 million this weekend, which is actually a bit better than the $7.8 million that Part 1 did over the same weekend last year. It declines an okay 47%, and brings the overall gross up to $268.7 million. Two more weekends and it's gone forever. What a Christmas it will be!

Lincoln takes fourth place for the second consecutive weekend. The presidential release earned another $9.1 million, falling 32% from the previous frame. Along with Skyfall, Lincoln has played very strongly to adults, staying the third or fourth spot for four consecutive weekends, and has a strong chance at remaining in fourth next weekend, when it will also cross the $100 million mark. Lincoln cost Buena Vista only $65 million to make, and has a gross so far of $97.3 million.

Fifth spot goes to Life of Pi, a film that has only seen one ranking in the top ten over three weekends of release. This weekend, the Ang Lee spectacle earned $8.3 million, dropping 32% compared to the previous frame. It will be interesting to see how a film like Life of Pi does once the heavy hitting competition enters the field. So far, the $120 million film has earned $60.9 million, but it's also cleared the $65 million mark overseas. It will be in good shape once all is said and done.


That puts the turd that is Playing For Keeps down in sixth, a higher ranking than this piece of trash deserves. The Gerard Butler "film" earned $6 million from 2,837 venues, but really should have been seen by no one. There is now one positive review at Rotten Tomatoes (out of a possible 57 at the time I write this), but there is really nothing positive to say about it (unless you're Leonard Maltin). From what I understand, this movie is about Gerard Butler nailing soccer moms, but with a PG-13 rating – you know, for kids! – and no laughs. This is an old-fashioned dump off if I've ever seen one, and a well-positioned one at that. This one cost $35 million to make, and will be gone in two weekends.

Seventh is Wreck-It Ralph, a film that was number one six weekends ago. Ralph just keeps chugging along, earning another $4.9 as it drops 29% from the previous frame. The $165 million release has now earned $164.4 million and will likely tap out with about $180 million.

Red Dawn, a film that would have already exited the top ten if there was any competition, turns up in eighth place. The remake of the '80s action flick earned $4.3 million in its third frame, down 34% from last weekend. The $65 million picture now has a gross of only $37.3 million.

Ninth goes to Flight, and like Wreck-It Ralph, is now six weekends old. Flight earned $3.1 million and fell 30% compared to the previous frame. The Paramount success story cost $31 million to make, and has a gross so far of $86.2 million.

In tenth this weekend is Killing Them Softly, with that ugly F Cinemascore. After opening in seventh last weekend, the hit man flick dropped 60% to only $2.7 million this frame. It has a total so far of $11.8 million, against a budget of only $15 million.

Overall, this all means that things are darkest before the dawn. The top 12 films earned $72.8 million this weekend, a figure that The Hobbit – all by itself – should surpass next weekend. The same weekend last year had New Year's Eve on top, and the top 12 could only find $67.8 million, so maybe this weekend isn't all that bad, as turkey leftovers continue to thrive.