Friday Box Office Analysis
By Kim Hollis
December 8, 2012
BoxOfficeProphets.com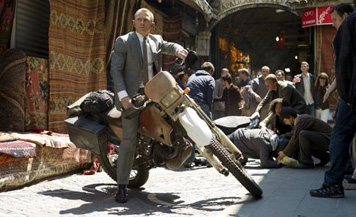 ---
The studios didn't even bother to try this weekend, allowing holdovers to reign for another week. The only new release is one that almost no one noticed.

Skyfall

During the weekend of November 9th, Skyfall finished at the top of the box office charts with $90.6 million, becoming the biggest opener ever for the franchise. The next three weekends saw The Twilight Saga: Breaking Dawn Part 2 as the victor, giving the franchise a powerful finish. Now, a month after it debuted in theaters, the 23rd James Bond film in the series will re-take the #1 spot, a rare feat that is all the more impressive in these days of front-loaded box office.

Yesterday, Skyfall finished in first place amongst all movies in release, earning $3.1 million, a few hundred thousand ahead of Breaking Dawn Part 2 and Lincoln. What that means is that James Bond will be our top film once again by the time the weekend is done. Skyfall should get *just* past the $10 million mark with a three-day total of $10.5 million. Well done, 007.

Playing for Keeps

The Gerard Butler romantic comedy sputtered yesterday, earning a slight $2.1 million. I think it's time for studios to start recognizing that generic rom-coms are just not going to get it done for the most part. There has to be some sort of hook. For Butler, this movie will do slightly better than his previous film, Chasing Mavericks, but only just. It's going to manage about $5.9 million for the weekend before fading into obscurity over the remainder of the month. Really, at this point, we all just appear to be biding our time for hobbits, dwarves and wizards.