Weekend Forecast for November 30-December 2, 2012
By Reagen Sulewski
November 30, 2012
BoxOfficeProphets.com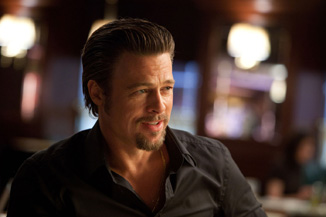 ---
Surprisingly for this traditionally slow weekend, two new films make it the multiplexes, and one of them even stars some people we've heard of! All this and more in this guaranteed "leftover" pun-free forecast.

Few studios dare to tackle the week after Thanksgiving with any kind of substantial film, figuring that people have had their fill of movies during the holiday period. Additionally, with as lucrative a weekend as Thanksgiving can be (though this is becoming less true), why release a film you have confidence in after that weekend when you can release it before, on a weekend that can handle just about as many films as you can throw at it?

So, with a kind of self-fulfilling prophecy, few films of any note ever appear, and often the weekend is barren of new films. The all-time highest grossing new film on this weekend is The Last Samurai, with a mere $24 million on the back of Tom Cruise, not yet Tom Cruise Crazy. Brad Pitt, a star with perhaps as much marquee value as Cruise, headlines the one of two new releases this weekend in Killing Them Softly.

That's a really terrible title for a gangster film, even with a big name attached, even if it is kind of explained in the commercials. Pitt plays a mob enforcer who is hired to recover money stolen from an illegal card game, an action which sends violent shock waves through the local criminal underground. Because this was apparently not enough plot, this is also happening amidst the backdrop of the 2008 Presidential election, and apparently draws parallels between the two events. Isn't this the kind of thing The Naked Gun 33 1/3 specifically made fun of?

In addition to Pitt, the film also has a solid tough guy supporting cast, including James Gandolfini, Ray Liotta, Sam Shepard and Richard Jenkins, and is directed by Andrew Dominik, who knows tough, having helmed Chopper, and Pitt, who starred in Dominik's The Assassination of Jesse James, but hasn't ever really known commercial before. This gets some of the way there, and has strong reviews, but on the surface it's a not particularly special looking crime film that just happens to have an A-lister in the lead.

Although Pitt can't take credit for all the box office of his films, there's rarely a bomb in his CV when he decides to go commercial, and we probably have to go back to 2003's Sinbad before something he was strongly associated with did really poorly relative to expectations. Since the budget here is just $15 million or so, those expectations still aren't very high. And with the Weinstein Company backing it, we can dial down those expectations a little further, as they've still never gotten their groove back in the promotions department since leaving Miramax. Factoring in the post-Thanksgiving opening, I think we can see a start of around $16 million here.

Opening in 1,400 venues, The Collection is a horror sequel to a film you probably didn't even know existed. 2009's The Collector earned about $8 million. Somehow, this justifies a bigger budget sequel that gets a wider release, apparently hoping that in video it would become a bigger hit. Or it may just be an early Christmas present to the director, who was responsible for the Saw series from number 4 on (aka the ones that drove it into the ground). The Collector appears to be more of that kind of thing, with a serial killer who collects his victims in an elaborately trapped lair. So we're promised more gore and torture porn, which you pretty much thought was done, right? So did I, but apparently we have a dead-cat bounce (note to producers: this is not a suggestion) for the genre. With this screen count, that'll probably help to make around $3 million this weekend.

The weekend's returning films will make the race to #1 interesting, with Lincoln, Skyfall and Twilight: Finally It's Over trending to earn $16-$17 million. You want to give the edge to Bond for a couple of reasons – it's the better film by far than Twilight, for one, but also that the Twilight films have the longevity of a mayfly. All of the films of the Twilight series released this time have fallen into the same basic pattern of around $40 million over Thanksgiving, and low-to-mid teens this week. I don't see any reason for this to change, and Breaking Dawn 2 should earn about $16 million.

By contrast, Skyfall dropped a mere 14% over the holiday (though that's about average), but still has those great reviews and word-of-mouth to keep it going. With over $225 million in the bank, it should add around $17 million more to that this frame.

If not for a significant deficit coming into the weekend, Lincoln could probably be the favorite to win the weekend. After increasing its take by 22% over the holiday (thanks to some added screens), it's got tons of momentum, and is already a major Oscar contender. Look for a modest post-Thanksgiving drop to about $15 million.

Life of Pi likely beats out Rise of the Guardians after they virtually tied last weekend. Things don't get much better for the animated film after its $23 million start, since there are fewer families out at the theaters relative to last weekend. Life of Pi, meanwhile, is proving to be the surprise hit of the fall after a $23 million start, thanks to some impressive 3D filming. Look for Pi to earn about $13 million, with Guardians coming in just short of that.

Further on down the list, we have Wreck-it-Ralph, which seems to be giving Rise of the Guardians a run for its money. Now at over $150 million total, it should bring in another $9 million this weekend. Finally we have the remake of Red Dawn, which should start crashing and burning riiiight now, with about $6 million over the next three days.