Weekend Forecast for November 23-25, 2012
By Reagen Sulewski
November 21, 2012
BoxOfficeProphets.com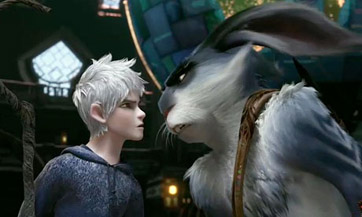 ---
A relatively tame Thanksgiving weekend sees three new films competing for business over the extended holiday. As befitting the holiday theme, the family-targeted film is the one expected to have the biggest impact, with the other two likely falling behind even films from a couple weeks ago.

DreamWorks Animation gets back into the Thanksgiving market with Rise of the Guardians, which collects all the childhood legends, Santa Claus, the Tooth Fairy, the Easter Bunny, the Sandman and Jack Frost (or their Mexican non-union equivalents) and puts them into battle against what we might as well call the Boogeyman for the film's purposes. With the fate of children's dreams at stake, these five misfit, mismatched heroes must put aside their differences to... what do you mean, "Marvel Comics on Line 2"?

So yeah, it's pretty much a pre-teen version of The Avengers, and has a high profile cast to match the heroes involved. Alec Baldwin, Hugh Jackman, Isla Fisher, Chris Pine and Jude Law make up the cast that's meant to convince the adults out there that this film will be worth their while, with the bright scenery and famous characters working on the kids. Usually these films are focused on comedy, so an action-adventure film is a bit of a departure. It's not totally unprecedented, particularly with The Incredibles, but that film had the Pixar brand. The DreamWorks brand is strong, but not that strong, and it certainly can't hope to bump Guardians up to that level just on the strength of it. Luckily, then, it appears to actually be pretty good, if not up to the (non-Cars) spectacular Pixar standard. Will some families judge it to be a bit too much for their kids to handle? Undoubtedly. But might it open up the audience to a bit older group, a la Polar Express? Seems like a good bet too. And it doesn't even have that creepy mo-cap animation. I put this in line with the typical opening of the second-tier animated releases of late, opening to about $45 million, or $65 million over five days.

Director Ang Lee is back in multiplexes for the first time in about seven years with Life of Pi, the adaptation of the Man Booker Prize winning novel about a boy who is marooned at sea in a life boat with a tiger... And that's pretty much the plot right there. It's the second release of a film based on an "unfilmable" book in about a month, following Cloud Atlas, and released in 3D, because of course it is.

It's almost a film that's about filmmaking and storytelling, since the book was itself about stories, and that's never an easy sell. Indeed, a lot of the marketing has been downright baffling, including an extended trailer that was just a clip of a random point in the middle of the film that had zero explanation or exposition. If you've read the book, it's likely all very thrilling and exciting to see this brought to life, but to the uninitiated, the feelings of "wha" and "huh" are hard to overcome.


So, if we're going to compare it to Cloud Atlas, there's a few things to talk about. Life of Pi is by far the more well known book, having been on virtually everyone's Christmas lists about ten years ago. Ang Lee is a better regarded director than the Wachowskis and Tom Tykwer, and it has a significant advantage in that it is only about one thing instead of six things, and is a smidgen more conventional narratively (but only just). On the other hand, there's essentially no one you recognize in the cast, with the only human actor for almost the entire screen time being an unknown Indian boy (the tiger is also not a famous tiger, like Tony or Hobbes). Then again, Tom Hanks didn't do a whole lot for Cloud Atlas. So perhaps it's the just the popularity of the material that's driving this, along with the supposed technical mastery that a lot of reviews are focusing on. Really solid reviews aren't hurting either, so I think this can start out decently well at around $15 million over three days, and $21 million over five.

Lastly, we have Red Dawn, a remake of the 1984 Cold War cult classic about teenagers fighting a combined Soviet/Cuban invasion of the mainland U.S. It's a film that's held high in nostalgia more for its concept than its actual quality (seriously, have you seen it recently? It does *not* hold up), and also for its cast of then soon-to-be famous actors, including Patrick Sawyze, C. Thomas Howell (hey, it was the '80s), Charlie Sheen, Lea Thompson and Jennifer Grey.

With geopolitical realities having shifted quite a bit since then, a Russian invasion doesn't make a lot of sense. Instead, we're treated to a invasion by North Korea, which should just instantly send you into paroxysms of laughter if you know anything about anything. At least the original story, which had China as the enemy, was at least kind of maybe sort of plausible through a narrow frame of view. But then MGM remembered that they might want to sell films to China sometime soon, and so we get the next possible enemy that could vaguely pass as Chinese.

That was far from the film's only struggle, as MGM went under shortly after the film was completed, delaying it for a couple of years. While letting a film sit and get stale is never quite the greatest thing ever, it did allow for the film's Swayze-equivalent, Chris Hemsworth, to get famous of his own accord first (though casting him as the lead does make the film's tagline, "Heroes Are Made in America," kind of awkward), and explains why a 29-year-old is playing a teenager *after* having played Thor. It also has Josh Hutcherson, who became at least a little bit of a thing after The Hunger Games this year, Josh Peck, Adrienne Palicki and Isabel Lucas as the para-military teens, and Jeffrey Dean Morgan (I assume) playing the role that Powers Boothe played in the original.

What with there being no real plausible ways for the scenario to play out (again, North Korea?!), you really have to wonder why this film exists. Okay, it has sort of a cool "what if?" fantasy element to it, but it's not like there was a great call for updating this idea. Reviews couldn't really be less kind to this film, and while some are saying the action's gotten a bit of an upgrade, the acting has stayed terrible, and what little nuance there was to the first film is completely absent here. Say what you will about overwrought melodrama, at least it's committed to something. Despite the action elements, I think this will play out like a regular teen drama, with a three-day total around $11 million, and a five-day of $15 million.

Although Thanksgiving weekend often allows films to have a second strong weekend, thanks to the huge number of families that have extra time over the next few days, the Twilight films have never been able to capitalize on this. Or, perhaps a more frightening idea, they would have had some of the worst second weekend drop-offs of all time without Thanksgiving. Of the three that have opened prior to Thanksgiving, the drops were 62%, 70% and 70%. What with Breaking Dawn Part 2 being the last of its kind, and with a increased impetus for fans to see it right away, we might see it break through that 70% mark this weekend, and letting Rise of the Guardians take the weekend easily, even after a $141 million opening weekend. Look for around $39 million here, with $60 million over five days.

Skyfall should arrest its fall of over 50% from last weekend over the holiday – even Quantum of Solace had a good Thanksgiving – and in the process will officially become the highest grossing Bond film domestically. Worldwide it's there already, and the big prize here is membership in the billion dollar club, with two-thirds of the work already done. Give it $28 million this weekend.

Lincoln is exactly the kind of movie that can do fantastically on a weekend like this – with great reviews, an easy to grasp concept about a well-beloved figure that kind of sort of has a tie-in to the weekend (what with the themes of patriotism and family), it's well positioned to have a very tiny drop off. I believe this can make for about $18 million over three days, with $25 million over five.

Wreck-it-Ralph faces its first serious competition for the family market this weekend, and while Rise of the Guardians might eat into it a little, it's the right weekend for competition. With five days for people to see things, there's room for everything. I'd look for $13 million over three days for the video-game themed film, and $18 million over five.