Weekend Wrap-Up
Twilight is finished
By John Hamann
November 18, 2012
BoxOfficeProphets.com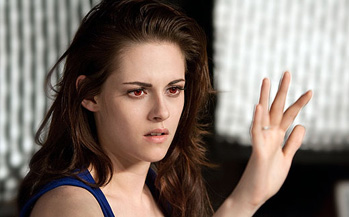 ---
The dawn breaks on a new era of box office as in a few short weeks, I will never have to write about the Twilight franchise again. Breaking Dawn Part 2 is huge with $141.3 million, but failed to match its predecessors, despite being the finale to the series.

Yes, the last of the Twilight films appeared and further dismantled the goodness of our children, but there is other, more positive news at the movies. It comes in the form of Steven Spielberg's Lincoln and an okay hold for Skyfall, especially considering the sure-to-be-huge Breaking Dawn Part 2. The overall picture at box office was also rosy for the pre-Thanksgiving Day frame as the box office was primed to take in $225 million over three days.

Our number one film of the weekend is of course The Twilight Saga: Breaking Dawn Part 2, as this sad group of anti-heroes fades into the mist of the minds of today's teenager. Like the cult that it is, Breaking Dawn Part 2 is simply a repeat of Part 1 at the box office this weekend. The opening frame is the same, the late night previews are the same, and the overall weekend is close to the same. I think it's a pretty safe bet to think that 99% of those that showed up for Part 1 showed up for Part 2.

The late-night screening numbers for Breaking Dawn were almost exactly the same, despite theatres serving up Part 2 at 10 p.m., whereas Part 1 made the kids wait until midnight (they could have opened at 8 p.m. and had the same result). Part 1 had midnight screenings of $30.25 million, Part 2 earned $30.4 from midnight screenings, or a difference of $150,000 (the difference is less than half of one percent). If you couldn't guess how the Friday was going to go, you should have your head examined. Breaking Yawn Part 2 finished with $71.2 million on Friday, which compares poorly with Part 1's $71.6 million. This cult of ridiculousness couldn't expand from the total of the first film as over the weekend proper, Breaking Dawn Part 2 earned $141.3 million. Part 1 earned a slightly smaller $138.1 million. Of course, there's a strong chance that Part 2 was overestimated, so we'll put an asterisk there until we know more tomorrow.

Tracking was expecting the final entry to be bigger, eclipsing $150 million. Some thought that because Part 2 was a better film than Part 1, more males would attend. The audience was 21% male, the highest ever for the series, but still a small component of the audience (less than $30 million of the total weekend revenue).

To compare to the other blockbuster franchise of the 2000s, Harry Potter and the Deathly Hallows Part 1 was a November release, opening to $125 million. Part 2 though was a July release, debuting only seven months after Part 1. Because it was a July release, it opened bigger, at $169 million. Summit Entertainment, the distributor behind Twilight, thought they could have a year between films, open them on the same date, and have a similar result to that of Potter. Wrong. With the cult of Twilight, and the same release pattern of Part 1, I am not sure how anyone could expect the same result.


Finishing second this weekend is Skyfall, as MGM and Sony put out a strong follow up to the shaky Quantum of Solace. After a huge opening weekend at $88.4 million (with a great weekend multiplier for the franchise at 2.9), Skyfall had to face off against the Twilight film, which meant 007 would likely be pushed to the smaller screens at your local megaplex. That push hurt Skyfall, but didn't completely kneecap it. James Bond earned $41.5 million in its second weekend, dropping 53%. That's way better than Quantum of Solace did against the first entry of Twilight in 2008 (interesting aside: the Twilight series put out five films between Bond entries). Quantum fell 60% in its second weekend, dipping from $67.5 million to $26.7 million. Casino Royale, on the other hand, opened to less than half of Skyfall at only $40.8 million, and fell only 25% to $30.8 million in its second weekend. With the super strong opening frame, Skyfall is going to easily outgross its Daniel Craig predecessors. It currently has $161.3 million in the bank, and another half-billion from overseas sales. This Bond is a hit.

Third spot this weekend goes to Steven Spielberg, Daniel Day-Lewis, and Lincoln. After an amazing limited release performance last weekend, where it earned $944,000 from only 11 screens, Lincoln was ready to take the big stage this weekend. Buena Vista pushed the release count up to 1,775, and the Oscar worthy film brought in a crackerjack $21 million. That gives the drama an impressive venue average of $11,831, particularly because the screen count and competition for theaters made this opening a lot tougher.

Obviously, the reviews helped. Lincoln is 91% fresh at RottenTomatoes, with the "top critics" score coming in even higher, at 95%. With Lincoln, audiences know they are paying for quality entertainment, instead of the crap issued for our number one entry this weekend. Lincoln cost Buena Vista $65 million to make, and it has already returned $22.4 million. Given some of the remarkably good releases we have already seen this year, it is going to be an interesting Oscar season, and I won't have to worry about Twilight showing up.

That puts Wreck-It Ralph down to fourth, as the Disney release takes a tumble in weekend three. After a solid sophomore frame where Ralph earned $33 million and fell only 33%, this weekend was not as kind. This weekend, Wreck-It took in $18.3 million and fell 45%. Last weekend, the competition was Bond. This weekend, it's Twilight, Bond and Lincoln, as the squeeze is on for Ralph. Still, the animated throwback has done quite well, earning $121.5 million so far against its $165 million budget. Wreck-It Ralph will have Rise of the Guardians to deal with next weekend, so getting to $200 million domestic is going to be a really tough task to accomplish.

Flight moves down two spots to fifth place. Now three weekends old, Flight would have had to deal with the expansion of Lincoln this weekend, as both these films, and to a degree Skyfall, were chasing that more refined ticket buyer than the Breaking Dawn crowd. Flight earned $8.6 million and dropped 43%. The competition will only heat up next weekend with Life of Pi and The Silver Linings Playbook showing up. The good news for Flight is that it cost only $31 million to make and has a gross so far of $61.3 million. It looks like it will finish with about $85 million.


Six-weekend-old Argo drops to sixth this weekend, but is another big success story for sophisticated storytelling. Argo earned only $4.1 million this frame, but the $45 million Warner Bros. thriller brought its overall take up to $92 million. This is a huge success for a smallish movie, and puts it into position to be at least considered come Oscar time.

Taken 2 spends its seventh weekend in the top ten, but is down to collecting scraps in the box office basement. The Liam Neeson actioner brought in another $2.1 million, dropping 48% compared to the previous frame. This $45 million Fox production has now brought in $134.6 million stateside, and is beyond the $200 million mark overseas.

Eighth is Pitch Perfect, which is a remarkable eight weekends old. After spending a couple of weekends outside the top ten, it has now been back for two consecutive frames, and is another success story. This weekend, it earned $1.3 million, and drops 40%. With a budget of only $17 million, this Universal release has now earned $61.3 million.

Here Comes the Boom, the Kevin James comedy, finishes in ninth place, earning another $1.2 million and falling 53%. This is a film that never finished above fifth, but has a gross so far of $41 million.

Finally, tenth place is effectively a tie between animated flick Hotel Transylvania, indie flick The Sessions, which features the great John Hawkes in the lead role, and Cloud Atlas. All three films earned $900,000, though Hotel Transylvania is on 1,248 screens, The Sessions is playing in 516 locations and Cloud Atlas is in 920. So far, Hotel Transylvania has earned $142.7 million, while The Sessions bolstered its total to $2.8 million. Cloud Atlas has a disappointing total of $24.9 million.

Overall this weekend, the box office is of course propelled forward by Twilight: Breaking Dawn Part 2, to the point where the top 12 films this weekend earned $242.1 million. Last year, when Part 1 debuted, the top 12 films earned $215 million, so one can see this is the bigger weekend overall, thanks to Skyfall and Lincoln. Next weekend brings Thanksgiving, and with it we get Rise of the Guardians, Life of Pi, and the re-imagining of Red Dawn. We will also get an expansion of Silver Linings Playbook and probably Lincoln as well.