Weekend Wrap-Up
James Bond Seduces North America
By John Hamann
November 11, 2012
BoxOfficeProphets.com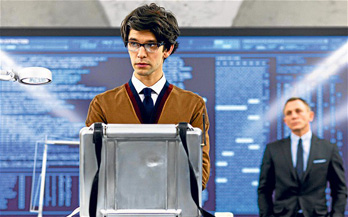 ---
If the last couple of weekends are any indication, and with foreknowledge of what's going to happen next weekend, this is going to be one fine holiday season for the box office nerd in your life. The latest James Bond flick Skyfall did the opposite of its title at the box office, reaching new heights for a 007 entry. Quantum of Solace this is not, as Daniel Craig and company rack up $87.8 million from the first three days of Skyfall's domestic run.

With the Wreck-It Ralph/Flight debuts last weekend and with teens already in line for Twilight: Give Us Your Money Part 2 next weekend, Skyfall needed to perform in this frame for Sony and MGM - and it did. With James Bond looking more and more like Jason Bourne these days, Skyfall popped this weekend, filling the void that opened after Matt Damon left Universal's ultra-successful spy franchise (Bond Legacy is a title I get; Bourne Legacy, no way).

Skyfall opened to IMAX previews on Thursday, earning $2.2 million from 463 screens. I didn't even know Skyfall was doing previews, so I would call these word-of-mouth screenings that people paid to see rather than attending for free. Skyfall was number one on Thursday despite appearing on 3,289 fewer screens than the number two film on Thursday, Wreck-It Ralph. Friday was a golden day, and as BOP's David Mumpower reported yesterday, Skyfall had the biggest day in Bond history, earning $30.8 million from 3,505 venues. The former biggest was the $27 million that Quantum of Solace earned on opening day (before it started Skyfalling). The weekend proper came in at a franchise-record $87.8 million, good for a venue average of $25,050. Ladies and gents, it may seem early, but the holiday season is upon us.

With Skyfall, Sony and MGM were seeking to expand the core audience of the James Bond world. That core audience was evident in the last two films where both the very good Casino Royale and the highly questionable Quantum of Solace finished with very similar domestic results, despite a large range in opening weekends. Casino Royale was the reboot. It opened to $40.8 million in November of 2006, and finished with $167.4 million at the domestic box office. It had an opening-to-total multiplier of 4.1, a very good score. Quantum of Solace came out two years later and much too quickly. It opened to $67.5 million on the strength of Casino Royale, but was the lesser film. It had an opening-to-total multiplier of only 2.5 (horrible for November) and finished with $169.4 million, almost exactly the same amount as Casino Royale.

Skyfall, which is 93% fresh at Rotten Tomatoes, brings us back to the quality displayed with Casino Royale (95% fresh at RT), and Sony didn't waste any time letting us know. Extremely strong early reviews have been around for weeks and have been water-cooler talk, which is highly valuable in the movie marketing world, especially prior to release. Then there is the typical Bond marketing, which is always top notch. Skyfall took this to a new level, using Daniel Craig himself in some entertaining Heineken ads. While you may have seen the ads, there is more to the Heineken story. The beer maker actually paid for Bond to drink its product in the film, paying $44.5 million in US dollars to see their product on screen and then tie it into their marketing. That single example of onscreen advertising paid for almost a third of the overall production budget, which some say was $150 million. And who knows - add the car, computer and clothes, and Sony may have funded half their movie.

It is also no secret that the overseas box office results have drummed up interest in North America. Before Skyfall even opened domestically, it had already taken in over $300 million from other places on the planet. If this did cost $150 million to make, Sony and the latest iteration of MGM were already in the black before the film arrived in North America, and its gross here would be pure profit. I would argue that point somewhat, given that the marketing budget must have matched the production budget, making the "true" cost at least $300 million. However, given its opening weekend and the fact that it will have more of Casino Royale's trajectory than Quantum's, this Bond is going to step it up a notch, and finish as the Bond movie that gets closest to $300 million – or clears it.

Finishing second this weekend is Wreck-It Ralph, which got its lunch money taken by James Bond. Skyfall simply dominated on Friday night, likely leaving only the little rooms for the holdovers. Even so, Wreck-It Ralph held up quite well in its second frame. After pulling in $49 million last weekend, Wreck-It Ralph fell only 33% to $33.1 million. Considering what we know about CGI animated films, this second weekend hold is stellar. Tangled, Disney's last non-Pixar release in November, opened to almost the same amount as Wreck-It Ralph, but fell a large 55% in its second weekend, a frame where the only new movie was a Ninja flick that finished ninth. The difference between the two is that Tangled opened on the Wednesday prior to Thanksgiving. Films that open over that long weekend are apt to fall on that first December frame, a weekend that has become notorious for its failings. Had Tangled opened over an earlier weekend in November, logic says it would have had a similar fall. The Incredibles, which opened the same weekend as Wreck-It Ralph, fell 29%, and is one of the best Pixar releases ever. The fact that Wreck-It is only a few percentage points away from The Incredibles brings good tidings for its future, although Rise of the Guardians now looms, only 10 days away. The Disney release has now earned $93.7 million against a budget of $165 million.

Third is Flight, and was likely more impacted by the new Bond than Wreck-It Ralph was. The Denzel Washington drama earned $10 million more than tracking was expecting last weekend, pulling in $25 million. This weekend, times were tougher, as now audiences know that this is less of a thriller on an airplane, and more of a character study of an alcoholic pilot. Still, good reviews and an Oscar-worthy performance by Washington led it to a second weekend gross of $15.1 million, or about the amount Flight was supposed to earn in its first weekend. Let's also not forget that Flight was made for only $31 million – super cheap in these days of Skyfall-like budgets. Flight has already earned $47.8 million and will likely earn another $50 million on top of that.

Argo drops to fourth, and is impacted by Skyfall like Flight was. Now five weekends old, the Ben Affleck thriller took in another $6.7 million, but sees by far the biggest decline of its run so far, dipping 34%. Like Flight, Argo was affordable, and the $45 million thriller has now earned $85.7 million. I am expecting it to finish very close to the $100 million mark, or more.

That keeps Taken 2 in the top five, the same placement it had a weekend ago, and a spot better than where it was two weekends ago. The Liam Neeson thriller has, like the original, showed remarkable legs once the high numbers went away, and repeats that success again this weekend. After earning $5.9 million last weekend, Taken 2 found another $4 million this weekend, falling 32%. The sequel is being out-grossed by the original on a weekend-to-weekend basis, but after weekend six, the original Taken had earned $117.9 million, whereas the sequel has earned $131.3 million, all against a budget of $45 million.

Here Comes the Boom finishes in sixth place, mainly on the strength of a surprisingly good hold along with weak competition in the lower half of the top 10. The Kevin James comedy took in another $2.6 million this weekend and fell 28%. It has now pulled in $39.1 million.

Seventh goes to the suffering Cloud Atlas, as Tom Hanks and company can't keep the title afloat (Skyfall would have been a better title for this one). In its third weekend, Cloud Atlas could only take in $2.5 million, giving it a drop of 53%. The total domestic gross has now reached $22.7 million, or about a mile away from the $105 million production budget.

Somehow Pitch Perfect, which finished in 11th the last two weekends, takes the eighth place position this frame. Rising four spots while losing 111 venues is no easy trick, but Pitch Perfect has managed it. The small Anna Kendrick release took in another $2.5 million this weekend, giving it a drop of only 18%. This one cost only $17 million to make, and has earned a wild $59 million so far.

Ninth goes to The Man with the Iron Fists, and as expected, gets trounced in its second weekend. The Russell Crowe flick earned only $2.5 million in its second frame and dropped a nasty 69%. Remember, though, this one cost only $15 million to make, so it won't be a financial disaster.

Tenth is Hotel Transylvania, which is in its seventh weekend. The animated frightener earned $2.4 million this weekend and dropped 47%. The $85 million Sony film has now earned $140.9 million stateside, and over $115 million overseas.

The other big opener this weekend appeared on only 11 screens, but was huge regardless, finishing 15th. That film is Steven Spielberg's Lincoln, starring the always great Daniel Day Lewis (the Oscar race for Best Actor is heating up, despite it only being November 11th). Lincoln earned $900,000 and carried an awesome venue average of $81,818. We will be talking about this one for a long, long time.

Overall, things are up compared to last year, not only in dollars, but also in film quality. A year ago, the box office was led by the okay Immortals, while the immensely bad Jack and Jill also opened, along with the Clint Eastwood miss, J. Edgar. The top 12 last year combined for $126.2 million. This year, with Skyfall dominating, the top 12 films took in $162.8 million, a massive 29% increase over last year's already solid performance. Oddly enough, that's the number I'm expecting for The Twilight Saga: Breaking Yawn Part 2, which will unfortunately dominate next weekend.