Friday Box Office Analysis
By David Mumpower
November 10, 2012
BoxOfficeProphets.com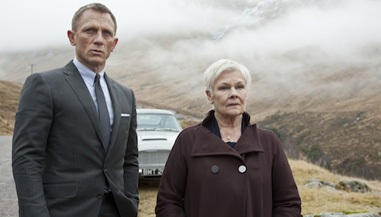 ---
Fifty years, one month and five days ago, British espionage artist James Bond debuted in theaters for the first time. The film, entitled Dr. No, introduced the world to Bond, an Ian Fleming character who would quickly become the most popular franchise lead in the history of movies. While competitors such as Harry Potter and Star Wars would supplant the series in later years, 007 maintains an iconic status as the most famous spy of all time.

Pierce Brosnan's last film as 007, Die Another Day, debuted to $47.1 million, eventually earning $160.9 million domestically and $431.9 million worldwide. In spite of this unprecedented box office performance for the franchise, the quality of Die Another Day created skepticism regarding the viability of Bond in a marketplace where Jason Bourne more aptly embodied the modern espionage protagonist.

When Daniel Craig was introduced as the new Bond in Casino Royale, the character was updated to be more contemporary. While James Bond purists recoiled at the thought of Bond playing an elegant game of poker rather than a stately game of baccarat, consumers have spoken with their wallets. 2006's Casino Royale became the strongest box office performer in the history of the franchise, grossing $167.4 million domestically and $596.4 million worldwide.

The less engaging Quantum of Solace effectively matched the performance of its predecessor. In grossing $169.4 million domestically, the most recent Bond film prior to this weekend became the best North American performer in the history of the series until now. Its worldwide take of $591.7 million is less than $5 million short of Casino Royale's.

Quantum of Solace's lackluster quality created one of the biggest divides we've ever seen between "All Critics" and "Top Critics" at Rotten Tomatoes, as the combined group rates the film at 64%, but the certified "Top Critics" view it as rotten, with only 35% of reviews being positive. Moviegoers were largely nonplussed by Quantum of Solace, as its 6.7 IMDb rating is well short of Casino Royale's 7.9. Despite the global box office, the perception of Quantum of Solace was that it was a huge step backward.

The opening weekend of Skyfall is effectively best two out of three. Its box office performance would go a long way in determining the relevance of James Bond after a four-year absence. It's noteworthy that this is the same gap in time as occurred between Die Another Day and Casino Royale, as well as the second-largest in franchise history, behind only the Timothy Dalton-to-Pierce Brosnan transition phase from 1989 to 1995. Given that Daniel Craig was in no danger of being replaced, the extended absence of James Bond was a first for the series, signifying the underlying financial troubles of MGM at the time. MGM has a lot riding on the James Bond brand and it was imperative that Skyfall be an international blockbuster.

The last two weeks, culminating with Friday's North American box office, have removed all doubt about the drawing power of 007. Skyfall has already become the highest-grossing movie in England in 2012. By the end of the weekend, it will become only the fourth Bond movie to earn $400+ million worldwide. And oh yes, its Friday box office total is spectacular.

Skyfall's $30.5 million Friday debut is a full 13% better than Quantum of Solace managed almost exactly four years ago. Even better, this number does not include $2.2 million in additional IMAX grosses from Thursday. After 24 hours plus some limited engagements, Skyfall has already grossed $32.7 million in North America. It is a bona fide box office behemoth.

Skyfall will become the largest James Bond debut ever, with $81 million during its opening weekend. It is all but certain to become not only the best Bond film ever in terms of domestic and global box office, but also the first Bond film to garner $200+ million in North America. The 23rd Bond movie in the 50-year history of the franchise appears to be perfect project.