Weekend Forecast for November 9-11, 2012
By Tim Briody
November 9, 2012
BoxOfficeProphets.com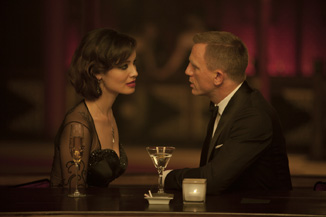 ---
The slate of big November films continues and while this weekend is pretty much just a warmup for the insanity that will be Breaking Dawn Part 2, it's not without a notable sequel of its own.

Skyfall, the 23rd entry in the storied James Bond franchise, and [bp:3280_]Daniel Craig[/bp]'s third go as Agent 007 is the only new wide release of the weekend. [bp:1084_]Javier Bardem[/bp] plays the primary villain, a former MI6 agent-turned-terrorist, bent on revenge against those in the organization he feels wronged him in the past.

Dame Judi Dench also returns as M, the head of MI:6 and Bond's boss since the Pierce Brosnan days. Also in the mix are Naomie Harris, Ralph Fiennes and Ben Whishaw as (a much younger) Q, a character missing since the Craig reboot. Directing duties this time around went to Oscar winner Sam Mendes, of American Beauty fame, taking the helm for the first time since 2009 indie release Away We Go.

It's been four years since Quantum of Solace (partially due to the bankruptcy of MGM), a film that was met with middling reviews. Still, it earned $67.5 million on its opening weekend, which is by far the top opening weekend in the history of the franchise. It quickly fell from there, finishing with $169.3 million, also tops in the series but right in line with where Casino Royale ($167.3 million) and Die Another Day ($160.9 million) ended up. Skyfall has been met with tremendous reviews from critics this time around (currently 93% at Rotten Tomatoes), so the question may end up being will the mixed reception to Quantum of Solace hurt Skyfall's box office? My guess is not really.

Skyfall has been in release in the United Kingdom and other overseas markets for two weeks, so it's kind of weird to point out that anything it earns from this point forward is essentially gravy, after a quite ridiculous $321 million in worldwide box office against a $150 million budget. As with any Bond film, advertising is everywhere (and outstanding), awareness is very high and it certainly doesn't hurt that Craig made an appearance in character at the Opening Ceremonies for the London Olympic Games this summer. Skyfall keeps the seat warm for Twilight and should come in with around $73 million this weekend.

Starting this weekend in just 11 theaters is [bp:2793_]Steven Spielberg[/bp]'s Lincoln. With [bp:3374_]Daniel Day-Lewis[/bp] as the title character, this is a historical based account of his final months so no vampire hunting here. With Day-Lewis's notable dedication to method acting, one wonders if he secretly found a time machine to travel back to the Civil War-era to deliver the Emancipation Proclamation himself. It won't make the top ten this weekend in so few markets, but we've seen some impressive per screen averages from limited releases this year, so keep an eye on its earnings this weekend before it expands next week.

Wreck-It Ralph earned the high score last weekend with $49 million, the best non-Pixar animated opening in Disney's history. It's got two weekends all to itself until Player Two arrives in the form of Rise of the Guardians over Thanksgiving. Expect some very solid legs and an inevitable sequel. A 30% decline would be good for a weekend of around $34 million.

[bp:2065_]Denzel Washington[/bp]'s Flight took second last weekend with $24.9 million, continuing Washington's streak of being one of the most reliable draws in Hollywood. Only once in the last 12 years has he had a wide release open to less than $20 million (2003's Out of Time), which is a rather insane streak. Flight will take a bit of a hit as its primary audience is siphoned off by Skyfall but it will still take in a quite good $14.9 million.