Weekend Wrap-Up
Ralph Wrecks It
By John Hamann
November 4, 2012
BoxOfficeProphets.com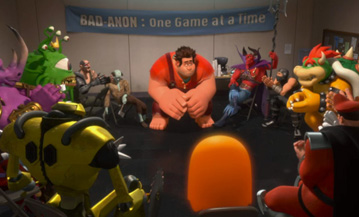 ---
Wreck-It Ralph has arrived. That means it's a big Game Over for Cloud Atlas, Silent Hill 2 and Hotel Transylvania (cue the sounds of Pac Man being eaten by ghosts).

Our number one film of the weekend is Wreck-It Ralph, Disney's latest foray into the big, big business of November animation. The digitally animated feature earned an on-target $49.1 million this weekend from 3,752 venues, as the weekend gross matched tracking expectations of a $45-$50 million opening. It overcame the remnants of Hurricane Sandy and managed a venue average of $13,082. It is the highest opening frame since Taken 2 grabbed $49.5 million over the October 5th weekend, and debuts more strongly than Hotel Transylvania's $42.5 million. While it may be hard to believe, this weekend marks the opening session of the holiday box office season, and Wreck-It Ralph provides a decent, but not breakout, beginning.

Using a two-pronged approach for drawing audiences (1980s retro video games for adults, cool animation and simple story for the kids), Disney bet big on Wreck-It Ralph, spending $165 million to bring the "bad guy turns good" story to the screen, and it needed the big opening it got this weekend to propel it towards success. This start will make Wreck-It at the very least a $150 million domestic earner, if not $200 million, and there is no reason why this won't be a $400 million earner overseas. Wreck-It Ralph also screams sequel, so this could be big for Disney for a long time.

The expensive animated feature had a couple of things going for it, but had the aftermath of Hurricane Sandy working against it. In the plus column was good reviews, as Wreck-It Ralph was 84% fresh at RottenTomatoes at the time of this writing, with some critics calling it the best of the year, and many referencing the retro feel. Also positive was the state of the box office last weekend, where the top 12 films earned only $81.2 million, the low point over the last six weekends. A frame ago, the three-weekend-old Argo climbed to number one and the five-weekend-old Hotel Transylvania placed third. Obviously, audiences were desperate for new product, and got it this weekend with Wreck-It Ralph. My question is this: Had Hurricane Sandy not turned the Eastern Seaboard on its head last week, would these numbers be higher? With people still struggling to get their lives back on track on the East Coast, many of those would not have considered this to a be a movie-going weekend, and the hurricane took a direct approach at one of the biggest movie going areas in the country.

Wreck-It Ralph's weekend multiplier (weekend gross divided by Friday gross) was 3.66, which means more people showed up over the weekend proper than on Friday night. Multipliers for kids' films in early November should be quite high. Puss in Boots earned a 3.6 over the October 28th weekend last year, and a 4.2 multiplier over its second frame on November 4th, when it dropped only 3%. Wreck-It Ralph should have no problem with good legs. It has two weekends to work as counter-programming against a couple of big releases (Skyfall and Twilight), before Rise of the Guardians debuts and challenges Ralph for that animated coin.

Finishing a strong second is the Denzel Washington/Robert Zemeckis team-up in the drama called Flight. I love how Paramount has dangled this release this weekend, opening it in only 1,900 venues. Drama in November is not the norm, especially a story about an alcoholic pilot who saves lives by crashing a plane. Flight opened to a very strong $25 million despite box office tracking looking for only $12-$15 million. Obviously, tracking firms forgot we were talking about Washington. Any regular readers of this column know about The Denzel Washington Sweet Spot, how this actor has an uncanny ability to open films in the $20-$24 million range. Since 2000, Washington has had eight films open in that range, whether it is an action film like the fabulous Unstoppable, or a drama like John Q. The difference with Flight is its low screen count, not to mention a low budget. Flight cost Paramount only $31 million to make. The budget and the star made a greenlight on this one a no brainer, and I would have personally coughed up funds for either the number one or number two film at the box office this weekend.

Reviews for Flight are of particular interest. At Rotten Tomatoes, the Zemeckis film earned an overall score of 77% fresh, not bad for a drama. However, top critics score the film at an awesome 92% fresh, with 33 positive reviews and only three negative. For Washington, this could mean another trip to the Oscars for an actor who has already won for both Training Day and Glory. This type of talk will keep Flight going for many weekends (see: Argo), especially if Paramount chooses to widen the venue count and expand the movie into more theatres. Flight received an A- Cinemascore, so some beefy legs could be in store for both the number one and number two films this weekend. This provides an extremely exciting start to the November movie season.

That pushes Argo down to number three. The film finished first last weekend after two previous weekends in the sophomore slot. In its fourth frame, the Ben Affleck film earned another $10.2 million despite the appearance of Denzel and Flight. Argo dropped 15% this weekend, which is also interesting, as the drop was higher last weekend when it rose to number one than it is this weekend. With a budget of $45 million and what is basically four consecutive weekends above $10 million, Argo is an unmitigated hit, and this is another movie we will be talking about when Oscars come out in February of 2013. So far, Argo has earned $76 million, and with each weekend it keeps the hold under 30%, up go the chances of it earning $100 million stateside.

Universal's The Man With the Iron Fists opens in fourth this weekend, and at the very least is not another embarrassment for the phone thrower, Russell Crowe. Iron Fists opened in 1,868 locations and earned $8.2 million along the way. For a Kung Fu movie, this can't be considered terrible. For a Kung Fu movie that cost only $15 million to make, this could be considered a decent start. Fox ended up making three Transporter films despite the original opening to only $9.1 million. Iron Fists may tap out at around $22 million domestic, but could earn some overseas dollars considering the internationally recognizable cast. Reviews weren't horrible either, so The Man With the Iron Fists could become a cult classic, earning more on DVD and BluRay than it does in theaters.

Fifth starts the list of the also-rans, with Taken 2 at the top of the pile. Last weekend's openers were flushed in their second weekend, so Taken 2 actually moves up a spot from sixth as it earns $6 million in its fifth weekend. That gives the Liam Neeson action flick a drop of only 22%, and bring the domestic cume up to $125.7 million. Overseas, the total has improved beyond the $200 million mark, cementing Neeson as one of the world's biggest stars.

Sixth goes to Cloud Atlas, which is now in full-on disaster mode. After a sad opening frame where it earned only $9.6 million, Cloud Atlas fails to gain on word-of-mouth and earned only $5.2 million in its second frame, a decline of 45%. Let's remember that this movie had a $100 million budget. At this point, it will be lucky to collect $30 million from domestic theatres. So far, it has brought in only $18.3 million.

Hotel Transylvania drops from third last weekend (Sunday estimates had it in second, but Monday actuals pushed it to third) all the way down to seventh, as Wreck-It Ralph and the post- Halloween blues pushed it down. This weekend, the animated funhouse earned $4.5 million, which means it fell 52% after a 27% hold in the last frame. Still, the news is very good for this one. The $85 million production has earned $137.6 million stateside and another $100 million overseas.

Paranormal Activity 4 continues to fall apart, as the supposedly scary sequel had another rough outing. PA4 earned only $4.3 million and fell 49% from last weekend's fourth place, $8.5 million take (where it fell 71%). The $5 million production has now brought in $49.6 million for Paramount.

Here Comes the Boom manages one more weekend in the top ten, as Kevin James can't repeat the Paul Blart success. Boom earned only $3.6 million and dropped 31% from last weekend. The Sony release has a gross so far of $35.6 million.

Finally in tenth is the sadness that is Silent Hill: Revelation. After a poor opening in fifth last weekend, Silent Hill 2 fell 59% this frame, earning only $3.3 million. The Open Road release is going to fail, despite costing only $20 million to bring to the screen. It has a total of $13.9 million so far.

Overall, the box office is up from a disgustingly poor frame last weekend, and outguns the November 4th - 6th frame last year when Puss in Boots remained in top spot for a second weekend. Last year, the frame earned $103.6 million, whereas this year, Wreck-It Ralph and Flight helped the top 12 toward $125.3 million. Next weekend brings the first of two consecutive single-release weekends. On tap next weekend is Skyfall, the new, well-reviewed James Bond pic that is racking up the cash overseas, already earning $100 million from foreign shores.