Weekend Forecast for November 2-4, 2012
By Reagen Sulewski
November 2, 2012
BoxOfficeProphets.com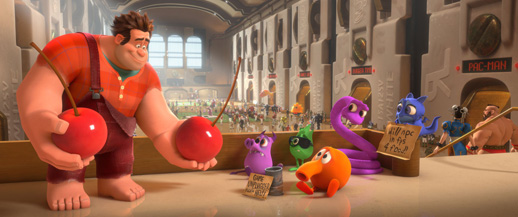 ---
After a couple of months of just intermittently interesting releases, the Holiday movie season has finally arrived. We're finally getting the real tentpole releases, with at least one a week for the next couple of months, not to mention a bunch of Oscar hopefuls. The season starts off strongly with one of the most intriguing ideas for a mainstream movie in some time.

Just about every writer that's ever stared at a blank page is kicking themselves looking at Wreck-It-Ralph, thinking "now why the hell didn't I think of that?". An animated film from Disney, it exists entirely in the world of video games, following the title character (voiced by John C. Reilly), an antagonist from a fictional game from the 8-bit arcade era who starts to question his purpose in life, and starts jumping games to change his story, moving him through video game history as he works through his journey. It's a brilliant conceit that has tons of potential for clever humor as well as meaningful story, since video games are so theme-rich. The script also seems to have a lot of fun with the quirks and idiosyncratic nature of video games, with their rigid logic and unique abilities.

Although the game in the title and a few of the others used in the plot of the film are made up for the film, there's a tremendous number of familiar franchises in the film, including Pac-Man, Q-Bert, Street Fighter, Sonic the Hedgehog and more. It's a little bit like the video game version of Who Framed Roger Rabbit, with a bit of Toy Story thrown in there for good measure. The biggest worry one might have is that the video game setting might be a little alienating for non-gamers, but I think the inclusion of these older games is an incredibly savvy move, and cashes in on their considerable cultural capital, without having to figure out how one would make a movie out of Pac-Man (hint: don't).

The ad campaigns have been fairly brilliant as well, emphasizing the pure chaos and anarchic mayhem Ralph causes as he moves through the gaming world. Although it's primarily a family-targeted film, the film should also pick up a sizable slate of gamers, happy to see a film that seems to get the logic of games. Although I don't know if it can be as big off the bat as some other animated films, like Shrek or Toy Story, I do think it can challenge some of the middle tier films like Despicable Me or Madagascar. Opening in over 3,700 venues, Wreck-It Ralph should start out with a solid $52 million.

Few actors have been as consistent in recent years as Denzel Washington, who has achieved a later-career success (he's now *57*) that shows little sign of stopping. This has largely been due to some excellent script choices and a turn towards more action-oriented films. This weekend's Flight is more towards the dramatic end of things, although it's built around a harrowing set-piece that's driving the ad campaign.


Washington stars as a pilot of a commercial airliner who makes a miraculous landing of a crashing airliner – including at one point flying it upside down for some reason, because that makes sense – although surviving the crash is just the start of the story. An alcoholic, Washington's character is found to have had alcohol in his system during the fateful flight, and his status as a hero immediately comes into question. Alcohol isn't his only demon either, and the film's primarily interested in just how flawed a man can be and still remain a hero for his actions.

Flight is also notable for the return to live-action filmmaking for Robert Zemeckis, who's been knee-deep in creepy motion-capture animation ever since 2000's Cast Away. He's picked a compelling project and star to come back to real life with, although for reasons that I'm sure will be explained at some point, the film is starting off in under 2,000 venues this weekend. It's a curious choice of strategy for a film starring one of the biggest draws out there, and with an amazing looking anchoring sequence (though, really, Zemeckis – a plane crash again?), particularly when its reviews are so solid. That limited number of screens will keep it from matching the mid $20s to low 40s opening weekend that Washington has earned in recent years, but around $16 million shouldn't be a surprise here.

Lastly in wide release this weekend is The Man With the Iron Fists, the directorial debut of RZA from Wu-Tang Clan... wait, what? No, I've got that right. The rapper, who isn't a complete stranger to film, and who's definitely made no secret of the influence of kung-fu on his music and style (I mean, "Wu-Tang Clan"...) is behind the camera for this somewhat Americanized take on a wuxia film, centered around a treasure hunt in feudal China, with a group of bandits and warlords hunting for it for their own reasons and with their own unique fighting styles.

He's managed to bring together a fairly solid cast for his debut, including Russell Crowe, Lucy Liu, Rick Yune, Jamie Chung and a number of other martial artists well known within the kung fu world. Perhaps more importantly, it's received the stamp of approval from Quentin Tarantino, who's listed as "presenter", but didn't have much to do (if anything) with the actual making of the film. However, putting his name there probably adds a few million to the box office.

Kung fu is a notoriously difficult genre to open well, although it's one with a swatch of dedicated fans. Iron Fists looks to be calibrated well to be crazy enough to appeal to that audience, but not so crazy that it alienates curious by-standers. Without a huge name for the kung-fu world like Jet Li or Jackie Chan, I see this as struggling to break out of single digits, and with an opening weekend release slate of under 2,000 venues, we're looking at more around $8 million.

Argo will yield top spot at the box office, after pulling the rare feat of claiming it in its third weekend of wide release, demonstrating both its legs and the weakness of October's competition. With around $65 million in the bank, it's proven to be a decent investment on its modest $45 million budget, and this popularity with audience should lead the Academy to recognize it in several categories at the end of the year. I think a $100 million or more total, notwithstanding Oscar nominations and a possible re-release, is plausible here. For this weekend, it should be about $9 million.

Perhaps not so lucky will be Cloud Atlas, the epic sci-fi/fantasy/drama/whatever-it-is film from the Wachowskis and Tom Tykwer, which opened to under $10 million after much fanfare and an over $100 million budget that it will be lucky to recoup half of. Despite a star-studded cast, the confusing premise simply couldn't bring in people to a film that really needed rapturous reviews to push it to success. I'd look for about $5 million for it this weekend.

Hotel Transylvania continues to chug along, over a month into its release, though the end of Halloween could cut into the back end of its run. However, that's after $130 million-plus, so complaining at this point about performance would seem churlish. Add another $6 million here.