Weekend Wrap-Up
Argo: No Longer Just a Mid-Week Champ
By John Hamann
October 28, 2012
BoxOfficeProphets.com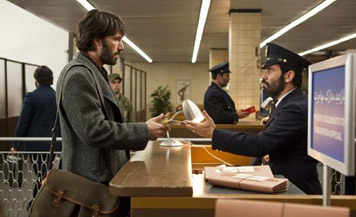 ---
Ben Affleck is proving once again he can climb out of a big hole.

The star of what should have been career-killing films like Surviving Christmas, Paycheck and Gigli has climbed all the way back to the top this weekend, as Ben Affleck's Argo beats five new films, including the "horror for Halloween" release Silent Hill: Revelation, and the Wachowski's $100 million Cloud Atlas. No opener lived up to its tracking expectations this weekend, as the lead-up to Hurricane Sandy may have played a role in an uber-weak Halloween box office frame, where the top 12 at the box office failed to hit a combined $90 million for the first time in five weekends. In the end, it's all about Affleck this weekend, as Argo climbs to the top, and if Oscar is watching, Argo's star and director might just do the same. If I had said that after Surviving Christmas, you all would have gone Walking Dead on me.

Our number one film this weekend is Affleck's Argo, which is not only critically praised, but earned the elusive A+ Cinemascore, despite not having a fanbase show up on opening night to push it to that high score. Argo opened on October 12th to $19.5 million from 3,232 venues. Then, despite the large venue count, Argo fell a tiny 15% in its second weekend to $16.4 million. It spent every weekday in release – save one – at number one, but couldn't break through on weekends. That changed this weekend, despite Warner Bros. reducing the venue count by 392 - from 3,247 venues last weekend to 2,855 this weekend. The result is a diminished score of $12.3 million for the weekend, and a drop of 25%. Had Warner Bros. kept the venues it dropped, one could assume that Argo would have earned another$1.7 million (392 x $4,327 venue average), and improved on the percentage drops by a number of points.

Regardless, Argo is already a big hit for its genre, and likely not only a hit on the domestic front. Argo has Lance Armstrong legs. Solid word-of-mouth is propelling it along, but that could be inflated due to the steroid called lack of any decent competition. Cloud Atlas competed poorly this weekend, and the rest of the releases were poorly-made money grabs. Argo cost only $45 million to make, and has already earned back $60.8 million so far. Given the legs, the opening-to-total multiplier is going to be quite big here, larger than The Town's 3.87. Argo did open lower than The Town ($23.8 million), but Argo has seen lower drops since opening. The Town's third weekend came in at $9.75 million, and carried a cume of $64.1 million, or about $3 million more than Argo has now. Given the wide release Argo has received, I don't think the final multiplier will break 4.5, but if it reaches it, Argo will earn $87.6 million, just short of The Town's $92.2 million. It will be close and certainly interesting). Next weekend brings Denzel in Flight, and Russell Crowe in The Man with the Iron Fists, so we will have to see how it holds up against the male-driven action/dramas.

All four new films failed to beat the now five-weekend-old Hotel Transylvania, the animated PG spooker. The Adam Sandler-voiced kids flick is the only film this weekend that used Halloween to its advantage, as it rises from the dead (or fourth last weekend at the box office), and holds quite well, placing second. The Sony release earned another $9.5 million, dropping a slim 27% as Halloween approaches for the kids. Hotel Transylvania was an $85 million bet for Sony, and is that wager ever going to pay off. Hotel Transylvania has now earned $130.4 million domestically, and is headed toward another $100 million from overseas cinemas, with an overall haul of $250 million not out of the question.

Finishing third this weekend is Cloud Atlas, the new film from the Wachowski family and Tom Tykwer. Starring Tom Hanks, Halle Berry and Hugh Grant (amongst others), and featuring a complex premise and a ton of eye candy, one might think this should have been the film to see this weekend. However, since its debut at Cannes, Cloud Atlas has been dividing people, with some calling it greatness, and some calling it dreck. It's the Tree of Life but with the future instead of the past. At two hours and 43 minutes, it is very long, and with the R rating, it's hard to get the kids in to eat up the eye candy. And why would Warner Bros. release this over the pre-Halloween weekend to only 2,008 venues? This is either Christmas on 3,000 screens or July 4th on 4,000 screens. Two-thousand screens in late October this is definitely not. A scheduling move this bad is reminiscent of High School Musical 3, which came out the weekend before Halloween, and had its second Friday on Halloween night.

The release strategy behind Cloud Atlas has not only failed to pay off, it is going to leave a giant mess for the financiers of the film, and will only serve to impede the progress of other visionary films. Why? Cloud Atlas earned only $9.4 million from the 2,008 venues it appeared in this weekend. This is a film that cost at least $100 million to make, and was independently funded. Warner Bros. needed to get it out to a higher number of screens, as they must have known audiences were not going to like it (cough cough C Cinemascore cough cough).

Despite a masterfully cut trailer, Warner Bros. should be ashamed of themselves for how they handled this release. A platform roll out would have worked much better, letting the brains in New York and LA see it first, and make it a "cause celebre" –cranking up the debate about the philosophies in the film. That opportunity is gone now, and so is any chance at making a profit. Cloud Atlas will be lucky to make $30 million at the domestic box office, and will have to hope that its bevy of international stars helps it out overseas - or it turns into a financial pumpkin.

Paranormal Activity 4 falls to fourth this as the former Halloween go-to takes its first big step toward obscurity (anyone watching a Saw film this Halloween? I thought not). After opening to a number one with $29 million last weekend, PA4 foreshadows what's to come for Silent Hill 3D next weekend, as it fell 70% to only $8.7 million. The last Paranormal Activity had the same path – dropping 66% in its second weekend – but had a much higher opening frame at $52.6 million, which means it had a second weekend of $18.1 million, or almost twice what the fourth film made during this frame. Still, the Paranormal Activity series is known for being made on the cheap. With a production budget of only $5 million, and a gross so far of $42.6 million, it is still going to make serious money for the studio. Sigh.

That puts Taken 2 down to fifth, but it's already earned so much, I doubt anyone at Fox really cares. After a third place, $13 million finish last weekend, Taken 2 drops 40% this weekend to $8 million, but brings the domestic total for the sequel up to $117.4 million. While it likely won't reach the height of the original ($145 million domestic), the overseas gross will more than make it up for it. The original Taken earned $82 million overseas, where this one is going to pull in $200 million at least. With all of this against a production budget of only $45 million, Fox proves again that you only need an angry dad to make a whole bunch of money.

Like an Adam Sandler Christmas movie, Silent Hill: Revelation 3D is a horror sequel that can't open over the Halloween weekend. It should have been a slam dunk, right? Put a young blonde (who looks like the character from the video game) in amongst a whole bunch of carnage, throw in some B list actors (Carrie-Anne Moss, Sean Bean), and start collecting the money - especially since you paid only $20 million to bring it to the screen. Problem is, Silent Hill: Revelation 3D (it sounds like the title was translated from an Asian culture) earned only $8 million from its 2,933 screens, or, less than half than what the original opened to in 2006. Silent Hill 3D will make a few extra bucks on Halloween (but not much) and then fall 70%+ in weekend two. It will be lucky to earn $25 million stateside, and with the amount of marketing I've seen in the last week, the ad spend must have been twice that. The problem for the money grabbers is that audiences are catching on. Yes, kids are stupid and pay way too much for this dreck, but obviously some are getting smart and staying home. Sadly, the original earned more overseas than it did at home, so we can only hope our overseas brethren are learning about how bad these films are as well.

Seventh, eighth and ninth go to a mish-mash of films that earned a similar amount. Seventh Here Comes the Boom, the Kevin James comedy that didn't quite work. Boom earned $5.5 million in weekend three, and has a forgettable cume of only $30.6 million. Eight place goes to Sinister, the horror flick with Ethan Hawke. After a strong $18 million opening (or six times its production budget), Sinister has slipped away, grossing only $5.1 million this weekend. Still, the made-for-$3 million film has now earned $39.5 million. Ninth is Alex Cross, with Tyler Perry killing the franchise. Alex Cross earned $5 million, and falls a Madea-style 56% compared to its $11.4 million opening frame.

Tenth goes to Fun Size, which Paramount mistakenly released to 3,014 cinemas. It earned only $4.1 million (tracking expected $8 million), giving it a venue average of $1,347 (someone's getting fired ). Fox's Chasing Mavericks does even worse, earning $2.2 million from 2,002 venues (someone tell me again why Argo dropped 300 screens?). It had an average of $1,099.

Overall, the box office has been lobotomized. After four consecutive frames where the top 12 films pulled in more than $106 million, the box office goes badly backward, with a top 12 take of $81.9 million. Over the same weekend last year, the top 12 earned $93.6 million. Next weekend, openers include Wreck-It Ralph, which looks like a lot of fun, representing the crazy '80s for adults and providing eye candy for the kids; Flight, the already well-reviewed Denzel Washington/Robert Zemeckis team-up; and the wildcard, The Man with the Iron Fists – a film I so want to be good, but know will be bad.