Weekend Wrap-Up
Audiences are Paranormal but not Cross
By Kim Hollis and David Mumpower
October 21, 2012
BoxOfficeProphets.com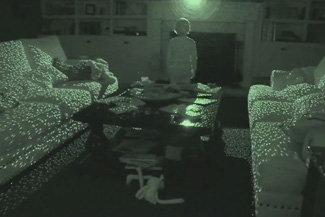 ---
It's late October and people love to be scared, so that must mean it's time for yet another film from the Saw Paranormal Activity franchise to own theaters for a weekend. Hollywood continues to celebrate solid numbers at the top of the box office charts thanks to a fourth entry from the found footage series. Also new this weekend was Alex Cross, a film that stars Tyler Perry in a role that was once portrayed by Morgan Freeman. It was a foregone conclusion which film would wind up in the top spot.

And of course, the #1 film in North America this weekend is Paranormal Activity 4, the latest in the creepy, demon-possession franchise. Starring no one you know (unless Katie Featherston from the previous films counts), Paranormal Activity 4 took in $30.2 million from Friday-to-Sunday, along with $26.5 million from international venues.

Since 2009, we've had a new Paranormal Activity feature each year. The first film burst onto the scene with an ingenious social media campaign that had audiences "demand" the film on eventful.com. After selling out in limited venues weekend after weekend, Paramount finally took the film fully wide on October 6, 2009, when it earned $19.6 million. By the time it departed theaters, it had earned $107.9 million (and an additional $86 million internationally).

This performance set the stage for massive expansion for the sequels. Paranormal Activity 2 debuted with a gaudy $40.7 million (and a domestic total of $84.7 million), while the third film opened with $52.6 million last year (domestic total of $104 million). It's generally believed that the Paranormal Activity series "killed" the Saw franchise, as the new hotness of demon ghost things was perceived to be scarier and more "in style" than the stale torture porn offered up by Jigsaw.

Although there's not a new horror franchise to knock Paranormal Activity 4 from its Halloween perch, it is showing significant audience erosion. After strong opening weekends for each of the first three films, Paranormal Activity 4's debut was off 42% from its predecessor's. At some point, there's only so far you can take a horror tale without it veering into the realm of the ridiculous.

There is some good news for the film, as its weekend multiplier was actually pretty solid. If you take out the Thursday night screening numbers of $4.5 million for PA4, its Friday number was $10.3 million. Again removing the Thursday numbers from the weekend total, you have a three-day figure of $25.7 million. That means the film had a 2.57 multiplier, which is stronger than the 2.0 – 2.2 you generally see for this sort of horror release. The problem PA4 faces is that word spreads quickly in the social media era, and with a 28% rating at Rotten Tomatoes and a C Cinemascore, word-of-mouth is nonexistent. Next weekend, with direct competition from a new, interesting-looking Silent Hill release, Paranormal Activity 4 might truly fall off a cliff.

Even so, there's no reason for Paramount to stop producing these scary flicks. This weekend's film had a production budget of only $5 million (and marketing costs are likely not terribly high, either), so they're laughing all the way to the bank for a fourth time. We understand that Paranormal Activity 4 sets up multiple sequels, so we will likely be repeating some variation of this discussion a year from now, and maybe two years from now as well.

Capturing second place once again is Argo, which held up spectacularly in weekend two. After debuting last weekend with $19.5 million, Ben Affleck's historical thriller dropped only 15% to $16.6 million. We've been talking over the last week about Argo's wide-ranging appeal, as both critics and audiences at large are raving about the film. Ten days in, it continues to have a 95% fresh rating at Rotten Tomatoes, while its Cinemascore was an A+. Clearly, the word is getting out that this film is worth the time and money it takes to get out to the theater. So far, Argo has earned $43 million. All of these factors bode very well for the movie's awards potential, too. Right now, Argo is the front-runner in the Best Picture discussion, though we obviously have a lot of movies yet to be released before the race can truly shape up.

Taking advantage of its holiday and family-friendly nature, Hotel Transylvania was able to move up a spot to third place. The CGI animated film from Sony Pictures was down only 22% as it earned $13.5 million this weekend. After a couple of missteps, Adam Sandler finds himself back on track thanks to his voice work in Hotel Transylvania. He can add it to his collection of films that have earned $100 million or more, as Hotel Transylvania now has a cumulative total of $119 million.

Fourth place goes to Taken 2, which actually holds up decently in its third weekend. Down 39% to $13.4 million, it's not showing the same staying power as the original film did, but that was more or less going to be impossible given the less enthusiastic word-of-mouth and much larger opening weekend. Taken 2 becomes the 20th film of 2012 to join the $100 million club, as its domestic total is now $106 million. With a worldwide gross of more than $240 million, it has already surpassed the original's $225 million by a long shot, with plenty more to come. Go Liam, go!

Vaunted writer/director Tyler Perry struggled this weekend. The fifth place movie, Alex Cross, is his first attempt to anchor a major motion picture that he did not create. Perry embraced the role made (somewhat) famous by Morgan Freeman in Kiss the Girls and Along Came a Spider.

Those movies released in 1997 and 2001 debuted to $13.2 million and $16.7 million, respectively. Even before adjusting for inflation, Alex Cross falls short of those performances, grossing an estimated $11.8 million. After only two days (and a Sunday estimate) in theaters, Alex Cross has already become a discussion of what went wrong.

Perry's most recent release, Tyler Perry's Madea's Witness Protection, debuted to $25.4 million on its way to a domestic take of $65.7 million. This was less than four months ago. Fast forward to now and a title with neither Tyler Perry nor Madea in the title has become the second lowest opening weekend of his career, barely edging Tyler Perry's Daddy's Little Girls at $11.2 million.

This turn of events is troublesome. One of the most recognizable talents of this generation is starring in an adaptation of one of the best-selling novels of the 2000s. Why then is Alex Cross looking up at the opening weekend of, say, Diary of a Wimpy Kid: Dog Days? The obvious answer is that consumers were not ready to accept Tyler Perry as a serious actor. This evaluation is unfortunate in that few people in Hollywood have established their talent as demonstrably as Perry.

The more interesting discussion involves procedural fatigue. We ask that you pause for a moment and close your eyes (well, after you've read the next couple of sentences). Count in your head how many procedural television shows you can name. There are the alphabet programs such as CSI and NCIS as well as their spinoffs. There are the Law & Order spinoffs that feel like they comprise 10% of the network schedule over the past decade. And there are the "fun" murder investigation programs such as Hawaii Five-0, Bones and Castle.

Death is perhaps ironically the life blood of network television these days. If someone can watch ten hours of the premise for free every week, why would they pay to watch Alex Cross? The only people who would consider this fall into the subsets of Tyler Perry fans, James Patterson fans, and aimless date night couples. Peter Jackson accepted the same fate when The Lovely Bones earned a paltry $44.1 million. Alex Cross will presumably finish short of that total, guaranteeing its status as one of the purest box office disappointments of 2012.

Before we shed too many tears for Alex Cross, however, we should note that the movie is by all accounts dreadful. Only 12 out of 92 critics at Rotten Tomatoes enjoyed it. Remarkably, none of the 30 top critics gave Alex Cross a passing grade, giving it the rarest of rare 0% fresh rating in this category. The only good news for Alex Cross is that it features a modest $23 million budget. So Lionsgate could still turn a profit on this if it fares well overseas. If not, Alex Cross will be a critical and financial failure that could impede the chances of further James Patterson procedural adaptations in the short term. The author's young adult series, Witch and Wizard, should be the focus of movie projects in the interim.

A pair of new releases last weekend comprises the sixth and seventh place entrants this weekend. Sinister falls from third to sixth place; it grossed another $9.0 million in the process. The 50% drop would ordinarily be solid for the second weekend of a horror film. For this particular frame, it represents the worst drop in the top ten, which speaks to the impeccable quality of the titles in release right now. Sinister has a running total of $32.0 million, spectacular for a $3 million production.

Seventh place belongs to last weekend's disappointment, Here Comes the Boom. The Kevin James comedy fell an impressive 28% to $8.5 million. With $23.2 million in the bank after 10 days, the $42 million production has an outside chance at breaking even now. This is a startling turnaround after last weekend's lackluster debut.

Rounding out the top ten are Pitch Perfect, Frankenweenie and Looper, all of which showed solid holds. Pitch Perfect, the choir competition comedy featuring Anna Kendrick, earned $7 million, down only 24% from last weekend. After wisely choosing to platform this film in order to earn word-of-mouth, Universal can be very pleased with its $45.8 million domestic total to date. Tim Burton's Frankenweenie cannot claim similar success, as it had a low debut to start with and is now down to $4.4 million for the weekend. Its decline was 38%, one of the bigger drops in the top ten. The animated passion project now has a running total of $28.3 million, and has to be considered a disappointment for Disney. Finally, Sony's science fiction thriller Looper declined only 32% from last weekend to $4.2 million. Its domestic total is $57.8 million, which compares quite positively to its production budget of around $30 million.

Combined revenue for the top 12 this weekend totaled $123.1 million. This represents an increase of 12.5% from the same weekend in 2011. The noteworthy aspect is that $52.6 million of the $109.4 million last year came from Paranormal Activity 3. With Paranormal Activity 4 grossing $22.4 million less than its predecessor, the rest of the top 12 has a revenue increase of $36.1 million or $3.3 million per movie on average. We have one of the deepest mid-October movie rosters in the history of the industry.