Weekend Forecast for October 19-21, 2012
By Reagen Sulewski
October 19, 2012
BoxOfficeProphets.com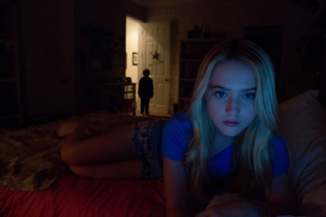 ---
Hollywood goes back to the well for familiar concepts this weekend – one a horror franchise that's practically a seasonal institution at this point, and a reboot that's sure to inspire more than a few cries of "wait... what? With who?"

Three years ago, Paranormal Activity more or less relaunched the found-footage genre, or at least brought it back into popularity, a decade after The Blair Witch Project more or less invented it. The ultra-low budget film with no stars took the unusual, but highly effective route of starting in limited release, and eventually rose to the top of the box office after five weeks thanks to an innovative "demand it" campaign. This was one of the first films to really leverage social media to any great success, although it's proven to be a difficult model to follow.

The next two films in the series exhibited typical breakout behavior, opening to $41 and $53 million respectively, and in the process killing off the Saw franchise. I suppose we should be slightly thankful for that, but we might now be looking for what's going to end this one. ("Don't worry, the gorillas will all freeze when winter comes.") Even more so than other horror franchises, this is almost by definition the same ol'-same ol', as we have conveniently placed cameras capturing grainy footage of furniture moving around and strange shadows, followed by jump scares. At this point, it's like someone telling the same campfire story you've already heard a bunch of times. Are you really still scared? Apparently so.

However, cracks are showing. While up to the third film, reviews were generally pretty favorable, for this film, reviewers seem to have turned on it, with only about a third of them viewing it positively. The C+ Cinemascore of the third film is also a bit ominous, as anything lower than a B+ basically represents a "hate it" on that scale. This doesn't mean a collapse, and this is still the time of the year for horror, so in the absence of serious competition (Sinister did well, but won't have enough impact this weekend to count), I believe this will just slowly drift downwards in opening weekend, this time to around $42 million.

Tyler Perry steps out of his Madea universe for essentially the first time (I'm not counting Star Trek. I'm just not) on the big screen this weekend with Alex Cross, a reboot of the James Patterson novel series that originally starred Morgan Freeman in the title role, but only got as far as two films. Perry now plays the titular detective, who is placed on the case of a high profile ex-military serial killer, played by... Matthew Fox... Okay... They're not even trying, are they?

While these kind of serial killer dramas were extremely popular in the '90s and early '00s, their lunch money has been all but stolen by television, with shows like CSI and Criminal Minds all but encompassing the market for these stories. It's not that film can't do this better or with a higher budget, but with so many options for people, paying for a serial killer story seems entirely redundant. You get the feeling this is a bit like Tyler Perry's fantasy acting camp.

Which brings us then to who is playing Alex Cross. While it's perhaps not entirely fair, I think the instinctual reaction to most people seeing him in a straight dramatic role is one of "sigh". Expecting us to drop all the Madea baggage is a bit much to ask, considering we've never seen him in anything but. It likely doesn't help that even the Freeman films weren't all that popular, with only $13 and $16 million opening weekends. With terrible reviews for this one (directed by Rob Cohen? Bad reviews are a big shock there), that's going to knock the fence-sitters off onto the "no" side, and I'd look for a dismal $9 million opening.

Although it won two weekends in a row, Taken 2 showed significant weakness last weekend, dropping by over half and revealing that audiences are probably tiring of this concept, or at least don't think it's being done very well. I compared it to The Hangover in terms of box office patterns in its opening weekend, and that model's actually being followed quite well. That would give us about an $11 million weekend and get it over $100 million by Sunday.

It should be neck and neck with Argo for this weekend, as the Iranian hostage drama was better received by audiences and reviewers, and should be a strong contender for end-of-year awards, although nothing is certain. Pencil it in as well for $11 million.

Hotel Transylvania will crowd around this mark as well, as it's been a top family film option for the last three weekends and could be headed to around $175 million total. In a weaker overall year for animation, that could leave it as the fourth best of the genre for 2012.

Decidedly not likely to wind up at $11 million is Sinister, which won Friday but faded badly over the weekend to wind up at $18 million in its debut. Although it was decently received, the combination of weak word-of-mouth and Paranormal Activity 4 should sink this to around $8 million this frame.

Kevin James' highly-disappointing Here Comes the Boom should drop to around $6 million this weekend, throwing a big black mark on his CV, when he'd been able to ride much lesser material to greater heights. Perhaps this was just a mismatch of subject and star (and MPAA rating).

Pitch Perfect continues to be a low-key hit, dropping only a third last weekend to bring its total to just over $36 million. As studios continue to battle for ways to get the products noticed, this moderate platform strategy that Pitch Perfect used may draw some attention for films with less bankable stars. Look for around $5 million more this weekend.