Weekend Wrap-up
By Reagen Sulewski
October 14, 2012
BoxOfficeProphets.com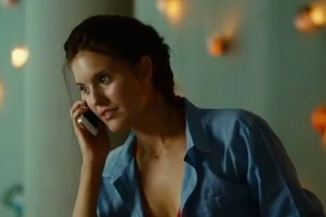 ---
There were six new wide releases out this weekend, so of course what happened? The old guy wins again.

In their divine wisdom, Hollywood studios decided to flood multiplexes this weekend, with the new films all covering a different genre – historical thriller, horror, family comedy, black comedy, coming-of-age and polemic – and this was in large part responsible for keeping the year-over-year increase going. It's the "quantity, not quality" stratagem, although with last year's corresponding weekend holding up Real Steel, Footloose and the remake of The Thing as its flagbearers, we shouldn't be too hasty on the quality thing, either.

However, for the second straight weekend, nothing could beat Taken 2, the second outing in the "Liam Neeson kills all the bad guys in Europe" franchise. In its second release weekend, it earned an additional $22.5 million to push its running total to $86.8 million. This is well ahead of the pace of the first Taken film, which had only earned $53.6 million at this point, but was also in the initial stages of showing how leggy it was going to be with a less than 20% drop. No such thing here, as Taken 2's fall is 55%, more typical for an action sequel with dodgy word-of-mouth.

That drop-off is independent from how it performed during the weekend itself, coming in second on Friday, but then icing the competition on Saturday and (estimated) Sunday, and with the highest overall figure of the weekend with $9.6 million on Saturday. It's a bit early to project final figures, but the $145 million of the first film is likely a target for Fox, and realistic. Regardless, Liam Neeson has made some not-so-subtle intimations that he's not interested in a Taken 3, recognizing the increasing ludicrousness of the plot, so Luc Besson will have to look elsewhere for his next out-of-nowhere project.

Working down the box office chart, the first new film of the weekend is Argo, which opened with $20.1 million. This movie tells the story of the work-behind-the-scenes to rescue American embassy staff in the Iranian crisis in 1979, with an idea so bizarre you couldn't make it up – except, well, how they did. It stars and is directed by Ben Affleck, who is essentially three for three in his directorial career after Gone Baby Gone and The Town, at least in terms of critical reception. Argo's opening weekend is actually a slight downtick from the $23.8 million of The Town, but a huge improvement over the $5.5 million of Gone Baby Gone.

With a reported $45 million budget, Argo is set to be a significant winner in the final analysis, with foreign box office yet to come in, although I expect this won't be as big a draw overseas for the fact of it being a very Ameri-centric story. And although this seems like an easy call after the fact, the outlandishness of the real story behind the rescue could have turned larger audiences off. An extremely well-cut trailer that ramped up the tension and captured the spirit of the crisis certainly helped, not to mention a significant amount of real-world relevance to the situation with events in Libya and Iran offering parallels.

Argo was actually third on Friday, but jumped up to second on both Saturday and Sunday, with a big 3.4 internal multipler that bodes very well for the future run of the film, as does the second highest per screen average for the top ten of the weekend at $6,225. The Ben Affleck career renaissance appears to be for real now.

Third place, and the highest average in the top 10, belonged to the film that actually won Friday, Sinister, which came in with $18.2 million after a $7.4 million start. In stark contrast to Argo, Sinister had a 2.46 internal multiplier, although as it was a horror film, that surprised precisely no one. Nor was the fact that Friday was its highest day overall, with just under $7 million on Saturday and just under $4 million estimated on Sunday. More importantly, that's all against a reported $3 million budget, which means it made back that figure sometime during the first evening showing on Friday, leaving Summit Entertainment to just pile the money higher and higher as this film runs on (though probably not that long. It is a horror film, after all).

This isn't exactly a Paranormal Activity-type number, but for a "new" horror concept (i.e. not a franchise), this is really solid, and shows what a good job Summit did with selling the film. It's sort of a cousin of the found footage concept, with the horror coming from a father (Ethan Hawke) finding creepy footage of a possible evil spirit, instead of the voyeuristic horror that's been most popular the past few years. Summit badly needed this to work, though, since they've had so few successes to call their own other than the Twilight franchise, which as I'm sure everyone in that studio is well aware of, is rapidly running out. Proving they can have other hits is key to that studio's long term survival, with the likelihood of stumbling onto another franchise seeming doubtful.

Hotel Transylvania dropped to fourth place with a solid $17.3 million, dropping only 36% in its third weekend and reaching the $100 million plateau. That's two straight weekends with that drop, and is shaping up to be a big fall hit, especially with Halloween just around the corner. With that figure, it should be able to survive as a significant earner until the 31st and may pick up the bonus bump from that date and its surroundings. More importantly, it helps the film get that much closer to being a good investment. Animated films' budgets have made these no long, sure things, and the $85 million for this one was large enough for Sony to sweat. It also shows that Adam Sandler just may have a second career in family entertainment after all.

A little more troubling was the performance of his buddy Kevin James' new film, Here Comes the Boom, with was fifth with only $12 million. Comparing this to James' other hits in Paul Blart: Mall Cop, Zookeeper and even the horribly reviewed The Dilemma, Boom is a huge disappointment at this number. Factor in the UFC tie-in and the growing popularity of that sport, and it's a failure on most levels. It's possible that the PG rating missed the mark, with most UFC fans sensing that this wasn't a film that was going to showcase their sport, and with it being viewed as too violent despite that for younger viewers. In any case, adding in a cross-promotion should not result in a decrease in an opening weekend, but it appears that may just be what happened here. A possible solace: the 3.35 internal multiplier, which may mean that it's going to get the family film treatment in coming weeks.

Pitch Perfect followed up its surprising wide release debut with another strong showing this weekend, bringing in another $9.3 million and taking its total to $36 million, against a reported $17 million budget. Universal took a significant risk with the platform strategy, but it appears to have paid off significantly, and we can expect this to be employed for other films in the future.

Frankenweenie fell to seventh spot with $7 milllion, and a running total of $22 million. Dropping 39% is a decent showing, but it's not going to be enough to really turn around the final performance of Tim Burton's paean to horror tropes he loved as a child. Luckily, the budget is low enough at $39 million that it won't really hurt his career that badly, but after this summer's Dark Shadows, his next film has a lot to prove.

Looper's third weekend earned it $6.3 million more, and moves it to $51 million total, a solid showing for the sci-fi actioner, although it's dropping quite quickly, falling 48% this weekend. At this point you'd look for around $75 million as a final figure domestically.

Ninth spot went to Seven Psychopaths, the new film by Martin McDonagh, the writer/director of In Bruges. Although that $4.3 million may not be that impressive, it represents over half of the total of its predecessor. Black comedies are just a tough sell to North American audience. Bringing back Colin Farrell from that film and adding frequent McDonagh collaborator (on stage) Christopher Walken, along with Woody Harrelson, Sam Rockwell, Abbie Cornish, Tom Waits and a few others, it's destined to become a cult favorite. With a $15 million budget, it won't be too hard for it to make a little money, but this is mostly an audition for its cable debut.

The slowly expanding The Perks of Being a Wallflower finally hit the top ten this weekend, although only just, with an estimated $2.2 million on 726 screens. This brings its running total to $6.2 million, although its per screen average mostly precludes a much wider expansion. With figures like this, it just shows how movies for teenagers have changed over the years – John Hughes would be an unknown figure if he started today. It's not like this film doesn't star anyone people would be familiar with either, since Emma Watson is kind of famous, you know. So it's good news/bad news for Summit this weekend.

Opening up just outside the top ten was Atlas Shrugged Part II, the second of a planned three film adaptation of the Ayn Rand novel. While the box office is sort of secondary to the possibility of its completion, since the financial backers are true believers and willing to blow money to prove a point, it has to be wearing on them a little. The $1.7 million was almost identical to the opening weekend of Part I, though that opened on 299 screens versus the 1,017 of Part II, which significantly knocks down the per screen average. Perhaps more troubling is the horror-like internal multiplier of 2.46, which shows this film isn't expanding its audience any.

In limited releases, Middle of Nowhere had the highest per screen average of the weekend at $13,000 on just six screens, for $78,000 – not a large figure by any means, but something of a win considering this is largely a group of "whosits?" and "whatists?" that lead the cast. Compare this to the higher profile cast of Smashed (Aaron Paul and Mary Elizabeth Winstead), which earned just $30,000 in four theaters. Returning limited films included The Paperboy, Lee Daniels' followup to Precious, and which stars Nicole Kidman, John Cusack, Matthew McConaughey and Zak Efron in a shock-fest. With an expansion to 49 theaters, it held its serve with $100,000 on the weekend, but a per screen average of $2,041 doesn't imply a lot more theaters in its future.