Friday Box Office Analysis
By Kim Hollis
October 13, 2012
BoxOfficeProphets.com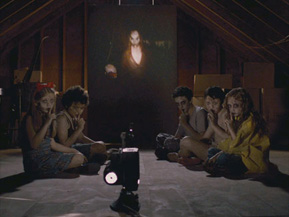 ---
With the arrival of mid-October, all kinds of different genres are filling movie theaters. This weekend alone, five new wide films (1,000 venues or more) were released to theaters, with another more limited release also seeing expansion to more than 700 locations. Could the momentum that Taken 2 started last weekend be sustained?

Sinister

The top film on Friday was Sinister, a very creepy looking movie taking advantage of an early October release date so that it can capture that audience all to itself before Paranormal Activity 4 hits theaters. Sinister earned $7.4 million yesterday, good enough to just edge out last weekend's champion, Taken. As we've repeated numerous times over the years, horror generally does not hold up well over the weekend, and even though Sinister has better reviews than normal, I see no reason for this film to behave any differently. Look for it to earn about $17.8 million as it fights for position with Taken 2, Hotel Transylvania and Argo.

Argo

Ben Affleck's latest foray into directing performs about as expected, particularly considering the somewhat politically charged nature of the subject matter and the '80s setting. Its Friday total was $5.9 million, slightly better than Affleck's debut directorial effort Gone Baby Gone but also a couple million behind his second film, The Town. The multipliers for both of these films were right between 2.8 and 2.9, and given the glowing reviews and positive word-of-mouth, this number feels about right for Argo as well. That would give it $16.8 million for the weekend and a good start for awards season, particularly since The Master seemed to fall off a cliff once it got wider release.

Here Comes the Boom

Despite a funny enough looking premise, Here Comes the Boom nonetheless becomes the weakest debut of Kevin James' career. Perhaps mixed-martial arts are just too violent for his typical audience, or it's possible that his star is fading somewhat as a leading man. A $3.6 million Friday is going to lead to about $10 million for Friday-to-Sunday, a number that has to be disappointing for Sony.

Seven Psychopaths

Released into only 1,480 locations, Seven Psychopaths earned just $1.3 million on Friday. This film reunites Colin Farrell and his In Bruges director Martin McDonagh, adding a few performers like Woody Harrelson, Sam Rockwell and Christopher Walken to its violent but humorous mix. It should earn about $3.6 million for the weekend, and feels a bit like a missed opportunity for CBS Films given the glowing reviews it has been receiving.

Atlas Shrugged: Part II

In 2011, Atlas Shrugged: Part I was released into limited theaters. Audiences collectively ignored it for the most part. The film earned $4.6 million against a reported $20 million budget, and word came out that producer John Aglialoro was reconsidering going through with Parts II and III. In the end, though, he decided to move forward with Part II. Rocky Mountain Pictures, the distributor for Part I, was not involved. Instead. Aglialoro and his fellow producers were able to raise money in a private debt sale to fund the sequel. Somehow, this sequel was able to secure 1,012 screens this weekend, though I imagine that the bulk of those theaters regret the decision to exhibit the film. It made only $700,000 yesterday – almost exactly the same as the first film made in only 299 venues. Needless to say, the per location average of $684 versus the original's first Friday average of $2,254 is a massive step down. It's looking at $2 million for the weekend and is going to have to fight Perks of Being a Wallflower for a top ten spot.

Notable Holdovers

Taken 2 did the expected and fell 62% to $7 million. We know that a lot of this decline can be attributed to the fact that it had such significant audience inflation from the original film its first weekend. It's possible that there might be some backlash due to less enthusiastic word-of-mouth, too. Look for Taken 2 to bring home another $22.3 million and sustain its first place position.

Holding up much better is competitive choir movie Pitch Perfect, which dropped about 39% from last Friday to $3 million. It should tally another $9.2 million for the weekend.

After getting off to a really rough start last weekend, there's not much good news for Frankenweenie. It fell 48% from last Friday to just $1.8 million yesterday. That should translate to about $6.8 million for the weekend and will likely have Disney reconsidering whether they should let Tim Burton direct any more pet projects.