Weekend Forecast
By David Mumpower
October 12, 2012
BoxOfficeProphets.com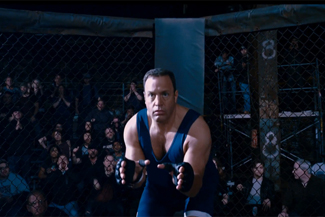 ---
Mid-October somehow feel likes Christmas this weekend. Five new films enter the marketplace, four of which actually matter. Two of those are legitimate awards contenders while the other two are shamelessly commercial.

Coming on the heels of strong box office performers Taken 2 and Hotel Transylvania, the movies at your current Cineplex right now are as good as we have seen in calendar 2012. I have no idea how or why this is happening. Let's all enjoy a refreshing weekend of movie choices that actually live up to the phrase "something for everyone".

The predominant debut is Argo, a based on real life events premise so secretive the documents were not even declassified until 1997. The so-called Canadian Caper occurred during the Iran Hostage Crisis. A joint venture of the Canadian and American governments enabled the rescue of six American diplomats who had evaded Iranian authorities during the turmoil.

The backdrop for the rescue was a fake movie production. Washington D.C. politicians called on a few Hollywood power players to pretend to shoot a movie in the area. The entire shoot was a pretext for an attempt to retrieve the Americans before they could be taken hostage. This is a real thing that happened, which proves yet again that truth can be stranger than fiction.

Argo is already getting pummeled by cynics for being the loosest possible adaptation of the Canadian Caper's events. This has in no way impacted its critical reception, though. Argo is currently 92% fresh at Rotten Tomatoes, 94% among top critics. It is receiving heavy awards season buzz and should attract a respectable number of movie goers this weekend. I'm expecting a $17 million debut followed by an extended run in theaters as rapturous word-of-mouth creates lasting demand for consumers.

One of the other two movies poised to take a run at Taken 2 is Here Comes the Boom. Funny fat man Kevin James attempts to join the ranks of Will Ferrell in Blades of Glory and Adam Sandler in The Waterboy with an athletic movie featuring someone less than athletic. The story here is as basic as they come. School needs money. Teacher wants to help. Teacher gets bad idea and runs with it.

In this case, the bad idea is cage fighting. James retires from his career as a zookeeper in order to start taking beatings for a living. The Ghost of Chris Farley must be livid that he died before he could play this role.

We have chronicled on several occasions how much audiences love Kevin James. Hitch was at one point the biggest romantic comedy of all time, I Now Pronounce You Chuck and Larry earned $120 million and Paul Blart: Mall Cop actually finished with a higher box office total than Taken (by $1.3 million). Even The Zookeeper, a terrible movie that was completely disposable to boot, grossed $80 million domestically. There is no reason to believe that Here Comes the Boom will be anything less than a solid box office performer. A $21 million opening weekend would demonstrate James' continued strength as an opener.

The one predictable release this weekend is Sinister, a horror film that has been the subject of much amusement from the BOP staff. The circumstances of the movie's premise are remarkably similar to a BOP webmaster's odd events that have transpired since he moved into his new home a couple of years ago. His daughter has developed a scary imaginary friend and everything. We have been joking with him for a while now that he should open some mysterious boxes the previous owner had left in the attic. This is exactly the premise of Sinister. Suffice to say that our friendly BOP webmaster will never be watching this horror film.

The Summit Entertainment release lacks the killer premise of The Possession. It also does not feature the Jennifer Lawrence star power of House at the End of the Street. What this horror flick does have going for it is that this is the time of year when audiences offer the benefit of the doubt to supernatural titles. Sinister jumps the gun a bit in order to avoid direct competition with Paranormal Activity 4 next week. This gives the movie seven days of genre dominance in the marketplace. I expect a $14 million opening weekend before it becomes krill for horror's biggest whale.

As impossible as this may be to imagine, Argo was at one point this week only the second best reviewed of the new releases. Seven Psychopaths has since cooled a bit and dropped to 88%. I don't need to tell you how rarely two movies this good are available in wide release in mid-October. This is the time when we ordinarily expect Paranormal Sawing.

Instead, we are treated to the follow-up film from Auteur Martin McDonagh. The scribe was nominated for an Academy Award for Best Original Screenplay for In Bruges, a personal favorite. The subject matter of Seven Psychopaths is a bit esoteric for mainstream audiences. The title references an unfinished screenplay by a struggling writer. The creative process rarely leads to boffo box office, which is unfortunate as it frequently chronicles some of the best storytelling. Ah well. Seven Psychopaths should attain $6 million and be ardently championed by arthouse fans.

The fifth release this weekend is significantly less important despite its grandiose marketing campaign. An actual ad running for Atlas Shrugged Part Two states, "Ayn Rand's best-selling novel is now a major motion picture event. Will it influence the election? You decide." Let me stop you right there. I know what you're thinking. Yes, I can confirm that there was an Atlas Shrugged Part I. I was one of the few people in the world who watched the movie. I envy those who did not because the acting in it was about the least professional I have ever seen outside of Pauly Shore's work in the early '90s.

I would ask some of you to back me up on this. Alas, Atlas Shrugged Part I earned only $4.6 million in global box office. The $20 million production was such a financial disaster that no one expected a sequel to be filmed. Somehow, another $20 million was lined up for a second title, which is one of the strangest business decisions in recent memory. For no apparent reason, 1,012 theaters have agreed to exhibit this title, which is roughly as many screenings as Part I claimed in its first three weeks of release. Those will be some empty theaters, creating difficulty in the film's attempt to "influence the election." I expect a $3 million debut, which is almost double the previous title. For a movie that costs this much, it's still a disastrous result.

Taken 2 wound up earning $49.5 million, thereby becoming the third largest October debut of all time. A 50% drop would prove amusing. Why? That total of $24.7 million would effectively match the opening weekend of the original Taken. Who am I to argue with symmetry? Meanwhile, Pitch Perfect should maintain its popularity with a $9.3 million weekend, a modest 37% decline. The news for Frankenweenie is less than optimal thus far. I do expect a decent second weekend hold of $6.8 million, though. I would imagine Tim Burton spends more than that on Johnny Depp's Christmas presents but dead pet movies simply are not marketable.