Weekend Wrap-Up
By Kim Hollis and David Mumpower
October 7, 2012
BoxOfficeProphets.com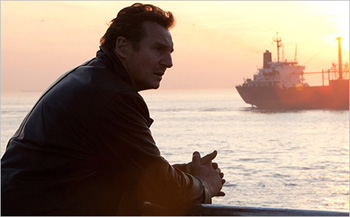 ---
Early October is generally the calm before the glut of the horror movie Halloween storm. Hollywood rarely eschews the conventional release patterns for this month. Given this weekend's results, that strategy may change. Box office heavyweights Tim Burton and Liam Neeson both anchor projects and an a cappella hit from last weekend also expands. Expectations were high across the board with three new titles attempting to unseat the reigning champion, Hotel Transylvania. In the end, Taken 2 destroyed all comers.

January of 2009 represents one of the strangest box office months of all time. A month generally lacking in ticket sales suddenly became a period of spectacular box office results. Films such as Paul Blart: Mall Cop and Gran Torino surpassed the $100 million mark, rarefied air for January wide releases. The last new release of the month, Taken, did not become the strongest earner, eventually falling $1.3 million short of Paul Blart. What Taken managed was much more impressive.

In generating $145 million worth of revenue, the French production accomplished what even George Lucas could not. Seemingly overnight, Taken turned then 56-year-old actor Liam Neeson into an action movie superstar. In the wake of the $145 million blockbuster, Neeson has anchored blockbusters such as Clash of the Titans and intended blockbusters such as The A-Team, Wrath of the Titans and Battleship. He has carried otherwise unassuming projects Unknown and The Grey to $50+ million performances. And during all of this, global audiences have waited for the inevitable sequel to Taken.

We have chronicled 2012 as the Year of the Needless Sequel. Whether Taken 2 qualifies under this umbrella is up for debate. Yes, Neeson's character, Bryan Mills, had retrieved his daughter from a white slavery ring. Taken 2 could either be a healing film about the therapeutic process experienced by Kim Mills as she attempts to overcome the psychological trauma of being kidnapped and her best friend killed. Alternately, Taken 2 could be a revenge flick.

Whether another movie was needed, the premise here is sound. The flaw with almost all Hollywood action flicks is that a slew of unidentified bad guys are gunned down as if no one will notice their absence. Even the most anonymous of thugs have families. In the case of Taken, the premise is that a criminal underworld icon portrayed by Rade Šerbedžija cares deeply about the loss of his son and seeks revenge. Contrast that idea to Die Hard 2: Die Harder or any of the other Die Hard sequels where the viewer is asked to believe that John McClane experiences the terrorism equivalent of winning four (soon to be five) consecutive lotteries.

Audiences agreed that this sequel has stronger justification than most. Taken 2 earned an exemplary $50 million this weekend, more than double the original. In the process, the film became the third best October opener of all time. The current record holder is Paranormal Activity 3 at $52.6 million followed by Jackass 3D at $50.4 million. Recent box office actuals have revealed that Hollywood is in the habit of overestimating everything. If Taken 2 is the exception, it could feasibly surpass Jackass 3D to become the second best opener of all time.

What happens next is arguable. One of the key selling points of Taken 2 is that the original film is among the most revered in recent memory. Critics were not as passionate in their support; Taken is currently rotten at Rotten Tomatoes, albeit narrowly at 58%. Top critics disliked it more than that with only 42% stating their enjoyment for the film, which causes us to wonder exactly what movie they watched.

Taken 2 is even less popular with critics as only 20% of them enjoy it (28% among top critics). The B+ Cinemascore indicates audiences are nowhere as enthusiastic about the sequel as they were the original. So a leggy showing a la the original is out of the question here. Even Taken's domestic tally of $145 million appears ambitious. Still, Taken 2 is all but certain to cross $100 million and finish in the $125 million range. It could wind up much higher if consumers once again defy expectations and celebrate a straightforward action story done well. Given the $80 million budget and the $55 million overseas debut this weekend, Taken 2 is already a profitable endeavor that will wind up being a huge blockbuster before it's finished its global run.

Last weekend's #1 film holds decently as it falls only one spot to second place. Hotel Transylvania, Sony's animated monster comedy featuring the voices of Adam Sandler, Andy Samberg, Selena Gomez and Kevin James, took in another $26.3 million. That's a decline of only 38%, which is quite solid for a CGI animated film – particularly when direct competition in Frankenweenie was also hitting the marketplace.

Usually, when movies are in development for six years, disaster is in the offing. Hotel Transylvania had four different directors (or directing teams) attached to helm the project before Genndy Tartakovsky (Dexter's Laboratory) finally took over, rewriting the script and reimagining the character design. The decision paid off for the studio, as the film has now grossed $76 million domestically and will have no problem matching and exceeding its $85 million budget.

Third place goes to the expanding Pitch Perfect, which grew its presence from 335 venues last weekend to a fully wide 2,770. Universal's platforming strategy paid off in a big way. As we know, the choir film featuring Anna Kendrick earned a spectacular $5.1 million last weekend, allowing the studio to build buzz and establish the film as a pop culture must-see. Now with the benefit of easy availability, Pitch Perfect grew to $14.7 million. That's a 186% increase from its debut frame, though the per location average did decline to $5,320.

With a $17 million budget, Universal already has a money-maker on its hands. So far, Pitch Perfect has earned $21.6 million in North American theaters. It has solid word-of-mouth, which should translate to a decent run over the next few weeks. At Rotten Tomatoes, it ranks at 76% fresh, but its "A" Cinemascore tells you that audiences are eating up the singing, humor and romance that the film brings to the table.

Looper, the critically beloved science fiction movie from Sony, fell 41% from last weekend's debut to $12.2 million. Given that this film is somewhat challenging (and dark), the fact that its hold was in the 40% range is absolutely exemplary. We noted last weekend that critical response was seeming to be more positive than that of the general public, but it looks like audiences are giving the complex time travel tale a chance. So far, the Joseph Gordon-Levitt/Bruce Willis movie has earned $40.3 million, well in excess of its reported $30 million budget. Not only will this be a box office success, but it's also the kind of movie that people will discuss and champion for years to come.

Our second completely new release this weekend is Tim Burton's Frankenweenie, which comes up in fifth place with $11.5 million. Disney had been marketing and promoting the stop-motion animated film for months, with the trailer appearing in front of all varieties of animated and family films. Why, then, did it earn only a quarter of Hotel Transylvania's debut weekend total and $3 million less than ParaNorman? All three had similar gothic subject matter, after all.

We discussed this question somewhat last weekend with the debut of Hotel Transylvania. That movie, an accessible comedy that is really about family rather than being truly macabre, was clearly always going to be the populist choice. ParaNorman, like Coraline before it, was critically beloved and had a lot of advocates amongst its viewers, but was perhaps too scary for little ones.

Now we come to Frankenweenie, which should have had a lot going for it. First off, I mentioned that Disney marketed the heck out of it, so awareness amongst potential audience members was high. Additionally, Tim Burton has a built-in fan base, people who will see his films no matter what. But if you look at the early ads for Frankenweenie, the movie effectively looks like a more genial Pet Sematary. I think, though, that the ultimate hurdle for Frankenweenie is that ultimately, it's about the death of a beloved pet. Yes, the pet is brought back to life, but it's still painful subject matter, one that is difficult to discuss with children, ostensibly the film's target audience. As someone who has lost two pets over the last couple of years, I decided to wait for the safety of home video to watch the movie. This is bad news, because I'm one of those Burton fans who will see almost anything he creates. I think I'd rather see people being made into pies, frankly.

Perhaps because this is such a personal project for Burton, critics are lauding the film as one of his most inventive and emotionally resonant projects ever. As an interesting side note, Frankenweenie is based on one of Burton's first movies ever, a short he created in 1984 that had been planned to appear before a re-release of Pinocchio. Instead, Disney fired Burton, saying that he had wasted company resources on a project that wound up being too macabre and scary for its target audience. Almost 20 years later, I wonder if they're realizing the enduring truth of that sentiment.

Sixth and seventh place this weekend are held by a couple of fading September releases. End of Watch, the Jake Gyllenhaal cop drama, fell 49% to $4 million. Its running total of $32.9 million is phenomenal for a movie that cost less than $12 million to produce. Trouble with the Curve fell a similar 47% to $3.9 million, bringing its domestic grand total to $29.8 million. It appears likely to fall a bit short of expectations, just as the team from the movie, The Atlanta Braves, did during the National League Wild Card game. Nobody understands the Infield Fly Rule, not even Clint Eastwood's Empty Chair.

The rest of the top ten is comprised of a horror film, an arthouse sensation and an animated re-release. House at the End of the Street accrued another $3.7 million, bringing its total earnings to $27.5 million. The Master has not been as popular with mainstream audiences as it had been in metropolitan areas during its extremely limited release. Another $1.8 million this weekend gives The Master domestic revenue of $12.3 million; its $2,130 per-location average, however, represents only 1.4% of its opening weekend's record-setting $147,262. Finally, Finding Nemo 3D garners $1.6 million and has a total of $39 million during its re-release.

Combined revenue for the top 12 this week was $132.4 million. In comparison to 2011, this is a massive improvement of 55.5%, up from $85.1 million. While cynics could point out that Taken 2 alone accounts for the difference, this argument misses the point. The other films in the top 12 this week matched last year before we include the third largest October performance ever. That's the bonus money that once again demonstrates a true blockbuster can open huge on any weekend of a given year.