Weekend Wrap-Up
By Kim Hollis and David Mumpower
September 30, 2012
BoxOfficeProphets.com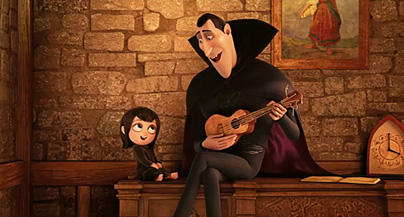 ---
Three new releases plus the rare non-indie platformer were released into theaters this weekend. In the end, first and second place are no surprise. Adam Sandler once again dominates the landscape and rising actor Joseph Gordon-Levitt proves he's more appealing with a gun than a bike. Meanwhile, choral films may replace dance flicks in becoming the next big genre for the under 25 demographic, as a movie with "Perfect" in the title excelled in limited opportunity. Also, Maggie Gyllenhaal lost the battle of the Batman co-stars (and the Gyllenhaals) with her film Won't Back Down failing spectacularly.

Our top film of the weekend is Sony's animated release Hotel Transylvania, which debuted to a spectacular $43 million in its 3,349 locations. That's good for a per venue average of $12,839 for the Dracula comedy, which features voice talent from Sandler, Andy Samberg, Selena Gomez and Kevin James. Fortunately for Sony, this pairing of Sandler and Samberg was nothing like this year's earlier release That's My Boy, which bombed in the face of terrible reviews and awful commercials. Instead, this monster mash established itself as the top September opener ever, beating 2002's Sweet Home Alabama, which started with $35.6 million on its way to $127 million.

It had been quite awhile since we had a truly mainstream release aimed at the family demographic. ParaNorman was more of a niche release (and perhaps too truly scary for some children), while Finding Nemo was a re-release that many families already have sitting on their DVD shelf. The last movie that really appealed to kids in a big way was Ice Age: Continental Drift, and that was way back in mid-July.

Reviews were middling for Hotel Transylvania, which was directed (eventually) by Genndy Tartakovsky of Dexter's Laboratory and Powerpuff Girls fame. Currently, the film sits at 42% at Rotten Tomatoes, with only 36% of "Top Critics" finding something to like. It fares quite a bit better with its target audience, though, as the Cinemascore grade came in at an A-. This would bode well for Hotel Transylvania, but it does have some direct competition coming as soon as next weekend in Disney's heavily promoted Frankenweenie. Tim Burton is automatically going to attract some viewers, but our suspicion is that Hotel Transylvania may be more the populist choice. while Frankenweenie fills a niche similar to ParaNorman and Coraline.

Looper is a complex time travel film concept with a strong dose of ultra-violence. A film premise such as this may not sound commercially viable, yet the Joseph Gordon-Levitt sci-fi action flick opened extraordinarily well this week. Exhibited in 2,992 locations, Looper debuted to $21.2 million, earning an impressive $7,086 per play date. Audiences did not shy away from one of the most complicated premises since 2010's Inception.

Writer/director Rian Johnson first attracted attention with Brick, a brilliant teen noir film that became an indie film sensation in 2006. His next project was the quirky 2009 release, The Brothers Bloom, a zany comedy cleverly disguised as a series of crime capers. Brick earned less than $3.8 million worldwide but was still a net positive for a production with a price tag of only $475,000. The Brothers Bloom, on the other hand, was a financial setback because the film cost $20 million to create yet earned only $5.5 million worldwide. Johnson was unable to demonstrate that his eclectic storytelling was sustainable in the mainstream prior to this weekend. Looper changes all of that.

For his part, only weeks after Premium Rush failed to sustain the momentum of The Dark Knight Rises, Joseph Gordon-Levitt stakes a claim to a legitimate blockbuster of his own. The co-star of Christopher Nolan's final Batman movie as well as the director's aforementioned 2010 epic, Inception, has been struggling to find his niche as a lead actor. Levitt reuniting with his Brick director, Johnson, may not seem like a commercial decision on the surface yet this is the rare instance where both the actor and the director were ready to break out. No one could deny the talent of either of them; still, the duo was in the same position of needing a hit to prove they were more than hype.

Audiences were decidedly mixed on Looper. Its B Cinemascore reflects the fact that a lot of head scratching was performed during the film. This is in stark contrast to critics, who are rapturous over Looper. It is 93% fresh at Rotten Tomatoes, 95% among top critics. In other words, Looper will be a popular outsider candidate during awards season while its run in theaters may be shortened due to the complexity of the subject matter. Young men showed up on opening weekend. The question is whether this momentum is sustainable in later weeks of theatrical release. Given Looper's frugal $30 million budget, the film will be profitable within its first week of release no matter what.

Third place goes to End of Watch, which holds well compared to its debut last weekend. The Open Road Films cop movie featuring Jake Gyllenhaal and Michael Pena earned $8 million from Friday-to-Sunday, down 38%. Its cumulative total is now $26.2 million, which compares quite favorably to its estimated $7 million budget. Remember, too that Open Road is a joint venture from theater chains Regal Entertainment Group and AMC Entertainment, so they are not looking at the same financial split that most distributors would have to consider.

House at the End of the Street slides from second to fifth place this week. The Relativity Media release was busted last Monday for over-estimating its weekend total by over $700k in order to claim a tie for first place. This weekend, the Jennifer Lawrence horror flick fell 42% from $12.3 million to $7.2 million. Given last week's estimate, we are understandably dubious about the validity of the $7.2 million. Anything under 50% would still represent a solid second weekend hold for a forgettable genre flick such as this, though. Lawrence's name clearly means something to consumers who would otherwise be on the fence about House at the End of the Street.

Universal Pictures attempted something novel this weekend with the payoff extreme. Pitch Perfect, released in 335 locations, earned an absolutely massive $5.2 million. Yes, you read that correctly. Pitch Perfect delivered a whopping $15,560 per location. The choir flick has the highest per-location average in the top ten, besting even the number one film, Hotel Transylvania. Pitch Perfect is poised to become an explosive box office performer next weekend when it expands into wide release. This will happen by design as Universal correctly determined that they had a potential blockbuster on their hands.

In order to create realistic buzz in the Internet era, Universal controlled the product by limiting the supply. This will heighten demand next week as the zealous fans spend the next few days gloating about the fact that they have seen a movie that no one else has. Those who have not had the opportunity will feel a heightened sense of purpose to mirror this experience. And if this process feels vaguely familiar to you, it should.

This is exactly the methodology through which critics have become an important part of movie marketing. They (well, we) see a film first, they praise it and that increases consumer demand. In the social media era, everyone has an important voice; Universal Pictures has become the first studio to mine this knowledge and transform it into extraordinary box office. Get used to this premise. Now that the business model has proven effective, it will be duplicated again and again in the same way that Wednesday releases have become a staple of the release schedule.

Seventh and eighth place go to two movies that opened in the top two spots a couple of weekends ago. With original animated fare available for families, Finding Nemo 3D declines 57% as it falls to $4.1 million over the weekend. The Pixar classic re-release has added an additional $36.5 million to the coffers for Disney, which means that its overall domestic total is now up to $376.2 million. Resident Evil: Retribution comes up in eighth place, holding true to the franchise tradition of opening strong and then going into free fall for the remainder of release. Retribution earned $3 million this weekend, a drop of 55% from the previous frame. Its domestic total is $38.7 million, but the real money for this franchise comes from international box office, and Retribution is no exception. It has earned $137 million in overseas venues so far.

The Master continues to hold on to a spot in the top ten, meaning that we have consecutive finishers from guys named Paul Anderson. This more critically acclaimed and awards-worthy release had a weekend total of $2.7 million, but the Weinstein Co. has to be somewhat concerned that it fell 45% even as it added another 68 venues. From the comments we're seeing, this appears to be a film that will have critical appeal but may be a head scratcher for the masses, which would account for the early enthusiasm from audiences that has fallen off as its somewhat limited target audience got out to see it quickly.

Rounding out the top ten is the final new wide release of the week, Won't Back Down. The Maggie Gyllenhaal/Viola Davis teaching drama earned an estimated $2.7 million in 2,515 locations. This represents a disastrous per venue average of $1,074. Movies about teachers have proven to be successful in the past in instances such as Dangerous Minds, Lean on Me, Dead Poet's Society, Mr. Holland's Opus and Mona Lisa Smile. Alas, the unmistakably preachy nature of the trailers proved unattractive to consumers already tired of the recent media coverage of the Chicago teachers' strike.

Critics were unkind to Won't Back Down, as only 33% enjoyed the film. That number drops to 18% for "Top Critics." This is a film few people will remember a year from now. The good news is that the budget is modest at $19 million. The bad news is that it's not going to come anywhere close to making that money back.

Overall, the top 12 earned a strong $108.4 million, up 20.9% from last year's $89.6 million. Next weekend is poised to be a juggernaut as Pitch Perfect expands to 2,700 locations (probably more now), while Taken 2 and the previously mentioned Frankenweenie debut.