Weekend Forecast for September 28-30, 2012
By Reagen Sulewski
September 28, 2012
BoxOfficeProphets.com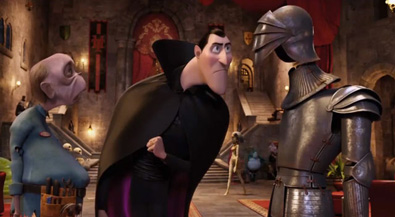 ---
The run of middling performers at the box office continues as we bid goodbye to September, although a thematically appropriate for the time of year children's film is hoping to stand out from the pack.

The middle film in the trio of pre-teen targeted "horror" animation that's come on like a sudden rash, Hotel Transylvania has without a doubt that largest amount of star power between it, ParaNorman and the upcoming Frankenweenie. Adam Sandler stars as Dracula, who plays the protective father to his daughter by building a hotel in, well, you know, to keep the all the humans away. Monsters from all around the world also move in to give themselves a safe space – that is, until a backpacking American tourist (voiced by Andy Samberg) stumbles in and engages in mutual smittance with the daughter (voiced by Selena Gomez). Wackiness and monster cliches ensue, to the merriment of all, or maybe some.

As hackneyed and sitcomy as this premise feels, it does have some genuine talent behind it, in the form of Genndy Tartakovsky, the legendary animator behind Dexter's Laboratory, Samurai Jack and the Powerpuff Girls, among other things. I'm not certain that'll actually drive business, but it does show that we're dealing with someone who knows what his target audience wants. A guy dressed as Frankenstein surfing around a castle? Sounds right up a 12-year-old's alley. So as execrable as some of the ads for this seem, well, it's not for you, you know?

I personally question the wisdom of letting Sandler loose as a voice, since that's when he's the least tolerable and manic, but it really appears to be Samberg and Gomez's picture, and that's a combo that's a lot more likely to draw in current pre-teen crowds. Interestingly, this is kind of a reverse of the Twilight concept, which probably won't go unnoticed by that crowd, and could prove as a decent warm-up, or a substitute for those who can't get into the Twilight films because of age or restrictive (and/or smart) parents. I see this performing similarly to another fall Sony animated release, Cloudy With a Chance of Meatballs, and opening around $28 million.

Fall sci-fi action films, particularly those starring Bruce Willis, haven't inspired confidence in recent years, so the buzz around this weekend's Looper might come as a surprise to some. A time-travel film that feels like a lost P.K. Dick story, it exists in a world where the technology has been invented, but is illegal and controlled by the mob. And when they want to get rid of someone, what better way than by sending them back in time, so that they just disappear and can never be found? Joseph Gordon-Levitt stars as the past version of Willis, who's assigned to "close the loop" on himself. When future him escapes, it becomes a cat-and-mouse game before both versions wind up eliminated.

Hopefully your noodle is thoroughly baked at this point by the premise. Smart sci-fi is tough to come by, and apparently this is an example of just that. This shouldn't be a huge surprise given the director, Rian Johnson, he of Brick and The Brothers Bloom, and making his first foray into multiplexes. This feels a bit like someone cut through the Gordian Knot of the plot of Primer and added some action and Instagram filters on it, which isn't really a bad thing. It's tough to top the notion of "ooh, that's a really clever premise – how is that going to turn out?" for driving people to the theaters, and Looper seems to have that in spades. Reviews are exemplary, and that's what's likely to make it a hit, certainly more than its cast. While Willis can still draw in the right project – see, for instance, Red – he's no guarantee of anything – see, for instance, The Cold Light of Day. And while Gordon-Levitt got a ton of exposure this year with The Dark Knight Rises, we saw just a couple of weeks ago with Premium Rush that he's not necessarily a draw on his own just yet. The weird prosthetics he's wearing to look like young Bruce Willis aren't helping either. However, that becomes a problem more when the premise is shaky than when it's solid, and this should be a winner, with around $23 million this weekend.

Won't Back Down is the latest entry in the People Fighting the System genre, and stars Maggie Gyllenhaal and Viola Davis as two mothers determined to turn around their inner-city school, which they believe is failing their children's education. They'll do this by forming their own school! With hookers and blackjack! Wait, no.

While education is certainly a hot-button issue, this film appears to be a pretty formulaic take on the topic, and could very well be a semi-fictionalized version of Waiting for Superman, the documentary that Walden Media also produced, just like this one. Walden has been another production company like Summit, which has struggled to market its films effectively, and has had few real quality films to market. This is not one of those, as reviews have been tough on it for being one-sided and TV-movie quality. While Gyllenhaal and Davis are both quality actors, neither is a box office draw and I believe we're looking at a tiny $4 million opening weekend.

Of last weekend's four new films, three threw darts at the $12 and $13 million spots on the board and hit. End of Watch was a mild surprise as the ultimate winner with just over $13 million. The Jake Gyllenhaal cop drama prevailed on the strength of its stylish film techniques and an apparent demand to see Gyllenhaal in uniform. These type of genre films typically fall off pretty quickly, so it should be at around $7 million this weekend.

Usually dropping even faster is horror, so House at the End of the Street should fall to around $5 million after a decent $12 million start. Really, this is all gravy, considering this was a film that was rescued thanks to the sudden fame of its lead, Jennifer Lawrence.

Trouble With the Curve is arguably the most disappointing of these films, given that it stars an actual film legend in Clint Eastwood. Of course, lately he's only been a draw in his own films, and he doesn't threaten to shoot anyone in this one. However, thanks to its sports and family reconciliation themes, this stands the best chance of holding over well of the films at the top of the box office last weekend. I'd look for $7 million here as well.

While the Finding Nemo re-release is fairly literally "more of the same" when it comes to 3D revamps, it does have some significance in moving the film up the all time charts, and it's reentered the top 20 all-time mid-week. There's a small chance that it could reach the $400 million mark once it's done, and would be only the second Pixar film to reach that milestone. Expect a lot of this type of shuffling in the next few years as studios mine their back catalogs.