Weekend Wrap-Up
By Kim Hollis and David Mumpower
September 23, 2012
BoxOfficeProphets.com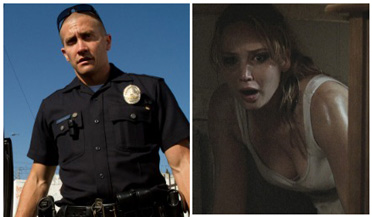 ---
Four relatively frugal new releases tried to sustain the September box office momentum created by Resident Evil: Retribution and Finding Nemo 3D last weekend. Alas, consumers generally stayed away from movie theaters, as none of the titles reached even $15 million. Fittingly, we do not even really know who won the weekend, as two films are currently tied after weekend estimates, with a third only $300,000 behind.

In the summer of 2010, rising actress Jennifer Lawrence became an overnight sensation due to her gripping performance as Ree Dolly in Winter's Bone. Barely two years later, it's difficult to remember a time when Lawrence was an unknown, yet her best credit prior to Winter's Bone was as the daughter on the Bill Engvall Show on TBS.

She followed the usual trajectory of Hollywood ingénues by taking a role as a scream queen in a low-budget horror film called House at the End of the Street. The fly in the ointment is that this is a Relativity Media release and the fledgling distributor has been cash strapped for a while now. They had no option but to delay the movie's release indefinitely. Their loss was Lawrence's gain.

As House at the End of the Street went unreleased for two years, Lawrence did a couple of other films. Perhaps you've heard of them. The first was X-Men: First Class, which has earned over $350 million worldwide. That's her softer release. She is also the face of The Hunger Games, Katniss Everdeen. That movie has grossed $685 million worldwide and counting. Over a billion dollars of box office later, the world knows and loves Jennifer Lawrence.

For the first time in awhile, Relativity Media catches a break as they received an influx of new capital allowing them to release House at the End of the Street after Lawrence has become a superstar. The end result is that a forgettable, generic genre picture that the studio acquired for $10 million opened in a tie for first place with $13 million. Obviously, Relativity Media has already profited from this film, and even if it does experience a hefty second weekend drop, it's still a pleasant surprise for the studio.

House at the End of the Street was not screened for critics. Judging by its Rotten Tomatoes score of 14%, that was the right call. The movie is what it is – a run-of-the-mill slasher flick that is noteworthy only because of what happened to Lawrence in the interim. Most actresses follow a horror film with another low-budget production or two, and then hope that their television pilot gets picked up. Lawrence became the new (and improved) Kristen Stewart. Meanwhile, House at the End of the Street becomes a footnote along the lines of Jennifer Aniston in Leprechaun and Johnny Depp in Nightmare on Elm Street.

Tying for first place is End of Watch, a movie we had expected - and still expect - to win the weekend once actuals are posted. The Jake Gyllenhaal/Michael Pena police drama also opened to $13 million, a strong start for a film that cost between $7 and $15 million depending upon who you ask and how honest they're being in the moment. It feels like the trailer for End of Watch has been attached to every movie since Titanic (the original release).

End of Watch is the latest ethical law enforcement vehicle for writer/director David Ayer, who first gained acclaim for U-571 and Training Day. He also wrote the screenplay for the franchise-riffic The Fast and the Furious as well as a hidden gem of the 2000s, Dark Blue. End of Watch would be politely described as "more of the same," which is just fine when you consider that "the same" has been really good so far. Critics have lined up to lavish praise upon the movie, which is currently 85% fresh at Rotten Tomatoes, 88% fresh among top critics. It is a dark horse for end-of-year awards consideration.

In addition, End of Watch becomes the latest Open Road Films release that is a sound financial investment. Thus far in 2012, the Regal Entertainment Group/AMC Entertainment distribution arm has spent $49 million for titles that have earned roughly $130 million worldwide. And we should note that since the distributor is also the exhibitor, their revenue retention is almost total. End of Watch adds another $13 million to the pie and should prove to be the strongest earner of the weekend's new releases by the time it exits theaters.

The difference between first and third place is only $300,000 in this weekend's estimates. This means Clint Eastwood was only a few empty chairs away from winning the box office frame with Trouble with the Curve. The baseball yarn earned an estimated $12.7 million this weekend.

Trouble with the Curve is the latest 2012 release to cater to a much older crowd, following on the heels of The Best Exotic Marigold Hotel and Hope Springs. This project is noteworthy in that it is the first time Eastwood has acted in a film that he did not direct since 1993's In the Line of Fire. He has starred in and directed 16 projects in the interim. Long-time associate Robert Lorenz took the helm for Trouble with the Curve, probably a nod to the fact that at the age of 82, Eastwood cannot do everything on his own any longer.

Few teenagers are enthusiastic about the concept of an anti-Moneyball/anti-computers premise for a baseball movie. Keeping this in mind, a total that is roughly two thirds of what Moneyball earned on opening weekend is a decent result. Critics were mixed on the project as it is currently 53% fresh at Rotten Tomatoes. Given the tremendous older adult skew to Trouble with the Curve, it should have an extended run in theaters with a result in excess of $40 million likely. This would be a solid result for a baseball movie as most of them gain their legend on home video.

Fourth place goes to one of last weekend's "new" releases, but it's not the one that finished in first place. Instead, Finding Nemo 3D takes advantage of its family-friendly nature to hold up with a 43% decline from its total last weekend. The Pixar/Disney new classic earned $9.4 million, and brings its overall tally (from original release) to $369.7 million domestically. As we mentioned last week, the financial outlay for these re-releases is minimal, so Disney is going to be very happy to take any money earned from theatrical exhibitions to the bank before selling the 3D Blu-ray on video just in time for the holiday season.

Last weekend's first place finisher, Resident Evil: Retribution, slips all the way to fifth place as it has the worst weekend two decline of any film in the franchise so far – though it should be noted that all of the Resident Evil films have dropped more than 60% in their second frame. The latest film in the zombie virus horror series fell 68% to $6.7 million, which means that it has a ten-day total of $33.5 million. As we have established, though, there will almost certainly be a sixth Resident Evil film, because the bulk of the profits are earned in international markets.

We have reached the worst case scenario portion of the Weekend Wrap-Up. In 1995, Judge Dredd became one of the worst bombs of Sylvester Stallone's career, no small feat. The movie earned only $34.7 million domestically, an amount that represents $63.8 million in 2012 ticket pricing. The cost to create the film was $90 million and while Judge Dredd did well enough overseas, it has largely been used as a punch line since its release 17 years ago.

Fast forward to today and history has repeated itself. Karl Urban's action remake, Dredd, opens to an estimated $6.3 million in 2,506 locations. The Lionsgate release claims a woeful per-location average of $2,514. And this is the moment where we remind you that Dredd is a 3D release with inflated box office revenue. In other words, an argument could be made that Dredd was less popular on opening weekend than Jonah Hex, the 2010 disaster that earned $5.4 million sans the benefit of 3D ticket pricing. Dredd is looking up at previous comic book adaptations that bombed such as Elektra ($12.8 million opening), The Punisher ($13.8 million) and Catwoman's $16.7 million. And if we negate the 3D factor, Dredd is on a par with Punisher: War Zone's $4.3 million debut.

There is no good news here for Lionsgate. Dredd was produced for a modest $40 million but over $20 million was spent advertising a movie that will not earn $20 million domestically. Overseas revenue may be enough to allow the film to break even overall or even turn a profit, depending on how well received it is. Like its predecessor, Judge Dredd, people will not remember this aspect, though. A $40 million 3D production should never ever never open to a paltry $6.3 million. Dredd is the 3D Oogieloves.

With an expansion from five to 788 locations, the critically acclaimed The Master was able to grow by 579% to $5 million. It bears noting that this art house-type release from The Weinstein Co. was able to come within $1.3 million of the effects-heavy Dredd, which is proof positive that audiences really are searching for original movies with ideas and stories that are expressed intelligently. The Paul Thomas Anderson release has brought its overall total to $6.1 million and strikes first as the first real awards bait movie of the season. Critics are responding positively to The Master, which features Philip Seymour Hoffman, Joaquin Phoenix and Amy Adams, as so far it sits at 87% fresh at Rotten Tomatoes (and a similar 86% from top critics). All of Anderson's films have been critical darlings, with the most recent example being There Will Be Blood, an Academy Awards winner for Best Actor and Best Cinematography. We all know that the Weinstein brothers are able to influence Oscar voting in their favor, and it will be interesting to see which film they champion the most, as they still have Killing Them Softly (with Brad Pitt), Silver Linings Playbook (directed by temperamental David O. Russell and starring the aforementioned Jennifer Lawrence) and Quentin Tarantino's Django Unchained set for release before 2012 ends.

Our eighth, ninth and tenth place films are all within a few hundred thousand dollars of each other, meaning that the order of finish could easily shift once actual numbers are in. According to estimates, the eighth place film is The Possession, a horror film from Lionsgate that has proven to be quite profitable. It earned another $2.6 million, falling 54%, and brings its domestic total to $45.3 million. Lawless, another Weinstein title, finishes in ninth with $2.3 million. It dropped 47% and has now accrued $34.5 million in domestic receipts. Finally, tenth place goes to ParaNorman, the stop-motion animated film from Focus Features and Laika. It continued to hold well, declining only 26% to $2.3 million. Overall, it has earned $52.6 million from North American venues.

One other noteworthy story this weekend comes from The Perks of Being a Wallflower, which didn't finish anywhere near the top ten, but managed a stellar per location average of $61,000 in its four venues for a three-day total of $244,000. Based on a popular novel by Stephen Chbosky (who also directs from his own screenplay), this movie features a post-Harry Potter Emma Watson, along with Logan Lerman (Percy Jackson and the Olympians: The Lightning Thief) and Ezra Miller (We Need to Talk About Kevin). If Summit carefully expands this film, it could have its own art house hit on its hands.

Overall, the top 12 movies at the box office earned $76.3 million, a decline of 28% from the same weekend last year, when The Lion King 3D and Moneyball were at the top of the box office. Clearly, people are more pro baseball math than they are baseball sentiment these days. Next weekend, new releases will include the animated Hotel Transylvania, the awesome looking Looper and Won't Back Down, featuring the other Gyllenhaal, Maggie.