Friday Box Office Analysis
By Tim Briody
September 22, 2012
BoxOfficeProphets.com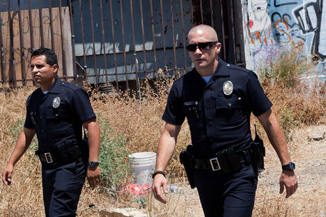 ---
Four new entries and a significant expansion are unable to shake the box office out of its September slump.

[tm:5323_]End of Watch[/tm]

Two films are tied for the tip spot on Friday, and the first of these is cop drama End of Watch with $4.5 million. Solidly reviewed, it will be the top film of the weekend mostly by virtue of not being a horror film and performing better on Saturday than House at the End of the Street. $13.5 million will be just good enough to take the weekend crown.

[tm:5327_]House at the End of the Street[/tm]

Horror entry House at the End of the Street also made $4.6 million on Friday. Unscreened for critics, this is the first performance for Jennifer Lawrence since The Hunger Games launched her to megastardom, but star power rarely transfers over when it's Generic Horror Movie. The rest of the weekend will follow the typical horror movie pattern, so it should come in with around $11.5 million.

[tm:5324_]Trouble With the Curve[/tm]

The new release of the week with the most impressive cast, anti-Moneyball Trouble With the Curve earned $4.2 million on Friday. Make your own "empty chairs" joke here. This isn't a bad opening, but it does feel somewhat surprising that [bp:269_]Clint Eastwood[/bp]'s first acting role since Gran Torino (which earned $148 million) nearly four years ago wasn't worth more. It should also pass House at the End of the Street when the full weekend figures are in, but End of Watch should finish just ahead of it. Look for a weekend of $13 million.

[tm:5329_]Dredd[/tm] 3D

The shockingly well-reviewed Dredd 3D reboot could only manage $2.2 million on Friday. Yikes. Apparently, despite the good reviews and decent marketing, Sylvester Stallone's still-mocked-to-this-day 1995 adaptation put the kibosh on its prospects. Maybe it'll do well overseas. But not here. $6.1 million seems to be the best it could hope for on the weekend.

[tm:5318_]The Master[/tm]

Expanding into 783 theaters after earning nearly three-quarters of a million dollars on just five screens last week, Paul Thomas Anderson's The Master earned $1.4 million on Friday. This is a fine expansion and makes it a contender to be the highest grossing film of Anderson's career. Considering his critical acclaim, that's a pretty low bar with his most successful film being 2008's There Will Be Blood, which earned $40 million despite multiple Oscar nominations. Its weekend earnings should be around $4.6 million as awards season begins to kick in.

Notable Holdovers

Last weekend's champ, [tm:5332_]Resident Evil: Retribution[/tm], dropped 77% from last Friday to sixth place with $2 million, behind all of this weekend's new entries. Yup. That happened. As we said last week, the international box office has become the reason there was a fifth (and I'm sure sixth) movie. It should have $5.7 million for weekend number two if it's lucky.