Weekend Wrap-Up
Evil rules the weekend
By Kim Hollis and David Mumpower
September 16, 2012
BoxOfficeProphets.com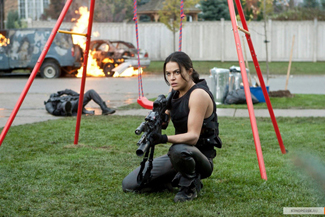 ---
After suffering through the worst weekend of earnings since the aftermath of the 9/11 terrorist attacks in 2001, Hollywood turned to a pair of proven commodities. The Resident Evil franchise and the re-release of Finding Nemo in 3D guaranteed that consumers would return to theaters this weekend. In the end, more consumers chose the zombie apocalypse rather than family-friendly fish.

In March of 2002, almost six years to the day after the debut of Resident Evil on the Playstation, Paul W.S. Anderson wrote and directed a theatrical adaptation of the events of Raccoon City. At the time, the only aspect of the movie less likely than Resident Evil becoming a five film franchise was probably Anderson seducing lead actress Milla Jovovich into marriage. Resident Evil proved ultimately rewarding for Anderson in this regard. The movie not only earned $103.8 million worldwide against a $35 million budget but also afforded him an introduction to his life partner and eventual mother of his child, a woman 11 years his junior who also happened to be the world's highest paid model at the time. Paul W.S. Anderson lived the Hollywood dream with Resident Evil.

In the years that followed, Resident Evil has become a box office oddity. The sequels have been universally disregarded as genre fluff and yet each one has proven to be a frugal box office winner. Resident Evil: Apocalypse was critically reviled (ALL Resident Evil movies qualify under this…Umbrella), yet it debuted to $23 million in 2004. Its final domestic box office of $50.7 million surpassed the original's $40.1 million; the Resident Evil sequel further demonstrated the international drawing power of the concept with a global take of $128.9 million, a 24% improvement on its predecessor.

Resident Evil: Extinction and Resident Evil: Afterlife have continued this trend of global expansion. The third Resident Evil movie opened to $23.7 million in North America before finishing with $50.6 million, effectively duplicating Resident Evil: Apocalypse. Worldwide, Extinction reached new heights with $146.2 million, a total that seemed like a reasonable example of the franchise's drawing power. The inclusion of 3D in Resident Evil: Afterlife changed the equation, though.

The fourth Resident Evil movie established franchise records in all three major categories. It is the strongest performer in terms of opening weekend ($26.7 million), domestic total ($60.1 million) and worldwide gross ($295.9 million). In eyeballing that global number, we can see that Resident Evil: Afterlife earned more than Apocalypse and Extinction combined. Global audiences were that impressed with a 3D release that featured state of the art technology created by James Cameron himself.

More impressively, Anderson maintained frugal budgets throughout the franchise's history. Afterlife cost only $57.5 million to produce, only $7.5 million more than Resident Evil: Apocalypse. If you have ever wondered why there have been five Resident Evil movies produced, the math here will clarify the issue. The first four films in the franchise required a financial outlay of roughly $188 million. Those same four titles have earned $675 million in worldwide revenue. Any title that earns a factor of 3.6 more than its budget is going to get a sequel if at all possible. And right on cue…

The number one movie at the box office this weekend was Resident Evil: Retribution. The second Resident Evil film to feature 3D garnered $21.1 million, which is actually the second worst performance in the franchise to date. Allowing for ten years of box office inflation, this is the lowest number of tickets sold for any Resident Evil movie on opening weekend thus far. Presumably, this is due to a combination of North American zombie exhaustion and even stronger fatigue with 3D special effects sameness. Even so, a $21.1 million opening feels like The Avengers after last weekend's results.

Critics were kinder to Resident Evil: Retribution than they ever have been with the franchise before. Barely. The movie is 35% fresh at Rotten Tomatoes, edging out the original's 34% to become the highest praised Resident Evil title thus far. This is NOT a high bar to clear. Audiences were less enthusiastic about the quality of the fifth Resident Evil release. Retribution earned a C+ Cinemascore, which is akin to saying that it was largely despised.

For obvious reasons, we should not expect a leggy performance in North America. Before we begin to write the movie off as a disappointment, however, I should note that Resident Evil: Retribution earned a dazzling $50 million in 50 overseas markets this weekend. This is an $11 million improvement from Resident Evil: Afterlife. So another $300 million in global box office still appears to be in the cards with the split between domestic and international revenue yet again skewing further away from North American importance. With $71.1 million earned in three days, Resident Evil: Retribution has injected much needed life into the global box office.

Second place goes to Finding Nemo 3D, as Disney brings another one of its treasured animated films back to theaters. Nemo finished the weekend with $17.5 million in 2,904 locations. Disney started the trend of releasing some of their "classic" films back to theaters in 3D back in 2009, when they repurposed both Toy Story and Toy Story 2 for a double feature aimed at getting audiences excited for Toy Story 3, which would follow several months later. The double feature was (re)released in October 2009 on a relatively small 1,745 screens and managed to take in $12.5 million over three days before finishing up with an additional $30.7 million in North America.

That number seemed like a pretty good baseline for how these 3D releases would perform, but then The Lion King 3D came along and shattered all those expectations by a long shot. Its first weekend was good for $30.2 million, almost the same amount that the Toy Story 3D double feature earned during its entire re-release. By the time The Lion King exited theaters at the end of 2011, it had tallied an additional $94.2 million domestically. Only a few weeks after The Lion King departed all theaters, Beauty and the Beast 3D was released over the weekend of January 13, 2012. That classic film earned $17.8 million and brought Disney yet another $47.6 million in additional revenue. Considering the slight investment involved for Disney and the fact that these 3D revamps are effectively advertisements for the 3D and Blu-ray DVDs of the films, the studio has found a lucrative way to milk additional cash from already profitable projects.

Why did Finding Nemo, one of the best-loved Pixar projects, not match up to the box office heights achieved by The Lion King exactly a year ago? First off, since The Lion King was released in the early '90s and had a lot of stunning visuals, it did have a lot to gain with a 3D release. Finding Nemo was already a beautiful, colorful film at the time it was first in theaters, so the addition of 3D didn't necessarily bring a lot of additional enticement for potential viewers. More important, though, The Lion King is a remarkably beloved film for people who are now in their 20s and early 30s, THE prime target for studios who are looking to excite people enough to get them into theaters. Less than a decade old, Finding Nemo simply doesn't offer the same nostalgia factor.

Regardless, Disney is going to be very pleased with the additional box office receipts from Finding Nemo. As Pixar's highest-grossing non-Toy Story property, the re-release will serve to add a nice revenue stream for the studio for very little effort in either financial outlay or advertising cost.

Our third place film is The Possession, which had finished at the top spot each of the previous two weekends as it took advantage of some truly weak competition. This weekend, the Lionsgate release took in an additional $5.8 million, down only 38%. This decline is actually quite exemplary for a horror film, and gives the Sam Raimi production two consecutive weekends with drops under the 50% mark. The movie does have a few proponents championing it (among them horror writer Joe Hill), so perhaps there is a word-of-mouth effect happening amongst aficionados of the genre. It surely cannot be attributed to good reviews, because the film sits at only 37% fresh at Rotten Tomatoes. Either way, Lionsgate has to be thrilled with the results. The Possession has so far earned $41.2 million domestically and will be a solid money-maker for the studio once all ancillary revenue is added in.

Lawless, the Shia LaBeouf/Tom Hardy/Guy Pearce bootlegger outlaw film, finishes in fourth place with $4.2 million. At any other point in the box office schedule, this title would have been long forgotten and out of the top ten. Instead, it takes advantage of circumstances to remain in the top five even with its small weekly take. Lawless declined 30% from the previous frame, and now brings its total to $30.1 million.

Fifth place (if estimates hold up) goes to ParaNorman, the well-reviewed stop-motion animated film from Laika and Focus Features. Dropping an excellent 28%, ParaNorman had a weekend take of just over $3 million and brings its domestic total to $49.3 million. It has international box office of just over $20 million. Although it's not going to finish quite so strongly as Laika's Coraline did ($75.3 million in 2009), ParaNorman still is looking pretty solid considering its subject matter and the fact that it does not have the benefit of a built-in fan base like its predecessor did.

The second of two Lionsgate films in the top six is The Expendables 2, the hyper-violent Sylvester Stallone project featuring all the washed-up and semi-current action stars you can reasonably gather together in one kitchen. Now in its fifth weekend, The Expendables 2 earned an additional $3 million and declined only 39%. So far, the sequel has accrued $80.3 million domestically, well behind the $98.5 million the original film had tallied by the same point during its release. Overseas, The Expendables 2 has already crossed the $150 million mark, so it's very close to approaching the $171 million of its predecessor.

Seventh and eighth place wind up in a photo finish, as estimates have The Words beating out The Bourne Legacy by $5,000. Now in its second weekend, The Words falls 39% to $2.9 million and brings its domestic total to $9.2 million. It will barely be remembered as soon as a month from now. The Bourne Legacy also has $2.9 million (when we round up), and brings its North American total to $107.8 million, and around $80 million from international venues. Although it's not matching up to the gold standard set by the first three Bourne films, the studio's attempt at milking more money from the franchise will be a small earner by the time home video is added in.

Rounding out the top ten are late summer staples The Odd Life of Timothy Green and The Campaign. The Disney title starring Jennifer Garner started off modestly, yet the movie is proving that slow and steady can win the race. Another $2.5 million this weekend gives the title a running total of $46.3 million against a $40 million budget. Given its early performance, BOP considers this a small scale victory. Meanwhile, the Will Ferrell/Zach Galifianakis comedy grossed $2.4 million and has snuck up to $82.9 million in domestic earnings against a measured $56 million budget. Both of these are unqualified hits.

The big story outside the top ten this week is Paul Thomas Anderson's latest movie, The Master. The auteur's follow-up to There Will Be Blood received a five-location release. It stunned industry observers by somehow earning $729,745 from these five exhibitions. This a record-setting per-location average of $145,949. It surpasses Moonrise Kingdom's $130,749 mark set earlier this year. The Master is expected to be a strong contender for end of year awards consideration and several BOP staff members giddily announced their satisfaction the moment they had tickets in hand. You are only just beginning to hear about what will be among the most discussed movies of the next six months.

One other box office performance of note is Arbitrage. The Roadside Attractions feature starring Richard Gere earned $2.1 million, which is not noteworthy on its own. However, this title is also available via video on demand. A $2.1 million debut for a day-and-date theatrical/VOD title is the largest thus far in what we expect to become a quickly expanding industry.

Combined revenue for the top 10 this weekend was $65.4 million, which is down 21% from last year but a huge improvement of 40% from last weekend's $46.7 million. Next weekend features the action reboot Dredd, a Jennifer Lawrence horror film called House at the End of the Street and a Clint Eastwood (no chair) movie titled Trouble With the Curve.