Weekend Wrap-Up
Box Office Drops Off a Cliff – Must Be Labor Day
By John Hamann
September 2, 2012
BoxOfficeProphets.com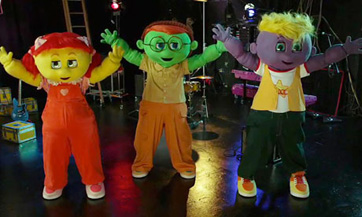 ---
Welcome to one of the quietest weekends on the box office calendar, where success is met by opening a film above the $10 million mark instead of going for the opening weekend record, like The Dark Knight Rises did only seven weekends ago. With kids preparing for back to school and parents celebrating, studios offer little choice over the Labor Day long weekend. This weekend, on tap is The Possession, a Jewish exorcism movie, Lawless, starring soon-to-be porn actor Shia LaBeouf (at least he already has the name for it), and something called Oogiegloves, which is high-drama for three-year-olds, but horror for adults and the filmmakers, as it cost $55 million to make and market. All in all, it's a Labor Day weekend to forget. The box office is as stale as hell, and it's not going to get better for awhile.

Our number one movie of the weekend is The Possession, a Lionsgate horror film with a twist – it stars people who are older than 18, and has actors I actually recognize. Kyra Sedgwick and the nasty guy from Watchmen appear in The Possession, a film about a young girl who gets possessed (yes, again) after buying a box at a yard sale. Of course, the box contains a demon and insanity ensues. We've seen this over and over again. This is high entertainment for a Labor Day weekend, and it would appear that audiences bought into the fact that Sam Raimi produced The Possession, as they laid down $17.7 million over the three-day portion of the long weekend. Out to 2,816 venues, it had an average of $6,294. Expectations were similar to the result, so we can all go back to sleep. There's nothing to see here. Lionsgate and its partners spent $14 million to make The Possession, and will earn a profit after a couple of weekends.

Lawless, the new western with Shia LaBeouf and Tom Hardy, finishes second, as it manages to get ahead of The Expendables 2. Lawless opened on Wednesday at number one, grossing only $1.1 million – nothing to be excited or upset about. Thursday was off a little from the Wednesday, but the Friday picked up somewhat, with the film earning $2.2 million. It turned that gross into a weekend take (Friday-to-Sunday) of $9.7 million, and currently has a five-day haul of $11.8 million. Probably the most interesting thing about Lawless is that it was written by Nick Cave of Nick Cave and the Bad Seeds, a one-time punk rocker. Cave adapted the story from the novel, and John Hillcoat (The Road) directed.

For LaBeouf, Lawless is a step away from his usual poorly-made blockbuster résumé. He hasn't been in a movie since July 2011, when Transformers 3 hit screens and opened to $162 million over its first six days. LaBeouf has indicated that he no longer wants to appear in these big blockbuster films, and wants to work on smaller projects. He is performing actual sex in Lars Von Trier's The Nymphomaniac, so you can see where this guy is headed (out of the business). No budget data was released for Lawless, but given the cast (LaBeouf, Tom Hardy, Guy Pearce, Jessica Chastain, Mia Wasikowska), it couldn't have been cheap. The Weinstein Company thought they had something here, debuting the film at Cannes, where critics weren't as thrilled as Harvey and Bob.

Third is The Expendables 2, as the box office is too strong (ha!) to give Stallone and company a third crack at number one. This weekend, The Expendables 2 earned $8.8 million, which means it was off 34% from its $13.4 million performance last weekend. This score remains behind that of the original Expendables, which took in $9.5 million over Labor Day weekend in 2010. The Expendables 2 looks like it will finish with a little more than $80 million, well back of the $100 million the original earned. Foreign grosses may prop it up, as this one has earned over $65 million already from foreign shores. The domestic total currently sits at $66.2 million after 17 days.

Fourth is The Bourne Legacy, as the Jeremy Renner version of Bourne continues to fail to live up to the Matt Damon version. In its fourth weekend, The Bourne Legacy picked up another $7.2, dropping only 22%. The Bourne Legacy is going to earn $100 million, but it will fail to match the $125 million budget stateside. The foreign gross may make up for part of the marketing tab, but this still has to be considered a miss for the franchise. Universal will never let on, though. Give this Bourne $96.2 million so far. It should've been called The Bourne Letdown.

Fifth is ParaNorman, another film that has failed to live up to expectations when compared to its predecessor, Coraline. ParaNorman earned $6.6 million in its third weekend, off 24% compared to the previous weekend. While not terrible, Coraline opened stronger ($16.8 million compared to ParaNorman's $14.1 million), and held better (12% first weekend drop, 23% second weekend drop, compared to 39% and 24% for ParaNorman). Production company Laika and distributor Focus are going to eat it on this one, as the production cost is assumed at around $50 million, and that's prior to marketing. The gross so far for ParaNorman is $38 million, with likely only $20 million more to come.

The Odd Life of Timothy Green finds itself in sixth this weekend. After grossing $7.1 million last weekend, this trifle picked up a little steam on Saturday and Sunday, taking in $6.1 million and dropping 15%. While it will earn more than its $40 million production budget, it has a little bit of work to do to pay back some of the extensive marketing costs put out by Disney. So far, the Jennifer Garner film has earned $35.9 million.

Seventh goes to The Dark Knight Rises, which is enjoying its seventh weekend in the top ten. The Chris Nolan superhero epic pulled in another $5.9 million, giving it a drop of 19%. The $250 million blockbuster has now earned $431.2 million stateside and another $535 million from overseas cinemas. It should wind up the seventh most successful domestic release ever by the time it leaves theaters. There was an indication this week that Batman will be rebooted in 2015 when Justice League hits screens. Bat-fans, mark your calendars.

Eighth is The Campaign, which is now four weekends old. The Will Ferrell/Zach Galifianakis mashup earned another $5.4 million this weekend and dropped 27%. We knew big grosses for The Campaign wouldn't go on forever, and I think Warner Bros. will be quite happy with the $73 million this one has taken in so far. The Campaign cost $56 million to make, and will likely top out with about $80 million.

Ninth is 2016: Obama's America. The right wing conservative documentary earned another $5.1 million this weekend, as the studio, Rocky Mountain Pictures, added 659 venues. It fell 22%. In terms of per location average, it fell an alarming 51% on a weekend when nothing else in the top ten dropped more than 30% by the same measurement. It now has a cumulative total of $18.3 million. I think Clint Eastwood and the chair he performed with at the RNC might be more entertaining than this, and just as bizarre.

Tenth is Hope Springs with Meryl and Tommy Lee (Jones that is, not the Motely Crue guy). The dramedy earned another $4.7 million and fell a slim 18% compared to last weekend. This $30 million film is turning into a small hit, as it has earned $52.1 million already, and deserves a re-release during the Oscar sweeps.

Finishing outside of the top ten is Oogiegloves in the BIG Balloon Adventure, from kids' entertainment creator Ken Viselman. After opening on Wednesday in 17th – despite being out to 2,160 venues – and garnering a venue average of $47, Oogiegloves could only earn $448,131 over the three-day portion of the weekend. Its Friday-through-Sunday per location average of $207 is the lowest ever for a wide release. In earning only $69 per day/per location, the film effectively sold less than nine tickets for the entire day at each venue. Approximately 56,000 people across the country had Oogie Fever this weekend. The rest of North America was apparently inoculated against it. Viselman spent $55 million bringing this one to the screen and marketing it, which has to hurt.

Overall, the box office is plumbing new lows. We are down 6% from last year, as the top 12 films earned only $77.2 million this weekend. This decline can be attributed to soft openers and Oogiegloves basically removing 2,000 venues that would normally earn some money. Last year's top 12 brought in a much better $82.3 million, thanks to to three openers that earned more than $8 million and the fourth weekend of The Help. Things don't improve much next weekend. The Cold Light of Day opens with Bruce Willis and soon-to-be-Superman Henry Cavill. If you've read the early reviews, you know you are not going. Also opening is The Words, a movie about stealing someone else's writing.