Weekend Wrap-Up
Doldrums Hammer the Late Summer Box Office
By John Hamann
August 26, 2012
BoxOfficeProphets.com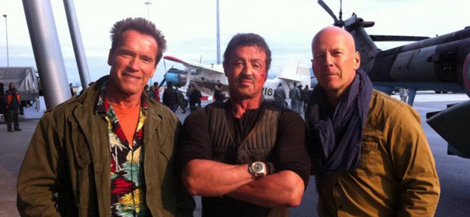 ---
This weekend is one of those we get each year, when literally anything can happen at the box office. We had three new openers, none of which finished in the top six this weekend. One film expanded, and sadly, it will be the topic of choice. Despite Joseph Gordon Levitt, Dax Shepherd and Kristen Bell opening films, the box office story of the weekend belongs to Barack Obama's half-brother and the conservative film 2016 Obama's America.

Our number one film of the weekend is The Expendables 2, as Stallone and company do the expected and hold at number one for the second straight weekend. With the loser crop of openers, holding on top was never in doubt for the action sequel, as Lionsgate learned from the first Expendables that repeating on top certainly didn't hurt this franchise when it debuted in August 2010. Following an opening of $34.8 million, the original Expendables dropped 51% in weekend two earning $17 million. This time out, The Expendables 2 opened to $28.6 million last weekend, and the sequel dropped 53% in its second frame to a gross of $13.5 million. None of this is really unexpected, which is why Lionsgate and Millennium Films kept everything similar to how the release went in 2010. They spent a little more money for relatively similar results - $80 million for the original, and $100 million for the sequel.

We can now say with certainty that The Expendables 2 will not earn $100 million stateside. The key number to watch now is the foreign gross. The original earned $171 million overseas (hence the sequel), and the companies behind The Expendables 2 will be looking to expand their reach in foreign territories. Early results are good so far, with the sequel already pulling in more than $25 million. Using a country like Russia, for example, the original opened to $5.7 million there, whereas the sequel opened to $8.1 million. Using one statistic from one country does not make a trend; however, if The Expendables 2 sees similar behavior overseas, expect to see a third Expendables.

Finishing second this weekend is The Bourne Legacy, the now three-weekend-old reboot of the Matt Damon franchise. The Bourne Legacy earned $9.3 million this weekend, giving it another big drop of 46%. The Jeremy Renner version of the once great franchise is still looking to finish at just over $100 million, which is simply not good enough for a franchise like this. None of the previous Bourne films dropped more than 40% in the third weekend, and none of them earned less than $10 million. Like The Expendables 2, The Bourne Legacy is going to be relying on overseas grosses to turn a profit for Universal, who put up $125 million to make this film. That's $15 million more than the third film and $50 million more than the second. So far, The Bourne Legacy has earned a soft $85.5 million.

The top three films from last weekend all hold their position this frame, as ParaNorman finishes in third. From Laika and Focus Features, I was hoping ParaNorman would hold better this weekend, but that's not the case, as the animated feature earned $8.5 million this weekend and drops 39%. With respect to Coraline, the studio's first feature, the comparisons are disastrous, as Coraline dropped only 12% in its second weekend. However, Coraline opened prior to a long weekend, and one where Valentine's Day fell on a Saturday, inflating business across the board. Hopefully, ParaNorman, an 87% fresh gem can re-establish next weekend, as it has a gross so far of $28.3 million, and a budget that is likely around $45 million.

Will Ferrell and Zach Galifanakis held onto fourth spot with The Campaign, the film that all those people who paid for the anti-Obama doc should have attended. The Campaign, which finished with $13.1 million last weekend, took in $7.4 million this weekend, dropping 43%. Warner Bros. spent $56 million making The Campaign – an expensive gamble in my mind – but with the two stars promoting it endlessly, it has turned into a small hit for the studio, as it has a gross so far of $64.5 million.

That puts The Dark Knight Rises into fifth spot this weekend, as the Bat enjoys its sixth weekend in the top five. The Christopher Nolan film earned another $7.2 million this weekend, but dropped 34% as it lost about 500 venues. This is the fourth consecutive weekend The Dark Knight has kept the drop better than 50%, but still seriously lags behind its predecessor in the Dark Knight series (the second film earned $10.5 million in its sixth weekend). The $250 million blockbuster has now earned $422.2 million domestically, but has now out-grossed The Dark Knight at overseas cinemas, which was a goal for Warner Bros. prior to the opening. The film will also enter the all-time domestic top 10 as early as tomorrow.

The Odd Life of Timothy Green moves up the top ten from its seventh place finish last weekend to sixth this weekend, as a better hold than most propels it up the top ten. After a $10.8 million debut last weekend, the Jennifer Garner film fell only 34%, pulling in a gross of $7.1 million. Sometimes these somewhat manipulative adult fantasy flicks play very well with women and families, which might be the case here. Whatever the case, this is good news for Disney, as Timothy Green is a $40 million budgeted film, and now looks like it might have a chance of getting there. So far, The Odd Life of Timothy Green has earned $27.1 million.

New films dominate the lower ranks of the chart this weekend. The first of them is Premium Rush, the new cycling movie with Joseph Gordon-Levitt. One didn't need to be rocket scientist to tell this movie wasn't going to work. Gordon-Levitt may have a following, but if Robert Pattinson can't make it happen outside of Twilight, this man-child isn't going to do it either. Premium Rush earned only $6.3 million this weekend, not enough to send it towards its $35 million budget. It had good reviews (75% fresh) but just not enough to get people out to see it.

2016 Obama's America is eighth, as the conservatives find their Michael Moore in the form of Dinesh D'Souza and Gerald R. Moren. Strategically released prior to the Republican Convention, 2016 earned $6.2 million from 1,091 venues, giving it a venue average of $5,717. This "documentary" from Rocky Mountain Pictures (Expelled: No Intelligence Allowed, the Ben Stein discussion about intelligent design) actually finished fourth on Friday, but slipped down the top ten as the weekend went on. It's nice that the conservatives will have something to celebrate this weekend prior to Mitt Romney putting his foot in his mouth at the RNC.

Sony's Hope Springs is ninth, and has an excellent hold again this weekend. The Meryl Streep/Tommy Lee Jones flick took in another $6 million and dropped a slim 34% compared to its $9.1 million finish last weekend. The David Frankel feature cost only $30 million to make, and has now grossed $45 million – not bad for a comedy aimed at the older demographic.

Tenth is Hit and Run, from real-life boyfriend/girlfriend Dax Shepherd and Kristen Bell. Hit and Run earned only $4.7 million, and while that may be less than what Premium Rush did this weekend, Hit and Run will end up being more successful. While Premium Rush cost $35 million to make, Hit and Run cost $2 million. The problem for distributor Open Road is that they spent another $20 million to market it, but Premium Rush likely cost twice that for advertising.

The other new release this weekend was the laughably bad The Apparition, but audiences caught the smell before putting their money down. Released to only 810 theaters, The Apparition grossed only $3 million this weekend, finishing 12th. At the time of this writing, The Apparition was 0% fresh at Rotten Tomatoes, one of the few films to receive that score this year. Dark Castle paid $17 million to make The Apparition, so hopefully Joel Silver makes stars Ashley Greene and Sebastian Stan work at McDonald's to make that money back.

Overall this weekend, the box office is on a similar pace to where it was last year, but that weekend wasn't all that successful either. Over the same weekend in 2011, The Help repeated on top despite being in weekend three, and the top twelve films combined for $74.8 million. This year, the top 12 took in $83.4 million, and 11% increase over last year. Will things improve next weekend? No, no, no, no, no. Next weekend brings the Labor Day frame, and films that are opening include Lawless with Shia LaBeouf, a horror film called The Possession (sounds a lot like The Apparition), and something called The Oogieloves.