Weekend Forecast for August 24-26, 2012
By Reagen Sulewski
August 23, 2012
BoxOfficeProphets.com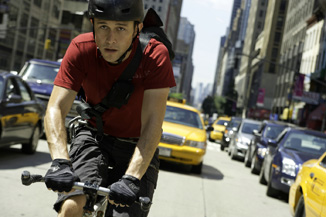 ---
There's often a sharp dividing line in August where one week you'll have blockbusters with big names, and the next you have the cast offs that studios never really found a place for and actors you haven't thought about in ages. Guess which week this is?

Hit and Run presents us with the apparently long-awaited theatrical screen writing and directing debut of Dax Shepard, so anticipated that it has to start on Wednesday. Shepard casts himself as a stunt driver named Charlie Bronson (oh, I get jokes) in the Witness Protection Program who's forced out of hiding to help his girlfriend (Kristen Bell, also in real life), while members of his former gang chase him down to, you know, just talking to him about some things, like why he's in Witness Protection, and where's their money?!

It's definitely possible to be too hard on this film, which seems to be Shepard's excuse to screw around with cars and cameras for a couple of months and hang out with his friends (also in the cast: Bradley Cooper, Tom Arnold, Kristen Chenoweth, David Koechner and his co-star from Parenthood, Joy Bryant) and likely had a tiny budget. However, it's still worth pointing out that Dax Shepard is not a name that moves the needle for most people, or even sounds like a name. He's got very little on his resume where he can easily be separated out to see what his appeal is, and what there is isn't good – i.e. Let's Go to Prison. Bradley Cooper in theory helps, and he's leading people to draw comparisons to The Hangover, but that frankly seems insane to me. I think we're looking at a quite small August action-comedy opening weekend, which should be just under $5 million, or $6 million for five days.

Similarly underwhelming in concept is Premium Rush, starring Joseph Gordon-Levitt. With a plot that feels like something recycled from Kevin Bacon's 1980s reject file, Gordon-Levitt plays a bicycle courier who gets more than he bargained for with a particular file he's given to carry across New York City, which gets apparently half the city chasing after him trying to get it back, leaving him with only his amazing bicycle courier skills to survive. Okay, then.

One reason for some optimism is the writer/director, David Koepp, who's been behind some huge films on the script side, and some smaller quality films on the directing side, like Stir of Echoes and Secret Window, but the key word there is smaller. And while Gordon-Levitt has successfully moved from the awkward child-actor stage to being in some of the largest blockbusters out there, as well as making quality choices on his indie film projects, when he's solo, I'm yet to be convinced that he's much of a draw. With a high-concept premise that leaves a lot to be desired star wise, I think this will have another small opening weekend, with around $8 million.

It's about time for horror films to start appearing as well, and this week's is The Apparition, from first time director Todd Lincoln. Veering away from the found footage trend, this appears to be something like Flatliners filtered through J-horror influences. A group of researchers that includes Alice Cullen, Bucky Barnes and Draco Malfoy attempts to prove that paranormal activities are all in people's heads, and do so by trying conjure up a ghost from scratch just by thinking about it. This goes predictably right, and wrong, and they bring forth an unspeakable horror from beyond that wants to devour the soul of everyone on Earth. Thanks a lot, scientists!

While the horror model of cheap productions with moderately recognizable names that don't have to make much money to be profitable has been one of the most lucrative in Hollywood over the last few years, studio expectations seem to be even lower than normal for The Apparition, which is debuting in just 810 theaters. All the shots of Ashley Greene in her underwear in the world can't make up for being in about a third of the theaters a wide release normally is. A best case scenario probably puts this under $5 million for the weekend.

Expanding in time for the Republican National Convention, a wily piece of political agitprop called 2016: Obama's America gets into about 1,000 theaters this weekend. Created by the paranoid and delusional political columnist Dinesh D'Souza, it purports to predict what President Obama would do in a second term once elected, despite doing none of the things that would lead up to that in his first term. Right-wing polemics haven't had as much success in theaters as the more progressive examples in recent years, although even those have fallen out of favor. This film is from the same producers as the wildly avoided Atlas Shrugged film, which is going ahead with a sequel anyway. Although it's made about $2 million in under 200 theaters already, I don't think there's a mass audience for this kind of film – although I'm sure all the screenings in Tampa will be filled. I see this as performing similarly to An American Carol, the misfire of a Michael Moore parody, which earned about $7 million total. I'd look for around $3 million this weekend.

The sheer lack of attractive options leaves things wide open for The Expendables 2 to win another weekend despite no one being particularly enthusiastic about it. Opening to a little less than the first Expendables film, the sequel should suffer a greater drop off just due to it being a sequel. Add in that it's fairly mediocre at best and we should see a drop to about $12 million.

Second place may belong to The Bourne Legacy, which had kind of a disappointing second weekend of $17 million. The $38 million start had people thinking that it was at the start of something that might carry the Bourne franchise into its next stage with momentum. More Bourne films might still happen, but with just $110 million or so domestically, it's a bit of a tougher sell. Look for it to drop to around $9 million this weekend.

That's right about where ParaNorman could end up for its second weekend. The stop-motion animated film landed about where it was expected to with $14 million, slightly behind the studio's first project, Coraline. Since that was based on a better known project and had a Neil Gaiman connection, that's to be expected, and word-of-mouth is fairly strong for this. While ParaNorman won't match the $75 million of Coraline, $60 million isn't a crazy number to look at.

Last week's unusually deep roster of films over $10 million continues with The Campaign, which lost about half its business in weekend two, which might be a little disappointing for a Will Ferrell/Zach Galifianakis collaboration, but still leaves the film on pace to earn about $85 million, towards the lower end of Ferrell's range when he's trying. $7 million this weekend seems about right here.

A chance for some legginess comes next with The Odd Life of Timothy Green, Disney's late summer tear-jerker/adolescent grabber about a magical young boy. This seems like exactly the kind of film that might take families by storm and build slowly, and I think that starts with a little under $7 million this weekend.

The Dark Knight Rises gets to vault another film on the all-time list this weekend, beating Toy Story 3 by at least Friday. Hitting the top 10 and passing The Lion King won't happen this weekend, but should happen for certain by the next one. The top end seems to be seventh place at this point, which is not too bad for a disappointment.

Still going down the list, we have Sparkle, the posthumous Whitney Houston movie, and Hope Springs, the film that dares us to think about Tommy Lee Jones having sex. Both seem due for around $5 million this frame.